Beethoven's Fifth Symphony with its iconic opening (depicting fate knocking at the door) was debuted on 22 December 1808 at Beethoven's akademie concert in Vienna. But the piece which has arguably become the most recognisable work of classical music did not achieve instant success.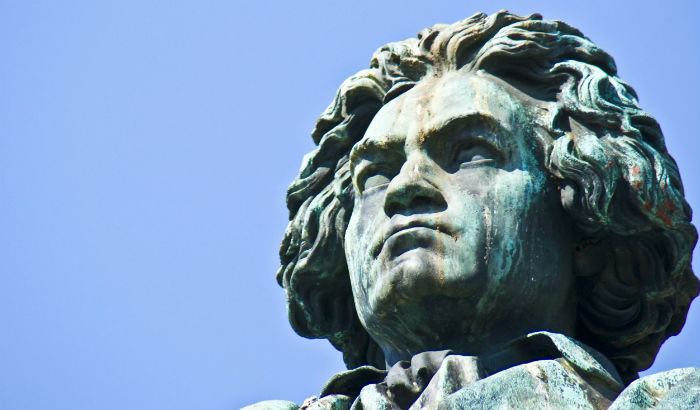 The concert itself presented a number of challenges. First off, there was the venue. The Theater an der Wien lacked any heating, leaving patrons shivering in the depths of winter.
Then came the matter of the evening's length. Beethoven premiered his Fifth Symphony alongside a number of other works, including his Sixth Symphony, 4th Piano Concerto (with the composer as soloist), two movements of his Mass in C and an aria. This programme would already have been substantial, but there was still the Fantasia for Piano, Orchestra and Chorus which ended the show. This brought the total length of the concert to four hours. The Allgemeine Musikzeitung remarked that on the basis of just one hearing, and considering the fact that so many works had been performed, it was "downright impossible" to judge any of them on their merits.
A final difficulty arose from the quality of musicians at Beethoven's disposal. A relatively brief time frame existed for akademie concerts in Beethoven's time, with only the advent and lent periods being available. At other times, performance spaces were in high demand for opera productions, but during these two periods opera was prohibited. This led to crammed schedules and the night of Beethoven's concert was no different. Many members of the theatre's orchestra were engaged at the performance of an oratorio, meaning that amateur musicians had to step in.
The quality of the playing at the concert was described as below average. "The musicians were particularly angry because when a blunder was made through carelessness in the simplest, plainest place in the world, I stopped them suddenly and loudly called out 'once again'… The public showed its enjoyment of this," Beethoven wrote.
Nonetheless, it was not long before Beethoven's Fifth Symphony began to gain in popularity, ultimately finding its place as one of the most beloved pieces of classical music, recognised even by those who are unfamiliar with the genre.