The Norwegian composer Terje Isungset is a leading European percussionist with a career spanning more than two decades. Throughout his musical career, he has promoted an innovative and creative style, making use of the products of nature for musical instruments such as stones, pieces of wood and tree bark. But the innovation for which he has perhaps become best known came in 1999 when he first used ice to make music.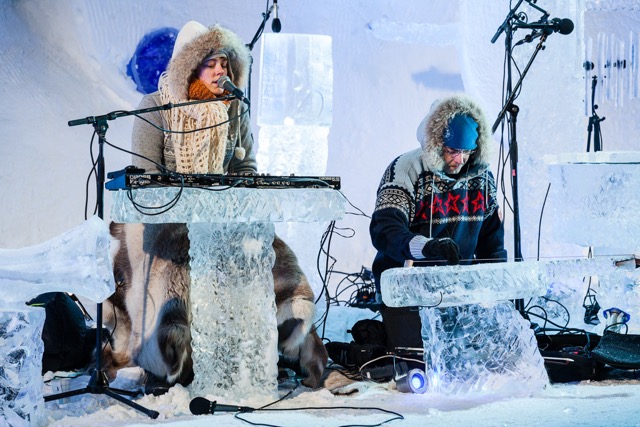 Ice has played a major part in his musical output ever since. The early experiments prompted him to use ice to make his own versions of musical instruments, and as an article in Canada's National Post earlier this month shows, his unique idea has found a response far beyond Norway.
In 2001, he released his first studio album using ice as the main source of the sound. Instruments used include the iceophone, a xylophone-like instrument made using ice blocks, an ice horn, chimes, along with harps, cellos, and guitars all carved out of ice. Six further albums have followed over the past fourteen years, including his latest effort Meditations, which was presented earlier this month at the 10th Ice Music Festival in Norway, co-founded by Isungset in 2006. At this year's celebration of all things ice, a brand new creation was unveiled called the isbassis, a double bass made from ice.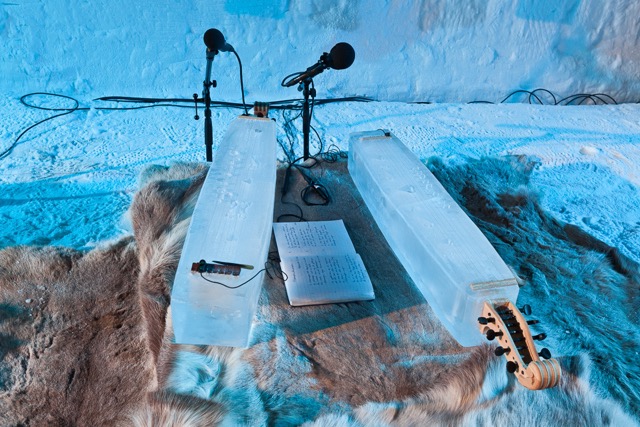 The festival's programme was expanded to four days for the first time and included ice concerts as well as family-friendly events. Ice Music combines the music with various art forms, with ice sculptors, dancers, and designers playing a part. A high point of this year's festival was the annual midnight concert which took place outdoors under moonlight. Along with a collection of musicians playing music from Isungset's latest album on an ice stage, a group of students from the Bergen Academy of Art and Design had worked for several months to design the performance area.
The sounds produced by these instruments are of course different from that of their traditional counterparts, as you can hear in this clip from last year's Ice Music. But almost as important in the appeal of the music is the way in which it is created. Unlike when modern recording technology and instruments are used, there is no opportunity to edit the final product or practice on the instruments.
Isungset and his team build the instruments from fresh blocks of ice for every performance, and as he has explained in several interviews, no two pieces of ice ever sound the same. The result is a musical experience that is driven by improvisation and responding to the instruments and their environment. As Isungset told an interviewer, "I have to listen to my instrument. Instead of deciding how it will sound, the instrument decides how I will play."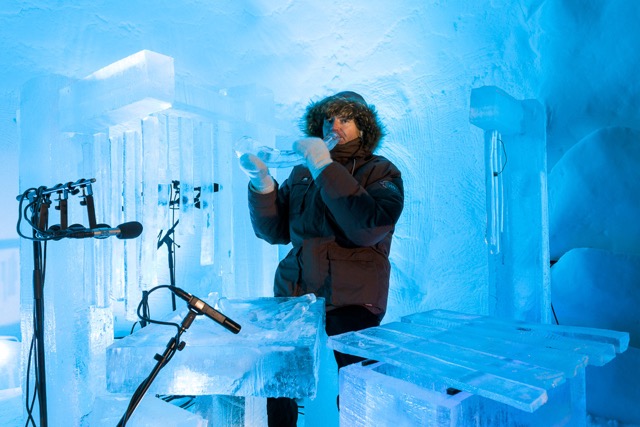 The truth of this remark was demonstrated during a concert he gave in Washington D.C. in 2013 when Isungset inadvertently shattered one of his ice percussion instruments. Reacting quickly, he used his foot to grind the ice shards into the ground to continue to produce a rhythmic sound.
There is also the close connection to nature that Isungset and the musicians who join him in Geilo every year encourage. Many of his recordings have been done in extremely inhospitable places, such as in the Canadian Arctic in minus 38 temperatures or in Greenland. An event at this year's festival focused on the environmental consequences for the Arctic ice of climate change.
Beyond his own recordings and the festival, Isungset established a record label, Ice Records, in 2005 to promote music created by ice instruments. He also tours around the world, having played locations as diverse as Canada, Australia, France, Italy, and Japan. Some of these locations are more challenging than others, requiring his ice supplies to be transported in a special trailer to be preserved.
Another difficulty arises with factory-produced ice. Isungset has discovered that it lacks the sound quality of natural ice. During his Japan tour, he had to make do with the manufactured variety, and the results were not as good as the real thing.
Photographs courtesy of icemusicfestival.no