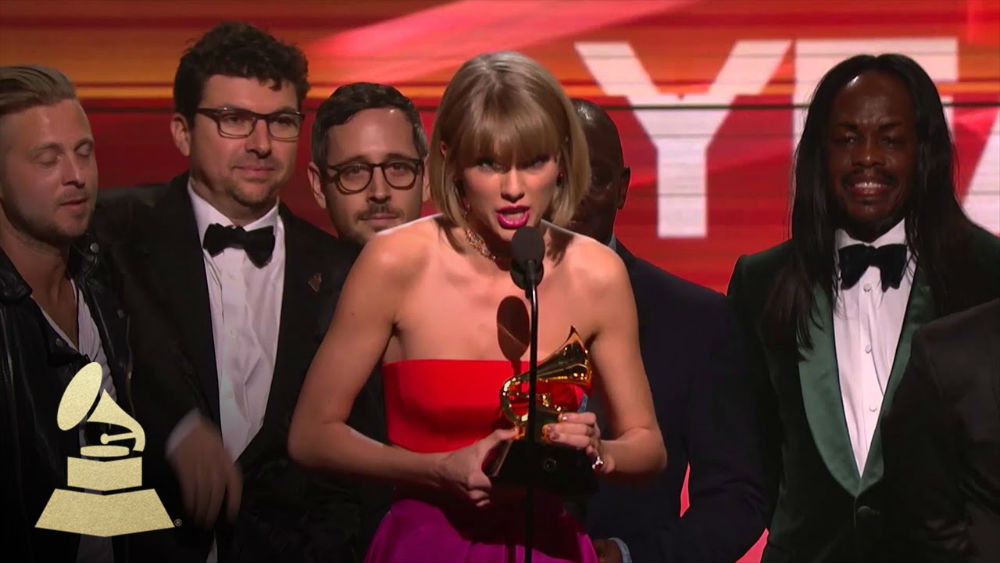 Like her or not, Taylor Swift triumphed at the Grammys: 1989 won Best Pop Vocal Album and for Album Of The Year; "Bad Blood" won "Best Group Performance" shortlist and Blank Space was nominated for Record Of The Year, Song of the Year and Best Solo Pop Performance. True, It might not have the star-quality of past massive winner "21" by Adele, and, vocally, Ms. Swift is no Adele herself. Yet, amid Southern Rock, country, and RnB nominees, it was almost a given that a feminist pop princess would prevail.
You see, 1989 is a finely-tune crowd-pleasing machine, with a retro hint here (Style), an electro-pop melody there (Blank Space) and a tiny splash of ethereal indie sound (Wildest Dreams), not to mention the movie-like quality of her videos, which people could watch on mute and enjoy nonetheless.
Critics widely praised Swedish writer/producer Max Martin for the overall success of 1989: we got a glimpse of what he could do with Taylor's songs in her 2012 album Red, for which he wrote "I Knew You Were Trouble" and "We Are Never Getting Back Together." Martin was able to infuse Taylor's songs with a touch of Scandinavian pop. The formula, as explained by Tove Lo to The New Yorker's Sasha Frere Jones, is threefold: simple lyrics, a strong melody and a little bit of melancholy to avoid the bubblegum-pop effect. Taylor Swift's latest songs definitely check all those boxes:
The lead single Shake It Off is an uptempo pop song that makes an obsessive use of repetition–a technique that, we reckon, is essential in the making of an earworm. Fans loved watching Taylor dance against a nondescript black background and a bunch of lucky ones also got the chance to be in the video. Remember: Haters gonna hate.
Style is a retro-pop-rock song in D Major whose chorus, where D And G major predominate, gives the song an overall positive vibe. It is reminiscent of those mid 1990s summer hits we all still sing along to. Unlike the other Singles, the video clip is quite static, a game of reflections distorted by broken shards of mirrors. Wildest Dreams, by contrast, sees Taylor trying to channel her Lana-Del-Rey self: even though she is technically a soprano, she gives her best when she sings low notes and the melody of wildest dreams showcases this asset of Taylor, particularly when she sings "nothing lasts forever". The lyrics get an upgrade from their usual chastity, wherein Taylor reminisces about a past lover who "did it so well".
Bad Blood would have become a hit even if the melody had consisted of basic tritone: the fame of the lyrics made it an instant phenomenon, as Taylor recruited an army of superlatively attractive women (her "squad") to show how female payback works. The alleged victim is Katy Perry, her crime being the hiring of two former Taylor Swift dancers.
Out of The Woods bears indie musician Jack Antonoff's seal, and deals with the fragility of romantic relationships. It is a synthpop song blending 1980s sounds and modern elements–I could see that rearranged by Grimes or Florence Welch. Amid eye-popping visuals, Taylor Swift appears in survivor-mode as she is chased by wolves, walks through a snowy landscape, an ocean, a muddy location and a burning forest.
However, among the six –quite solid– singles of the album, Blank Space is perhaps Taylor Swift's best effort in terms of lyric and overall attitude, so let me conclude by singing the praise of a single that got three nominations but did not win any Grammy awards.
Unlike the great majority of her songs, Blank Space is largely self-deprecating in tone. Prior to 1989, in fact, she lamented her unfortunate dating life in her lyrics, and this amused her critics (or "haters"), who saw her as a serial dater using men to have some song-writing material. "That was the character I felt the media had written for me, and for a long time I felt hurt by it," she told GQ. "I took it personally. But as time went by, I realized it was kind of hilarious."
In fact, Swift, being a clever businesswoman, understood that, other than yelling "Haters gonna hate hate hate" while dressed like a Swan Lake extra, she could use her detractors to her own advantage. She conceived a meta narrative of a girl who is extremely seductive and charismatic, only to go completely insane (meaning that she smashed her lover's car with a golf club and shredded all his shirt, among other things) at the flip of a switch.
"Got a long list of ex-lovers / They'll tell you I'm insane," she sings, with a mocking expression but a newfound assertiveness "But I've got a blank space, baby / And I'll write your name."
The song presents a piece of conventional wisdom, namely "Boys Only Want Love When It's Torture." Even though Blank Space did not win any awards, I am sure that, in the next ten years, Blank Space will be remember as the ultimate Camp anthem like I am gonna Getcha Good by Shania Twain and Strong Enough by Cher. Will Taylor Swift become a full-fledged diva, though?
PS: the constant feuding with the likes of Kanye West, Katy Perry and Minaj did not hurt either.