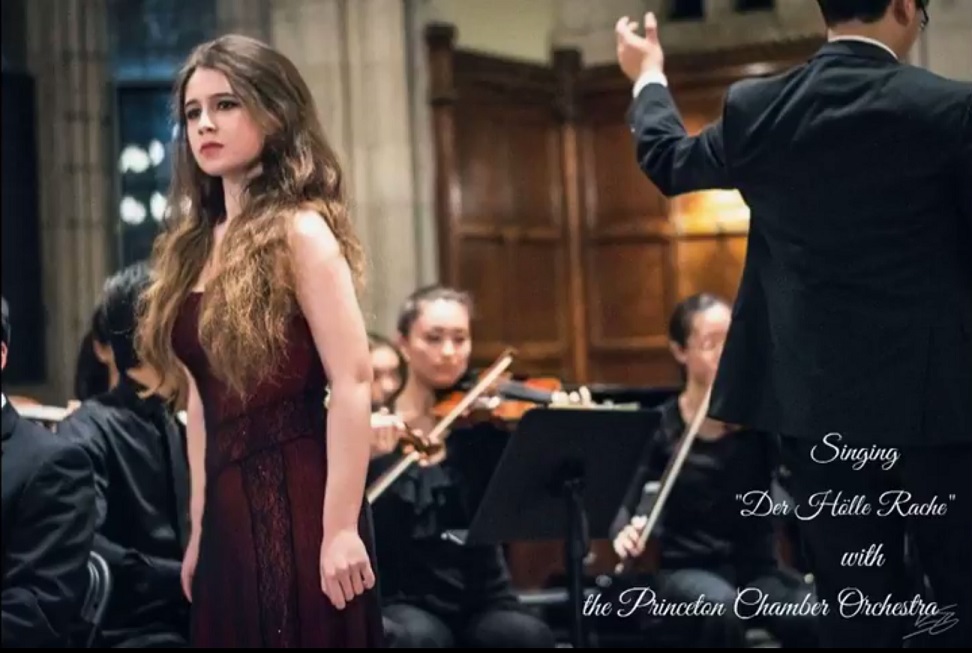 Hailed as a "vocal phenomenon (…) with a limpid voice of impressive strength and sensitivity" (Östgöta Correspondenten) and an instrumentalist with "supernatural facility" (Dernières Nouvelles d'Alsace), young singer and violinist Solène Le Van is already regarded as an exceptionally versatile and sensitive musician.
Born in Colmar, France, she moved to America at five and was accepted to Princeton University ten years later. Classically trained by two Metropolitan opera singers, she has performed nationally and internationally in a variety of styles, including musical theater, jazz, folk, and world music.
A frequent orchestral soloist, she has performed with the Princeton University Orchestra under the direction of Michael Pratt, the Young Musicians Foundation Orchestra under the baton of Roger Kalia, the Nassau Sinfonia under the auspices of the American Handel Society conducted by renowned British conductor John Butt, and the RCM Big Band Orchestra as a student in both voice and violin at the Royal College of Music in London.
Although Ms. Le Van mainly performs art song repertoire as a classical vocalist, including world premieres by Reynaldo Hahn and Emile Paladilhe soon to be released on the international label Sheva Collection, she once performed the Queen of the Night's famous aria with orchestra ("Der Hölle Rache kocht in meinem Herzen") when she was 18 years old.
Recently, her interpretation garnered over 70,000 views on Facebook. Please enjoy her fiery rendition of the aria below as well as some comments the young artist has made on the role of the evil queen.
To hear more of her vocal and instrumental performances and explore her music-making in various genres, subscribe to Ms. Le Van's YouTube channel, where she posts videos every week.
In addition, please like her professional Facebook page to stay informed on her activities or to book her for concert engagements.
An excerpt from an interview with Miss Le Van on playing the role of the Queen of the Night in concert:
"Dramatically speaking, the most challenging aspect is fully investing myself in drawing out the violent and nefarious intentions of a cruel, denatured mother — without descending into caricature or uglifying the music.
In this regard, it is interesting to note Mozart's intentions as a composer, as well as his notions of spiritually. He believed that art should never express the passions to the point of causing disgust.
By definition, even in situations of great terror "music (…) should never be painful to the ear but should flatter and charm it." In performing the Queen of the Night aria, I try to keep in mind that "The Magic Flute" encompasses many of Mozart's philosophical and spiritual beliefs, especially in relation to Freemasonry.
The story is a metaphor for the education of mankind, progressing from chaos to rationalistic enlightenment, ultimately to make "the Earth a heavenly kingdom, and mortals like the gods".
The opera's main structure pivots on the opposition between the Queen of the Night, who represents obscurantism and fear, and Sarastro, who embodies the light of reason.
My character disguises truth by encouraging false beliefs, and creates doubt — or in Enlightenment terms, darkness — in the hearts and minds of her subjects, in a way that still remains appealing and seductive to them.
Personal experience has taught me that cruel people often cloak their intentions in an appealing facade. My goal is to simultaneously charm and terrify my audience!"