Designed by Austrian firm Coop Himmelb(l)au, this multifunctional center is a marvel of Solar passive design and features a south-facing facade covered with thin-film photovoltaics that helps to reduce its energy use. With a 1300 seat concert hall, auditoriums, public courtyards, and sustainable design features, Denmark have a wonderful new addition to its cultural scene.
The House of Music is organized around the concept of sharing and synergy while recognizing the need for independence of the individual institutions within. Wherever possible sharing of spaces is enabled and overlapping of use of public and performance spaces is supported through the design.

The Foyer
The foyer serves as a meeting place for students, artists, teachers, and visitors. Five stories high with stairs, observation balconies, and large windows with views of the fjord, it is a lively, dynamic space that can be used for a wide variety of activities.
The Concert Hall
The architect worked closely with an acoustic consultant to develop a curvaceous auditorium that will offer exemplary acoustics. The design of the amorphous plaster structures on the walls and the height-adjustable ceiling suspensions, based on the exact calculations of the specialist in acoustics, ensures for the optimal listening experience.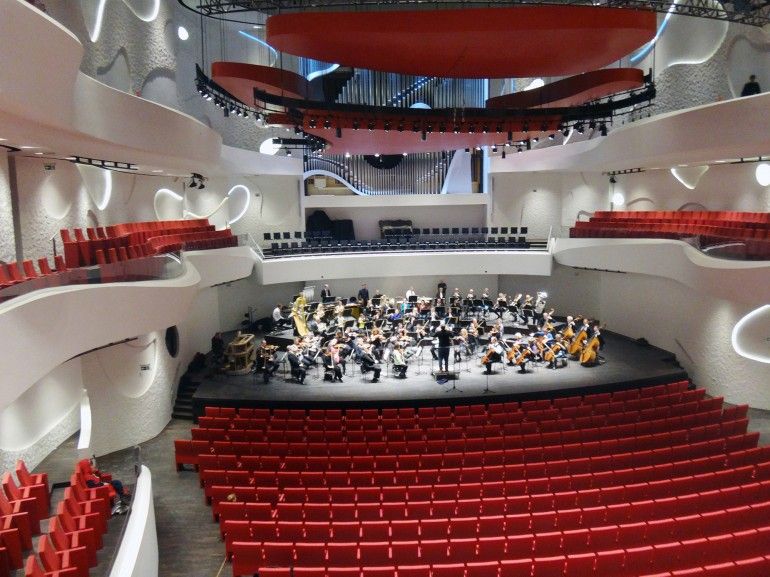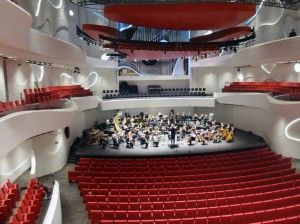 The flowing shapes and curves of the auditorium inside stand in contrast to the strict, cubic outer shape. The seats in the orchestra and curved balconies are arranged in such a way that offers the best possible acoustics and views of the stage.
According to principal architect Wolf D. Prix the design is intended to represent the unity between music and architecture: "Music is the art of striking a chord in people directly. Like the body of musical instruments this architecture serves as a resonance body for the creativity in the House of Music." Through multiple observation windows, students and visitors can look into the concert hall from the foyer and the practice rooms and experience the musical events, including concerts and rehearsals.
The Energy Concept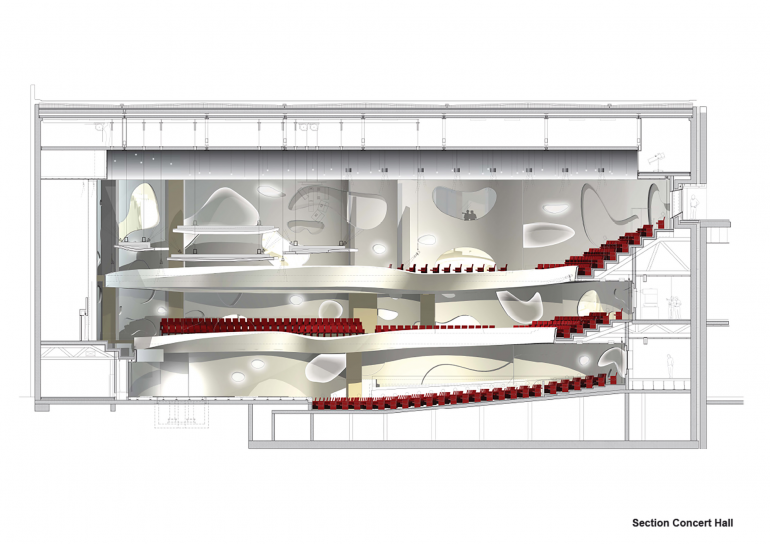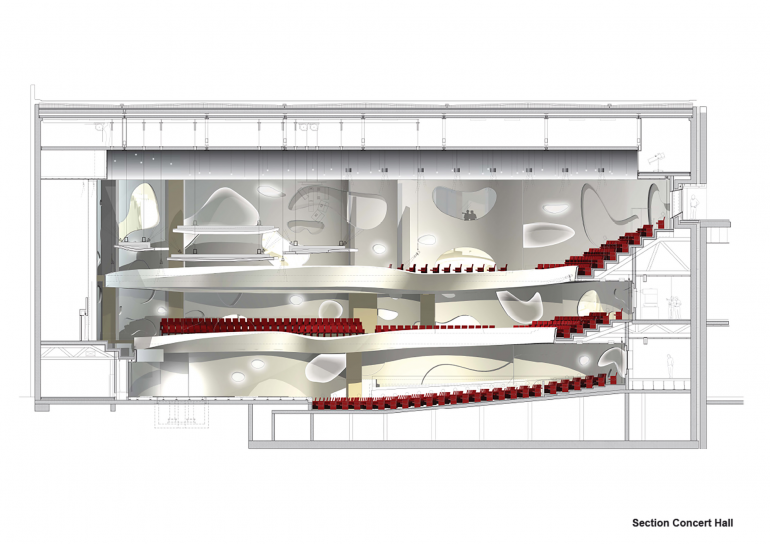 Instead of fans, the foyer uses the natural thermal buoyancy in the large vertical space for ventilation. Water-filled hypocaust pipes in the concrete floor slab are used for cooling in summer and heating in winter. The concrete walls around the concert hall act as additional storage capacity for thermal energy.
The building is equipped with a building management program that controls the equipment in the building and ensures that no system is active when there is no need for it. In this way, energy consumption is minimized.
Source: coop-himmelblau.at, archdaily.com, inhabitat.com
Photos by: Martin Schubert, Courtesy of Coop Himmelb(l)au, Rene Jeppesen, Aleksandra Pawloff, Duccio Malagamba