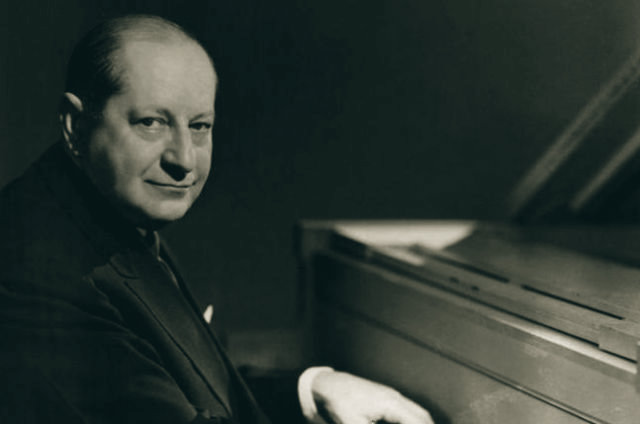 Sigmund Romberg was a prolific composer of the early 20th century whose romantic operettas touched the hearts of many. He is best known for The Student Prince (1924) and other favorites including Blossom Time (1921), The Desert Song (1926), and The New Moon (1928). He also wrote music for motion pictures and conducted orchestral arrangements of his works for recordings. It is his lyrical songs from operettas that have remained popular favorites of concert artists around the world.
Romberg was born July 29, 1887, in Nagykanizsa, Hungary, which at that time was part of the Austro-Hungarian Empire. He displayed musical ability at an early age, beginning violin lessons at the age of six and piano at age eight. After high school, he went to Vienna to study engineering but also studied composition. He chose music and moved to New York in 1909 to pursue his career.
He took a job in a pencil factory, and was soon playing piano in New York cafés. In 1912, he formed his own small orchestra to play his music. The Broadway producers, J. J. and Lee Shubert, hired him in 1914 as a house composer. That year, he wrote five shows.
Operettas were the popular form of musical theater during the late 19th and early 20th centuries. From Vienna, London and Paris, the style made its way to New York. These light operas combined lyrical, operatic arias with romantic humor and spoken dialogue. Romberg's style resembled the Viennese operettas by Franz Lehár, composer best known for The Merry Widow.
His first major success was the operetta Maytime written in 1917 and his next big hit was Blossom Time, a fictionalized version of the youth of composer Franz Schubert. Both of these were adaptations of Viennese operettas. His greatest operetta was The Student Prince, with book and lyrics by Dorothy Donnelly and based on the German play, Old Heidelberg. The prince meets and falls in love with an innkeeper's niece while he is attending the University of Heidelberg. They plan to elope but royal protocol has its own rules.
The Student Prince opened on Broadway, December 2, 1924, and was the longest-running show during the 1920s with 608 performances. It was revived on Broadway in 1931 and 1943. MGM made it into a motion picture in 1954 starring Ann Blyth as the innkeeper's niece and Edmund Purdom as the prince. The voice of the American tenor, Mario Lanza, was used to dub the prince's songs. The show has been staged by numerous opera companies and the songs are favorites of audiences and performing artists.
Three songs by Romberg and Oscar Hammerstein II have emerged with a life of their own as standards. "Softly, as in a Morning Sunrise" was recorded as vocal and instrumental versions by artists such as Frank Sinatra, Jr., John Coltrane, and Artie Shaw. "Lover, Come Back to Me" has been recorded by Liza Minnelli, Barbra Streisand, Billie Holiday, and many others. Both of those songs are from The New Moon. The song, "When I Grow Too Old to Dream" is from the 1935 film, The Night Is Young, and has since become a pop standard, recorded by many artists including Nat King Cole, The Everly Brothers, Linda Ronstadt.
Romberg was working on a new musical, The Girl in Pink Tights, when he died of a stroke, November 9, 1951. The musical was produced on Broadway in 1954. That same year, Deep in My Heart, a movie about his life starring Jose Ferrer in the title role was released featuring many of the songs that had made him famous. Romberg was posthumously inducted into the Songwriters Hall of Fame in 1970.