Yesterday was the anniversary of the death of  Spanish violinist and composer Pablo de Sarasate in 1908.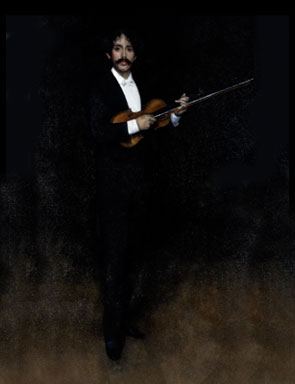 He enjoyed a long career of over 40 years and, in an era before travelling the world was easy, toured throughout Europe, North and South America, South Africa and the Far East. During the 1880s and 1890s, he was among the most famous musicians in the world. Composers sought him out to give the premiers of their works, a role which he fulfilled for Camille Saint-Saëns' Violin Concertos Nos. 1 and 3 and Max Bruch's Violin Concerto No. 2.
An idea of the extent of Sarasate's fame is given by the fact that when fictional detective Sherlock Holmes and Dr. Watson had to wait for one of their plans to bear fruit in the book The Red-Headed League, they chose to go to a concert by Sarasate.
Originally from Pamplona in Spain, Sarasate made his home in Paris from an early age.
He left behind a large number of works that made their way into the violin repertoire, but only later in the 20th century. Initially, the shift away from melodic compositions was not favourable to his reputation.
Luckily for us, Sarasate lived just long enough for his talents to be captured on record. In 1904, he performed sections of his famous composition Zigeunerweisen.
Sarasate made several recordings at his session in 1904, some of which are available online. But another one worth sharing is his performance one year earlier of his Tarantella, which is in remarkably good condition for 1903.
Did you enjoy reading this article?
We rely heavily on the generosity of our readers in order to continue and expand our work. Even a small, regular donation can go a long way to help us pay our writers and expand our team so we can bring you the latest from the world of classical music and beyond. Please donate today in support of our Patreon campaign.