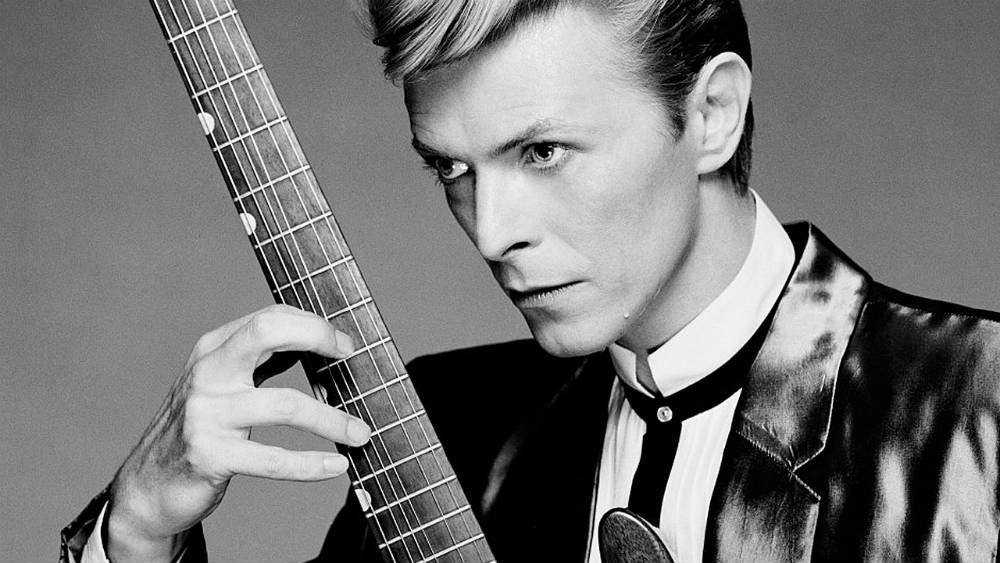 Throughout his career, he employed a wide range of musical styles: we can list rock'n'roll, music hall, hard rock, heavy metal, soul, psychedelic folk and pop. This wide variety of influences goes along with many radical changes in terms of appearance: we can remember that Bowie debuted wearing gender-bending, mother-goddess-like hippie flowing robes, then transitioned to the flashy unitards and the orange mane when he became the rock alien Ziggy Stardust. When, in the late seventies, he decided to embody The Thin White Duke, he opted for slick blond hair and sartorial three-piece suits.
Bowie's voice was as versatile as his influences and looks. In fact, in a recent analysis on artists' vocal ranges, he was ranked seventh, just behind Christina Aguilera: he frequently used octave switches for different repetitions of the same melody. This is exemplified in Space Oddity and Heroes among others. Moreover, he deliberately used the vibrato technique and, in the lowest part of his vocal register, his voice has a crooner-like richness.
Given his love of orchestral instruments, we would like to pay tribute to David Robert Jones, Ziggy Stardust, The Thin White Duke and all his personas with these unconventional covers of his songs.
Under Pressure
An extraordinary collaboration between Bowie and the band Queen, Under Pressure actually evolved from a Jam Session that they engaged in at Queen's Studio in Montreux, Switzerland. Queen bassist John Deacon credited David Bowie for creating the very recognizable bassline of the song, even though Bowie claimed that it had been composed before he became involved with the project itself.
Here, a performance by the London Symphony Orchestra seamlessly combines rock and Classical Music.
Space Oddity
This 1969 hit was released five days before the launch of the Apollo 11. After all, it was a period of deep fascination with outer space. Space Oddity is a tribute to "2001: A Space Odyssey": in fact, you can discern an instrumental build-up in the introduction that bears some resemblance to Also Sprach Zarathustra.
Is there a better setting than the International Space Station for a cover of Space Oddity, performed by Space Commander Chris Hadfield?
Changes
Originally a parody of a "nightclub" song, Changes is a tongue-in-cheek reflection on the compulsive nature of artistic reinvention, in which Bowie distances himself from the rock mainstream. Back when it was released in 1971, it received good reviews but was not a trailblazer in the chart. However, it slowly became a mainstay in Bowie's live performance history to the point that Bowie himself is quoted saying "it turned into this monster that nobody would stop asking for at concerts [.. ] I had no idea it would become such a popular thing."
After hosting the BBC National Orchestra of Wales NOW Your Turn event, this pianist noticed that the Steinway Piano had been left onstage, so she engaged in an impromptu performance of Changes by David Bowie, using her own arrangement.
Life on Mars
"A cross between a Broadway musical and a Salvador Dalì painting" was how Life on Mars was first described on BBC Radio 2. It was actually written as a parody of Sinatra's recording of Paul Anka's My Way.
It was also covered by Broadway diva Barbra Streisand, to which Bowie reacted by defining it "Bloody awful. Sorry, Barb, but it was atrocious." Come on, it was not this bad, albeit very showtuney.
Heroes
This song comes from Bowie's "Berlin" era and its title was actually inspired by a German track that co-writer Brian Eno admired. Heroes was not immediately a huge hit in the UK and in America, but it eventually became the second most covered song of his repertoire after Rebel Rebel. In 1987 David Bowie held a symbolic performance of it in front of the Reichstag in West Berlin, an event now considered a catalyst to the fall of the Berlin wall two years later. Since the original is a pure "wall of sound" product, we would like to offer some variety to it with a Bluegrass cover.