ABOUT SYMPHONIC STORYBOARDS
Hailed as one of the "most progressive modern orchestras" by The Observer, Philharmonia Orchestra of New York (PONY) returns to New York City's Jazz at Lincoln Center on March 21st and 22nd for two powerful concerts of musical storytelling by Wagner, Verdi, and Rimsky-Korsakov under maestro Atsushi Yamada, including the dazzling orchestral showpiece Scheherazade.
Symphonic Storyboards takes audiences on gripping journeys of love and lust, light and darkness, passion and betrayal, all told through music performed by world-class musicians accompanied by striking original films on a huge screen.
BUY TICKETS   (Discount code: "CMUSE30")
DETAILS
Location: Jazz at Lincoln Center, Manhattan
Date: March 21st and 22nd, 2017
Time: 7:30pm (both nights)
Price: $25 to $85
BUY TICKETS   (Discount code: "CMUSE30")
GET 30% DISCOUNT USING THE DISCOUNT CODE "

CMUSE30

"
Discount code: CMUSE30
Kindly enter the discount code "CMUSE30" as below to get 30% off.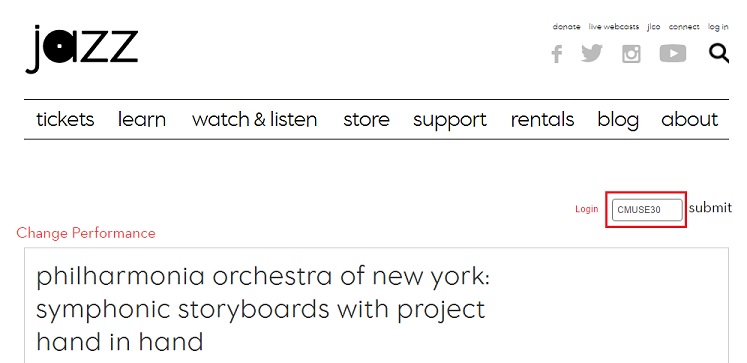 ---
ABOUT THE MOVIES
In a first for classical music, PONY launched a film competition to discover three talented auteurs to create original films to accompany the Wagner portion of the Symphonic Storyboards concerts. More than 130 filmmakers from 30 countries entered the seminal competition.
Symphonic Storyboards will also feature an original film created by celebrated Projection Designer Daniel Brodie. Brodie has previously collaborated with Kanye West, Mariah Carey, Aladdin on Broadway and many other iconic performers and productions.
Below: A trailer for the film "The Flying Dutchman in Slow Motion" by film comeptition winners Bec Sloane and Taylor Stanton. To debut at Symohonic Storyboards
ABOUT PHILHARMONIA ORCHESTRA OF NEW YORK
Philharmonia Orchestra of New York (PONY) is an ensemble whose eighty plus members have played with all the major Lincoln Center orchestras.
Past PONY performances include a collaboration with Andrea Bocelli at Madison Square Garden and Danny Elfman's Music from the Films of Tim Burton at Lincoln Center.
The orchestra is led by Principal Conductor Atsushi Yamada, the first Japanese conductor in the history of the New York City Opera and only the second Japanese conductor at Lincoln Center.
BUY TICKETS   (Discount code: "CMUSE30")
Note: This is a sponsored post and CMUSE is not in affiliation with jazz.org