Orchestras across the United States have spoken out against the travel ban President Donald Trump sought to impose against refugees and immigrants from seven majority Muslim countries.
Last Wednesday, the Seattle Symphony Orchestra presented a concert entitled "Music beyond borders," featuring works by composers from the countries affected by the ban: Iran, Iraq, Libya, Somalia, Sudan, Syria and Yemen.
The concert was initiated by the orchestra's musicians. One of them pointed out when introducing one of the pieces that 25 percent of the 80 musicians playing in the Seattle Symphony were immigrants and that the music the orchestra played had been created by people from around the world.
"The arts community across the country has been contributing in meaningful ways to the discussion around immigration following the recent executive order restricting travel and immigration from these countries. As artists and Americans, we are committed to freedom of expression and the open exchange of ideas which create an environment of mutual understanding and the capacity for empathy. The Seattle Symphony is inspired to add their voice in the hopes that the country can come together through music," the orchestra says on its website.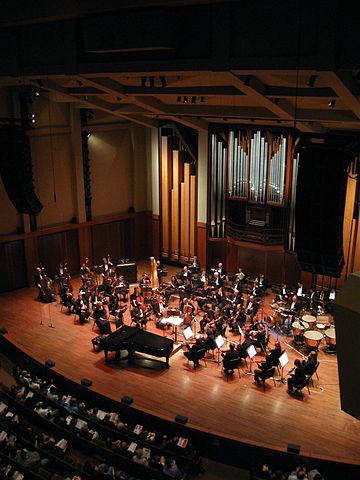 The Seattle Symphony in 2009. Image credit: Dcoetzee/Wikimedia Commons