Orchestras across the United States have spoken out against the travel ban President Donald Trump sought to impose against refugees and immigrants from seven majority Muslim countries.
In year 2017 Feb, the Seattle Symphony Orchestra presented a concert entitled "Music beyond borders," featuring works by composers from the countries affected by the ban: Iran, Iraq, Libya, Somalia, Sudan, Syria, and Yemen.
The concert was initiated by the orchestra's musicians. One of them pointed out when introducing one of the pieces that 25 percent of the 80 musicians playing in the Seattle Symphony were immigrants and that the music the orchestra played had been created by people from around the world.
"The arts community across the country has been contributing in meaningful ways to the discussion around immigration following the recent executive order restricting travel and immigration from these countries. As artists and Americans, we are committed to freedom of expression and the open exchange of ideas which create an environment of mutual understanding and the capacity for empathy. The Seattle Symphony is inspired to add their voice in the hopes that the country can come together through music," the orchestra says on its website.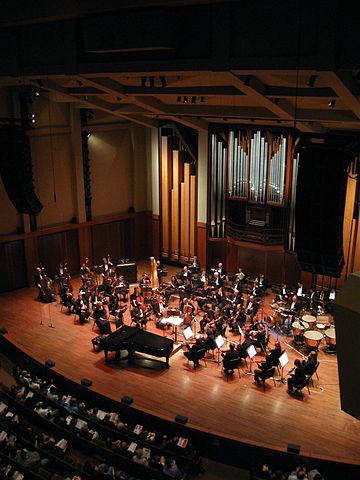 The Seattle Symphony in 2009. Image credit: Dcoetzee/Wikimedia Commons
The Budapest Festival Orchestra under renowned conductor Ivan Fischer was in New York at that time. It was only after Fischer's intervention that the trip could go ahead. Trump's travel ban threatened to prevent a cellist, who is an Iraqi and Hungarian citizen, from traveling to the country.
Fischer is of Jewish ancestry and lost relatives in the Holocaust. He speaks out frequently against nationalism and right-wing movements and has been involved in the BFO's efforts to play in synagogues throughout Hungary in areas where the Jewish community was wiped out by the Nazis.
The travel ban has been temporarily lifted as court challenges are ongoing.
Did you enjoy reading this article?
We rely heavily on the generosity of our readers in order to continue and expand our work. Even a small, regular donation can go a long way to help us pay our writers and expand our team so we can bring you the latest from the world of classical music and beyond. Please donate today in support of our Patreon campaign.