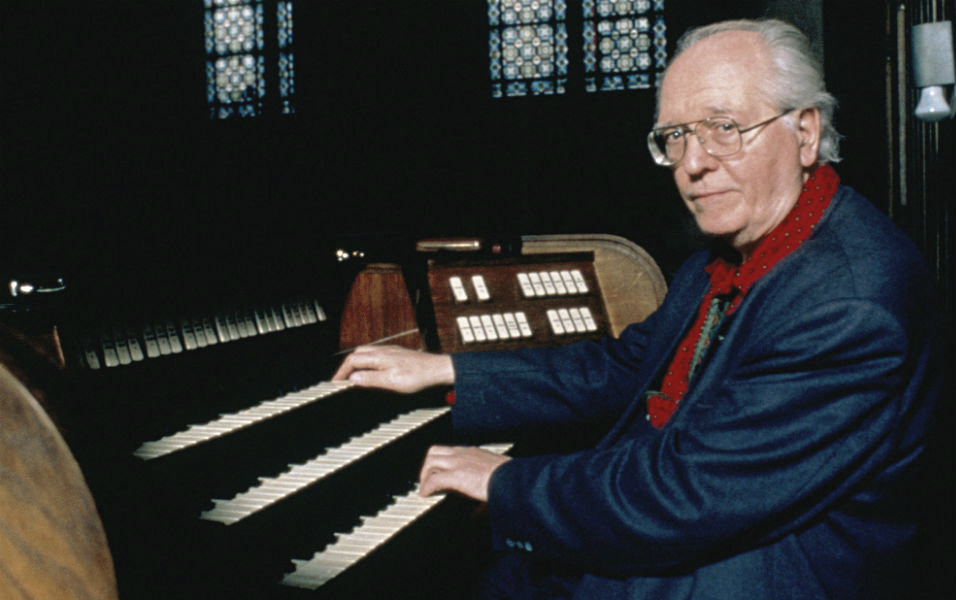 The compositions of Olivier Messiaen (1908-1992) reflect the bridging of traditional, tonal music with the avant-garde styles of the 20th century. He was born in Avignon, France during the Impressionist movement with the music of Claude Debussy influencing him at an early age. Gone was the adherence to standard tonic-dominant relationships in music which left the door open for him to explore birdsongs, intricate rhythms, an interest in non-Western music, and the spirituality of his deep Catholic faith.
Messiaen took piano lessons after having already taught himself to play the instrument. The family moved to Paris when his father accepted a teaching position there. At the age of 11, the composer entered the Paris Conservatory. Throughout his studies, he excelled in all aspects of music including harmony, piano accompaniment, and music history. He began studying organ in the late 1920s with Marcel Dupré and composition with Paul Dukas. Beginning in 1929, he served as deputy organist for Charles Quef at La Trinité, a Roman Catholic church, in Paris.
When Quef became ill and died, Messiaen applied for the position of principal organist. His application included a letter of recommendation from composer-organist Charles-Marie Widor. His application was approved and he held the post from 1931 to 1992. He also served as a teacher at the Schola Cantorum, and later at the Paris Conservatory.
He created "colors" in his compositions. For example, the unaccompanied choral work, O sacrum convivium! (1937) contains both rich harmonies and intricate rhythmic patterns. This work is considered early in his style development but it illustrates the direction taking shape.
While serving in the medical auxiliary during World War II, Messiaen was captured in 1940. He composed Quartour pour la fin du temps (Quartet for the End of Time), making use of the instruments played by three fellow prisoners: violin, cello, and clarinet. With Messiaen playing piano, the composition was premiered January 1941 in front of guards and prisoners. This quartet is considered one of the great 20th-century chamber works.
Following the war, he continued with his studies of various rhythms and chants ranging from serial techniques to the music of the ancient Greeks and Hindus. He made detailed transcriptions of birdsongs which he used in his compositions. Sometimes it would be an occasional passage; other times is would be throughout the work. One example of this is his 1958 piece for solo piano, Catalogue d'oiseaux (Catalog of the Birds).
Many of his religious works were written for organ with the "colors" that could be created from various registrations. One of his large sacred works was based on separate improvisations that he formed into his 1950 Messe de la Pentecôte (Mass of the Pentecost). Other religious works were not for organ though such as La Transfiguration de Notre Seigneur Jésus-Christ. This is the story of Christ's Transfiguration. This 14-movement piece was composed over a period of four years, from 1965-1969, for a 100-voice choir, large orchestra and seven solo instruments.
He was equally at home with non-religious works. After the Transfiguration work, Alice Tully, for whom Alice Tully Hall in New York is named, commissioned him to write something for the United States' bicentennial. His orchestral work, Des canyons aux étoiles, inspired by the birdsongs and colors of Bryce Canyon in Utah was premiered in New York in 1974.
St. Francis of Assisi was the subject of his only opera, commissioned by the Paris Opera in 1971. It took him almost 10 years to finish Saint-Francois d'Assise, writing the libretto and music. After its premiere in 1983, he kept composing, dispelling talk that the opera would be his last work. The entire opera was performed in 1988 with Messiaen in the audience of the Royal Albert Hall in London in honor of his 80th birthday. He died in Paris, April 27, 1992, at the age of 83.