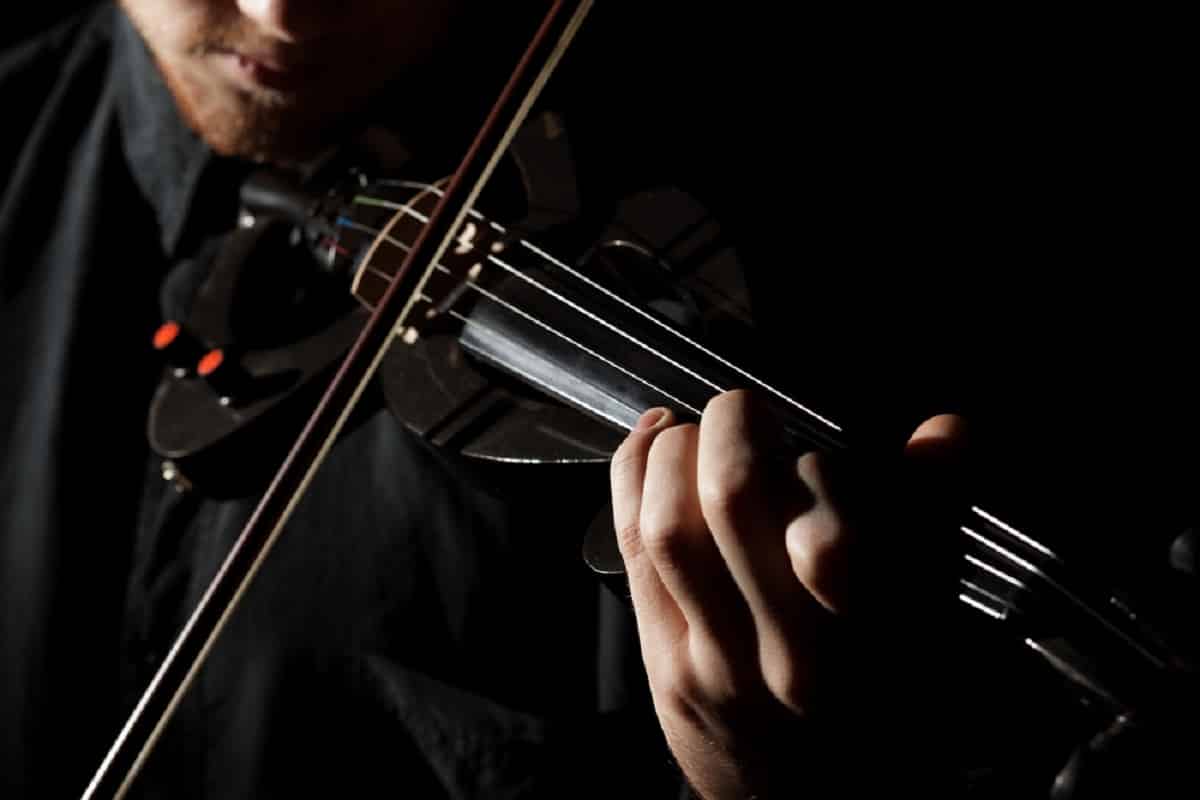 Music for Electric Violin
Perhaps the first question to answer is what is an electric violin? Similar to the idea of an electric guitar, the electric violin is an instrument that requires amplification to be heard whereas an acoustic violin uses effectively its soundbox for the sound to be heard. This is not where the difference end.
The acoustic violin is made with a hollow body (that acts as the resonant soundbox), but its cousin, the electric violin, is often a solid construction. There is a difference in the weight of these instruments too. Quite often electric violins can be quite heavy in comparison to the 480g average weight of an acoustic instrument. It is also important to note that the quality of the sound produced by an electric violin is highly dependent on the quality of the 'pick-ups' and the kind of bridge it is made with.
1. 'First Light' by Lindsey Stirling
If you take the time to search the internet for the foremost electric violinists the name Lindsey Stirling is very dominant. Since setting up her website promoting her unique combination of dance and music in 2007 Lindsey has gone from strength to strength. This track has over nine million views.
Lindsey not only plays the electric violin but also choreographs and dances to her work. The concept in this piece is a move from darkness to light. There is a pervading sense of hope in the music that broadly falls into the genre of light contemporary popular music. Elements of folk music thread through the violin melodies that dance across the repeating chord pattern. As a complete package of dance, visuals, and music, it is easy to understand why Lindsay has been so successful.
2. 'Oxford Suite' (Part One) from The Purple Electric Violin Concerto by Ed Alleyne Johnson
Ed Alleyne Johnson has made a name for himself as one of the most renowned electric violinists of his time. Having graduated from Oxford in 1980 with a degree in Fine Are, Ed pursued a career as a busker and professional session violinist. As a travelling musician Ed has busked on the streets of England, mainland Europe, the USA and Canada with great success. He also spent several years playing with the alternative band New Model Army.
The 'Purple Electric Violin Concerto' is a work that dates back to 1992. It represents Ed's first work as a serious solo violinist and composer. According to several different sources, the tracks were each recorded live. There was no re-mixing or overdubbing of the violin melodies showing the skill and precision, Ed has as a performer.
Originally the concerto was only available on cassette but in 1993 the 'Oxford Suite' was released on a CD through China Records. The style of the music is minimalist in flavour with slowly evolving ostinato that layer on top of each other as the music progresses. As Ed himself explains, many of the melodic ideas were busked on the streets and then the more popular ones used in the concerto. The full album can be found here.
3. 'One Last Dance' by Jason Yang
Jason Yang has several claims to fame. Firstly, he is the violinist and composer for Madonna, but he is also a composer for media and a remarkable violinist. Jason not only plays the electric violin but also the acoustic instrument too. The piece titled 'One Last Dance' he composed with the next James Bond movie in mind, in the hope it might be adopted as the next title track. It features Jason playing all the parts to the track which in itself is impressive.
'One Last Dance' has distinct overtones of the Argentinian composer, Astor Piazzolla, written as it is in a dark, minor key, gently syncopated rhythms, and with a moody and expressive violin melody. Jason also includes at around 3:45 a brief cadenza in which he demonstrates his fluency on the instrument.
4. 'Mirage' by Jean Luc-Ponty
Above is a recording from 1982 of Jean Luc-Ponty performing a piece with his band they titled 'Mirage'. It was a huge hit at the time and has remained favourite amongst Luc-Ponty's followers. Jean Luc-Ponty began his musical career as a tenor saxophonist having been inspired by John Coltrane. He studied music formally at The Paris Conservatoire where he graduated with one of the highest awards possible; the Premier Prix. Jazz remained a love in Jean Luc-Ponty's life and eventually, he decided to leave the orchestral world of music and continue with a career in jazz.
At the tender age of 22, Jean Luc-Ponty was already on the road to great success. The track 'Mirage' is a fine example of a progressive rock piece that features the electric violin, although it does not take centre stage for very long. Following a meandering solo, the violin gives way to the synthesiser solo that plays the piece to a close.
5. 'Fire and Ice' by Mark Wood
Gritted teeth and pounding drums, this track takes a serious step away from nearly everything I have featured in the article. Mark Wood not only classes himself as a 'rock-metal violinist' but he even has his own make of electric violins. Mark Wood has been described as the 'Les Paul of the Violin World' and it is not difficult to understand why.
In this track, Mark uses a violin called a 'viper' that has seven strings. The sound he produces is somewhere between a violin and an electric guitar full of bends, glissandi, and chordal passages. 'Fire and Ice' is a driven, cinematic track that uses the skills of Mark Wood and his electric violin to the maximum. It is immensely powerful in its delivery and intent as illustrated in the accompanying video.
A seamless blend of heavy rock, classical elements and a touch of folk music make 'Fire and Ice' a totally compelling track and a superb demonstration of what an electric violin can achieve in the hands of a wizard-like Mark Wood.