Combine a heavy dose of country songwriting with an occasional rock-influenced track and you've got the flavour of Michael Van and the Movers' second album, A Little More Country. The California-based group (Van is originally from Georgia) serves up traditional country tunes backed up by music in which the mandolin and banjo feature prominently, with a rock guitar sometimes stepping forward.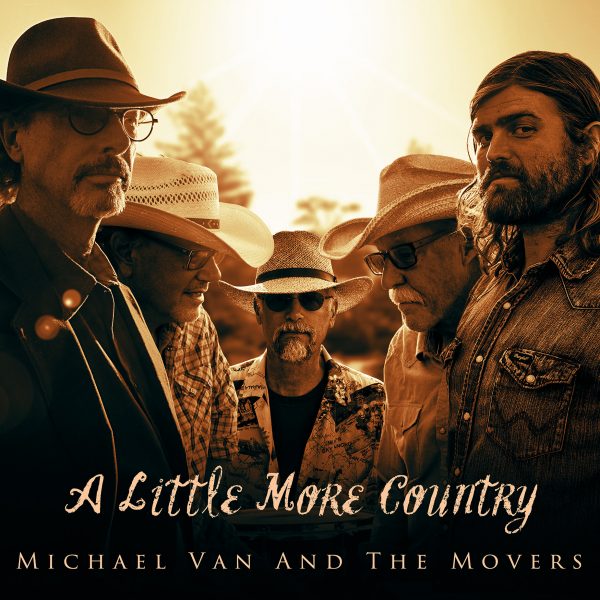 The album's opening track and lead single, "A Little More Country," falls into the latter category. Even though the mandolin is heard in the background, Pete Ahonen on the electric guitar takes the lead.
The traditionalists, or anyone who likes a good old drinking song, will enjoy "Gettin' Drunk on a Monday," which takes up the fate of a man trying to organize a party and ending up hitting the bottle instead. This is followed by "Love me Till Thursday," a song that incorporates another classic country theme. It is in fact based on a true love story. Even though the paycheck didn't arrive that day, the woman still married him.
"Juanita" assumes a more contemporary significance given the sharp debates over immigration in the recent US presidential election and following the inauguration of Donald Trump. It's about how hard it can be to cross the Mexico-US border.
The album's second half includes several tracks exploring typical themes of country music, from "Center of the Universe" about a lost love, to the reflective River Road" and the much more upbeat and lively "That Train." "Sounds Like Rain" slows the  pace right back down again.
If a mixture of traditional country songwriting with some creative instrumental work appeals to you, A Little More Country is well worth a listen. Fans of "Dreaming Myself Awake," the band's 2013 album, should get their hands on this one. Even if it's not likely to win over new enthusiasts to the genre, overall Michael Van and the Movers' latest release is a strong record.
A Little More Country was released on 20 December. Get more info about Michael Van and the Movers on their youtube channel, at ReverbNation or on Facebook.