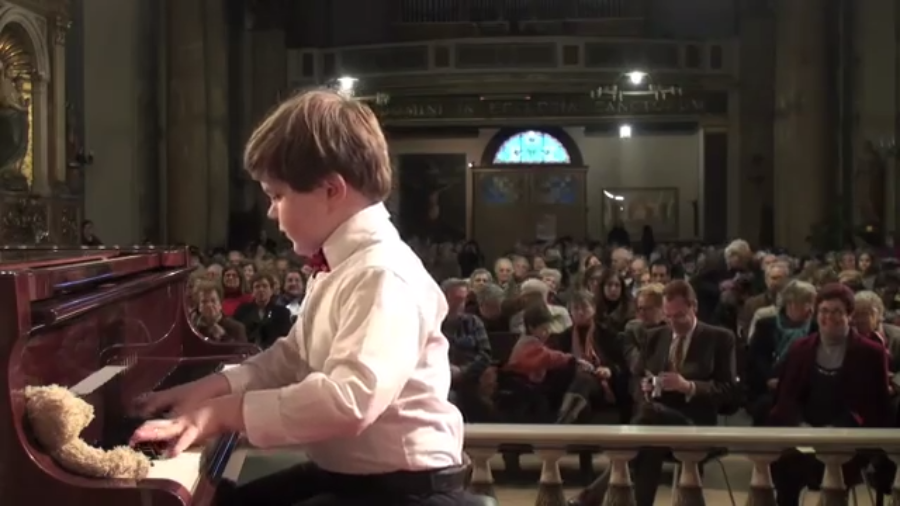 Michael Andreas was born to German parents on September 26, 2001. Developing a flair for music in early childhood, he was singing at the age of 2. His mum decided at the age of 4 to take singing classes. At the age of 5, he asked to play the piano.
His German parents lived in Barcelona, Spain when he was born on September 26, 2001. Music turned out to be something he was excellent at and he was singing as early as his second birthday. Seeing the potential in Michael, his mother enrolled him in singing classes in a bid to build on the early talent that she could tell he possessed. Not only was Michael a good singer, but at the age of 5, he asked for permission to start playing the piano.
Proving to be a natural piano maestro, he was 7 years old when he began performing his own music compositions publicly. Just a year later, he had worked at the same level as the great masters like Chopin's Bolero and Beethoven's Pathetique. In fact, he was the only child of that age in the world who could play such an intricate piece as Pathetique by Beethoven with technical and musical accuracy.
This level of skill earned him global recognition and invitations to perform in the most prestigious concert halls in the world. International tours begin for Michael soon after and he toured major cities in Europe like London, Mallorca, Munich, and Lucerne. His troupe also performed concerts in Mexico and other countries where he delivered amazing solo performances.
When he was 9, he joined the Orchestra "Gnessin Virtuosi" of Moscow as a piano soloist and played Haydn concerto. He also played Beethoven's Concerto No.1 for Piano and Orchestra as a 10-year-old.
Michael's career continued to flourish as an orchestra piano soloist and his reputation had a huge boost when he performed one of Mozart's best pieces in Switzerland. The "Grosser Saal" KKL Lucerne in Switzerland is a world-renowned concert hall and Michael performed Mozart's No 12 Concerto for Piano and Orchestra there, aged just 12.
The performance was conducted by Howard Griffiths and marked a breakthrough moment for Michael as an orchestra piano soloist. It also marked the first time he did a Mozart tour and completed one of his best pieces called "iPolonaisei" during the tour, performing it to rave reviews.
At 13 years, he performed in the National Music Conservatory in Mexico and did Beethoven's Piano Concerto No 5 Emperor. A year later, he performed the same piece at Palau de La Musica in Barcelona, Spain. He also delivered an amazing delivery of his own interpretation of "El Manisero" alongside the orchestra of Erwin Schrodin BayerischeStaatsoper and in 2016 in the Grand Hall Wiener Konzerthaus.
Michael participated in several national and international piano contests which he usually won comfortably. In 2010, when he was 8 years old, he competed in the Under-18 age category and won seven competitions. When he was 10, he also won the Spanish edition of America's Got Talent on national television. He was on another television game show called 'Los Incredibles and won the first prize also. He also entered the Bundeswettbewerb in Germany which he won first place and the special Europa prize.
Despite being so musically gifted, he was also academically sound and completed a music course at the Conservatory of Barcelona in two years less than usual, using four years instead of six. He later earned the "Young Virtuoso Award" at the Manhattan Music Competition in 2016.
Ever since he burst into the limelight as a child, Michael has made a special appearance in the media in both print and television. He has also performed several radio show broadcasts that have been streamed all around the world. He enjoys classical music and when he's not composing, he dabbles in pop music and musical scores for films. For the latest news about Michael, visit his website.
You can follow Michael's life and career on his YouTube channel where he has uploaded over 140 videos that encompass his world travels and piano concerts. You can subscribe to his YouTube page.
Here is his fantastic Pathetique played at the age of 8!!