The Great Human Odyssey, an epic tale of the emergence of our species and how we survived, will be broadcast for the first time this week  as a newly edited two hour special on PBS across North America. Award-winning Canadian Composer Darren Fung is the creative power behind the two-hour feature's soundtrack. Fung's work has already received critical acclaim internationally since the Odyssey was broadcast for the first time last year on Canadian broadcaster CBC as a three-part mini-series.
We spoke to Darren about his involvement with the project, his approach to composition and the opportunity to collaborate with a live orchestra and choir.
An interview with Canadian composer Darren Fung
Jordan Smith: Hi Darren, thanks for talking to us today. What as it about The Great Human Odyssey that attracted you and how did you become involved with the project?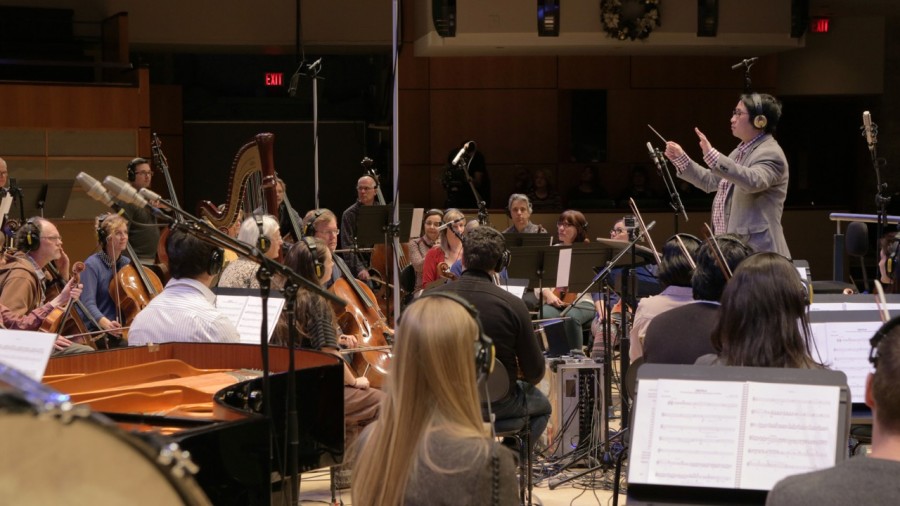 Darren Fung: Well about three or four years ago, Niobe Thompson (who presents the show) and I were attending the Canadian Screen Awards and had a drink together.  Niobe had previously heard some of my work and told me about the project and his ambition to have it scored with a live orchestra and choir. Of course I was interested, but my first question was, are you really going to have money to do that?  It's exceedingly rare to find television productions with large enough budgets for this, especially in Canada.
What really convinced me was when Niobe showed me some of the rushes from the film.  He showed me some of the recreations where a Siberian Yupik man is running and jumping over ice flows.  It was absolutely epic.  It was these clips that made me truly understand how epic and incredible this project was, and why Niobe wanted to place so much emphasis on music.
JS: Could you talk a bit about the show for anyone who is unfamiliar with it?
DF: The Great Human Odyssey tells our species' story of miraculous survival and its ability to persevere amidst some incredible environmental adversity.  It's been compared to David Attenborough's work (Blue Planet, Planet Earth, Frozen Planet) and while I'm not a science guy, Niobe tells a compelling story about how we have been able to persevere in difficult conditions. Not being a science guy, this story resonated with me.
The PBS version is a different show from last year's CBC broadcast. It's been edited to a two-hour special instead of three one-hour episodes. The PBS version has a new emphasis on the music with almost wall-to-wall score.
JS: When it came to the soundtrack, how did you go about creating the composition?
DF: In general, when I start working on a score, I try to work away from the picture. I'll come up with some musical ideas or themes on the piano, and then work them into the score. In the case of Great Human Odyssey, Niobe asked me to compose a  few themes for various trailers, and these three themes ended up being a big creative piece of the score. We ended up recording those cues in Prague as pre-score, and while they were not perfect at that stage, it provided a big piece of the thematic puzzle that is now the score for The Great Human Odyssey.
JS: Looking back over classical music history, there have been many attempts to capture the essence of what it is to be human in a piece. Did you draw inspiration from any composer in particular?
DF: I think you can definitely hear some moments influenced by Lord of the Rings in there. There were times when I asked the choir just to give me some loud, orc-like noises without notation.
I think you can definitely hear some of Verdi's Requiem; there's some really epic and apocalyptic passages there like the Dies Irae. I'm also a big fan of Brahms, Dvorak and Beethoven, but when you look at it, I think that contemporary film scores have been our biggest inspiration.
JS: Would you say there are some overriding emotions or themes you are trying to communicate through the soundtrack?
DF: I think there are some parts of the score that highlight the incredible mystery of human achievement: breath-hold diving, celestial navigation, travel by sea.
But then there are other times where the music is all about the grandeur of the epic landscapes on screen: mountains, rivers, forests, the Arctic.   The emotional story of homo sapiens is so incredible, and  the score interprets the whole gamut of emotions, from mystery to an awe-inspiring epic sound, and that's why it is such an effective score.
JS: And how has the soundtrack been received? I know you got several award nominations.
DF: Niobe and I have started to take our score and film to the concert stage.  We premiered The Great Human Odyssey In Concert with the Edmonton Symphony Orchestra in February and we had three sell-out shows with standing ovations. It was a real privilege to work with those talented musicians.
The score itself won a Canadian Screen Award, and we were also fortunate to be nominated for an International Film Music Critics Award for Best Documentary Score and a BSOSpirit Award at the Málaga Film Festival for Best Documentary Score and Breakout Composer of the Year.  What was great was being nominated up against some composers that I really look up to and admire, like Thomas Newman, James Horner and Stephen Price.
JS: How does your work on the Odyssey compare to other highlights in your career?
DF: While I've certainly worked with orchestra before, this was the first time where I had such huge resources: I've never had so much time with a great orchestra, and it was a first for me to do so in Canada and to have a professional choir as well.  I've had some other fantastic opportunities, but nothing really compares to the incredible experience we had creating and recording the music to The Great Human Odyssey.
JS: Are you working on any projects at the moment?
DF: I recently finished a project up in Banff National Park, where they've put in a new terminal building and an exhibit on top of Sulphur Mountain.  I did the music for that exhibit, scored a gorgeous flyover film, as well as the gondola ride (it's epic!).  We got to record at the Banff Centre for orchestra and choir, and it was pretty fun!  There's a couple of other projects that unfortunately I can't really talk about at this stage, but life is always busy!
Want to find out more?
The Great Human Odyssey will be broadcast on PBS this week. Find out more information and watch a brief trailer here.