A San Francisco man has set up a website to help find new homes for unwanted pianos whose owners are trying to offload them for free.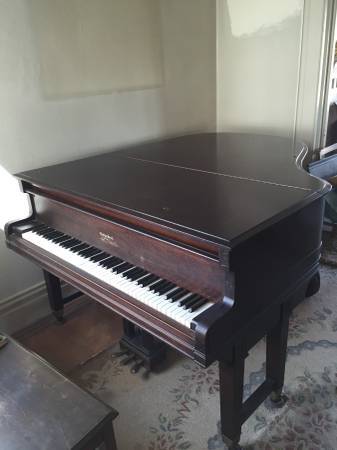 Christopher Silas Moon is the brains behind Piano Pound, where he collects ads from Craigslist seeking to get rid of pianos for free. But rather than just reposting them, Moon dreams up amusing stories to embellish the descriptions of the instruments so as to encourage potential new owners to give the battered and bruised musical instruments a second chance.
One of the latest pianos featured by Moon is "Beautiful George," which, according to Piano Pound, "is a thoroughbred. This isn't some two-bit pack-mule slogging through the Sierras. Beautiful George is a stabled champion being groomed with a silver-handled brush, crimson bows on his strings, a fine hand-pressed piece of gilded opus no. 10 resting upon his music shelf. Without a new owner, however, he is doomed to become firewood. A swift blow with the heel of an axe and that's all the world will ever know of Beautiful George. The owners are offering up assistance in helping find a new stable-master."
Other lost pianos presented by Moon include Mystery, Goldie, and Thompson "the Gun" Shackell.
So far, Moon is focused on the Bay Area. But we're sure the idea could well catch on and spread to other cities around the world where equally deserving pianos languish without a home.