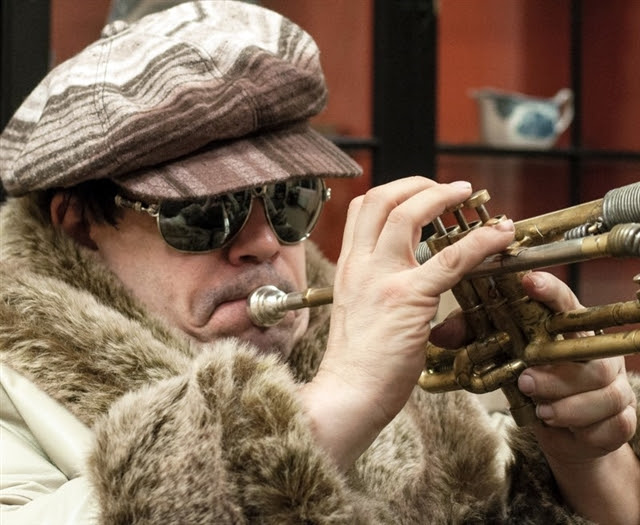 Trumpeter Mac Gollehon has created an album that takes you on a journey through Latin rhythms perfect for the summer, beats you'd associate with a club dance floor and even some relaxed moments for good measure.
No More Drama, the opening and title track of the record, begins with a salsa rhythm before the trumpet joins in along with the track's title as the only lyric. Its a strong enough opening, but the album really takes off with Amor Tragico, where the trumpet, percussion and vocals of Tina Torres come together to create one of the record's more memorable tracks.
In the first few moments of Dale Jamon, the fourth track, it almost sounds as though you're about to get acquainted with some free jazz as the trumpet gets experimental. But the salsa beat soon kicks in to bring the trumpet back under control for a little while. The sharp, jarring contrast later in the track with a distorted electric guitar doesn't quite work. The guitar is incorporated much more effectively in the subsequent track, Il Aceite, which also includes a funky bass line.
To some extent, the album divides itself into two sections. Towards the end, the Latin musical influence seems to fall away somewhat. This begins with Obscuridad, almost a chill-out track with a slow, relaxing trumpet part. The pace is picked up again in the next two tracks.
The last note of the album also deserves a mention, as a combination of organ and trumpet creates a puzzling, almost foreboding uncertainty about what is to come. The track itself is a 29 minute epic, entitled, appropriately enough, "If time allows."
No More Drama integrates a number of musical styles in an innovative way. It will be interesting to see what direction Mac Gollehon and the Hispanic Mechanics go in next.
Gollehon's album is recorded with the up-and-coming label True Groove Records, and it also comes with a video for the title track. You can see it here. He has previously played trumpet for many well-known pop artists.
You can keep up to date with Mac Gollehon and the Hispanic Mechanics on Facebook or Twitter.