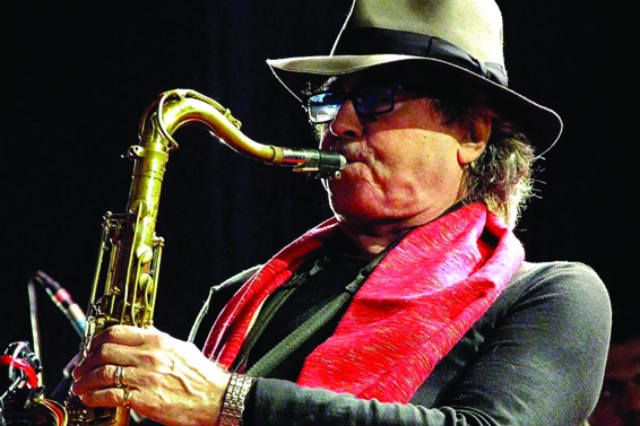 Tenor saxophonist Gato Barbieri is, most certainly, a legend of an artist. This was made clear once again, on Monday night during his early set at the Blue Note in New York, where Barbieri currently maintains a residency.
His remarkable music career spans over fifty years and features a résumé of innovative and varied projects that cross genre and approach, and that involve numerous well-known musical colleagues. Given that Barbieri is now eighty-two years old he performed the majority of his set sitting down in a chair; however, this did absolutely nothing to detract from the stronger-than-strong sound that he created via his tenor sax-playing. He was clearly in full command of the musical production on stage, which utilized players on congas, keys, bass and drums to create a full aural landscape.
Barbieri's finale was a scaled-down version of his Grammy award-winning film score, that of Bernardo Bertolucci's Last Tango in Paris (1972), and it was beautiful in its familiarity of theme. Two pieces from his 1976 album Caliente! however proved to be the most remarkable in their renditions. Barbieri's take on Marvin Gaye's classic "I Want You" was made as relevant and as of the present moment as it had been when first released in the 1970s. "Europa," a major hit from the same classic album, was also performed in total splendor on Monday night. Barbieri's technique and artistry were uncanny; with his horn, he managed to wail like-wow and still express an immense sensitivity. It was made evident that he is a true creative person, working off of the intangible ever-changing elements of each performative moment to create the most innovative possible outcome.
New York City-area concertgoers are encouraged to check out one of Gato Barbieri's monthly shows at the Blue Note Jazz Club; it is a privilege to see him perform live.
The Pace Report: "Still Alive In New York" The Gato Barbieri Interview from Brian Pace on Vimeo.