The view from the ever-sophisticated Dizzy's Club Coca-Cola in New York is quite remarkable. Last Sunday through the room's tall glass windows, one could see the August evening sunlight bathing the exterior greenery of Central Park in a subtle and natural glow. The Ted Nash Quintet was on stage then, playing the final notes of Henry Mancini's exquisitely evocative "Lujon" (Mr. Lucky Goes Latin, 1961).
It was the early set on the last of a three-eve stint for Nash and his group. The coalescence of such fine elements – the room's aesthetics, the winding moody Mancini melody – led one to draw the conclusion that at this particular moment, this was the place to be.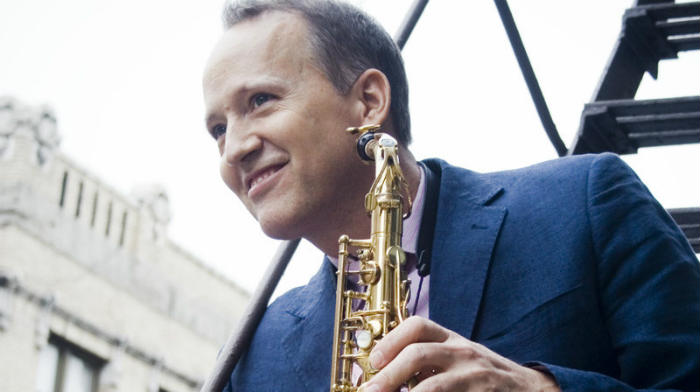 Early on in the set Ted Nash, well-renowned saxophonist and composer, remarked that he was thrilled to have this particular band with him, and rightfully so. Guitarist Steve Cardenas, vibraphonist Warren Wolf, bassist Ben Allison, and drummer Matt Wilson were key components of the evening's place-to-be-ness, as was the well-chosen set list. Thelonious Monk's "Four in One" was the quintet's rambunctious opener; the Mancini piece followed. Nash is a lover of Mancini's many compositions; his 2008 project, aptly titled The Mancini Project, was in part a testament to this fact. During Sunday night's early set Nash briefly mentioned the idea of personal mythology and how he refused to run from his own, working his familial legacy into his musical endeavors. Ted Nash Sr. and Dick Nash, Nash's uncle and father, were both well-renowned studio musicians who frequently worked directly with Mancini.
The varied sources of each piece in the night's repertoire were proof of Nash's consistent creative prowess that has spanned his entire career, both as a saxophonist and composer. Following the Quintet's Monk and Mancini covers were four equally aurally stimulating and wide-ranging Nash originals. A track from Chakra, Nash's Big Band album released in 2013, issued forth the most stellar drumming of the night by Wilson. A possession of rhythmic accuracy and joyous easygoingness culminated in an undeniable awareness of Wilson's percussion-y ability. The playful "Walk this Way," ("not the Aerosmith song," Nash pointed out) off of the 2005 album La Espada de la Noche was rampant with sounds reminiscent of both Latin and European jazz. "The Truth is Stranger than Fiction" offered a taste of Nash's original score written for Patricia McCall-Scott's dramatic play of seventeen vignettes, Men Say the Darndest Things. Here Nash traded his saxophone for flute, an instrument he played beautifully and intelligently.
The quintet's final piece was perhaps its most impressive, certainly compositionally speaking on Nash's part. In 2014 Nash composed his innovative Presidential Suite, commissioned by Jazz at Lincoln Center, an eight-movement suite based on various political speeches from modern history. President Lyndon B. Johnson's "The American Promise" speech was the basis for the movement performed during Sunday night's early set, a speech from which Nash had transcribed pitches to form the piece's base musical scale. This compositional method colored the movement in a bit of an avant-garde tone. A listener trying to process this kind of musical information is rather akin to a listener trying to process the information typically dispersed in a political speech. Presidential Suite is most certainly evidence of Nash's admirable and intellectual aims as a composer.
While Ted Nash's contributions to the Jazz at Lincoln Center Orchestra over the years have been noteworthy, it felt a privilege to see him at work in an intimate setting with his own small group of musicians. Dizzy's Club Coca-Cola with its Mad Men-era charm was more than conducive to demonstrating Nash's talents and those of his quintet.