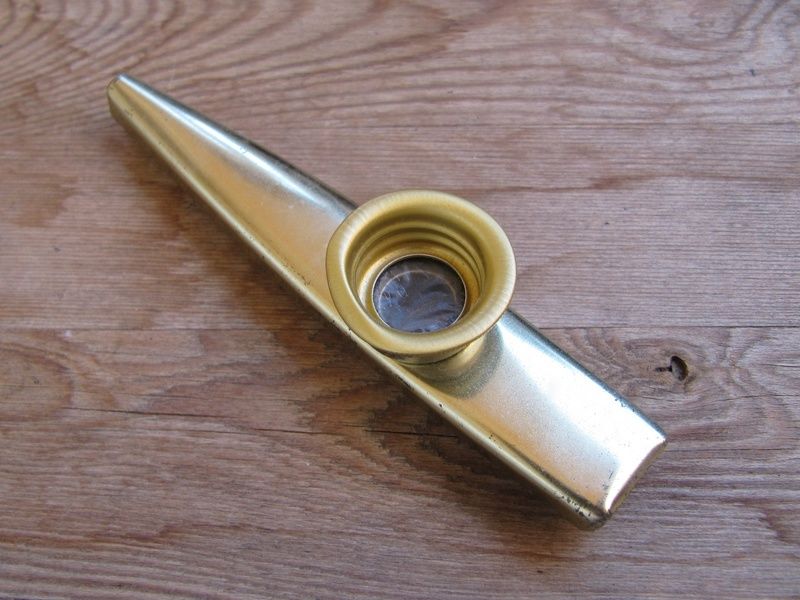 The familiar sound of pitched buzzing comes from a popular American toy and a musical instrument called a kazoo. Children and adults alike hum into this small, handheld object that produces a buzzing quality through a vibrating membrane that is activated by the player's voice. Pitch and volume are controlled by the person doing the humming.
Kazoos have been a part of the American scene since the 1840s. According to a long-held story, they were invented by Alabama Vest, an African-American in Macon, Georgia, who possibly used the voice-vibrating African instruments called mirlitons as his inspiration. A German-American clockmaker, Thaddeus von Clegg, made the instrument to Vest's specifications. In 1852, it was displayed at the Georgia State Fair with the name of Down South Submarine, referring to its shape.
About that same time, a traveling salesman named Emil Sorg came through Macon on business and, while there, met with Vest and von Clegg about the kazoo and the prospects of mass-producing it. Meanwhile, George D. Smith, of Buffalo, NY, patented "improvements in musical toys or instruments commonly known by the name kazoo" in 1902. It was the first time this toy was made of metal, and Smith's drawings resembled the kazoo shape of the present day.
After Sorg's meeting with Vest and von Clegg, he went to western New York and partnered with a Buffalo ironsmith, Michael McIntyre. Together, they first produced of metal kazoos in 1912. McIntyre and Sorg ended their partnership in 1913, and McIntyre moved to nearby Eden, NY. There, he formed a partnership with Harry Richardson, the owner of a large metal factory. They started mass-producing kazoos in 1914. Two years later, in 1916, they named the factory The Original American Kazoo Company.
This company is still in existence, but the name has changed to The Kazoo Factory and Museum and has the distinction of being the only one that makes metal kazoos in North America. The machines used for kazoo-making are the same ones installed before the factory switched from various metal items to strictly kazoos, and the toy instruments have been made the same way ever since the company started. The company is also a museum with displays of kazoos of different shapes, sizes, and made out of different materials.
Another museum dedicated to kazoos is in Beaufort, South Carolina. The Kazoo Museum highlights kazoos from around the world, kazoo bands, recordings, and sheet music. These musical toys are popular in amateur groups but are also found in rock groups, Dixieland bands, American classical music, and musical theater.
Charles Ives (1874-1954) used kazoos in his Yale-Princeton Football Game (1898) to represent the fans cheering. The Broadway musical by Frank Loesser, How to Succeed in Business Without Really Trying, has kazoos represent the sound of electric razors in the executive washroom. Leonard Bernstein added kazoos to a section of his Mass (1971). Some of the rock groups that have used kazoos in their recordings are the Beatles, Pink Floyd, and Queen.
The kazoo has even made it to famous concert halls like Carnegie Hall and Lincoln Center because of the kazoo virtuoso, Barbara Stewart. She was considered to be a kazoo virtuoso. In addition to classical concert audiences, this composer, author, and kazooist performed with Frank Zappa and on various television shows.
Royal Albert Hall was the scene for the Guinness World Record of the Largest Kazoo Ensemble. On March 14, 2011, BBC radio had 5,190 kazoo players performing Ride of the Valkyries by Richard Wagner and The Dam Busters March from a British war film.
Today's kazoos come in the standard submarine shape as well as small versions of band instruments like trumpets, trombones and French horns. They also come in non-musical shapes and different colors. They are toys that encourage music, and musical instruments that encourage fun.