Last week the internet and music world was abuzz with outrage, anger, bitterness, and parody all pertaining to Kanye West, Beck and the Grammy Awards. While some in the media seem to have a short-term memory, the antics and behavior or Mr. West should not come as a surprise, especially in regards to the current culture of me-first attitudes in the entertainment industry. Fortunately, the tact and talent of Beck has taken most of the focus of this debacle instead of Kanye drawing more attention than it deserves.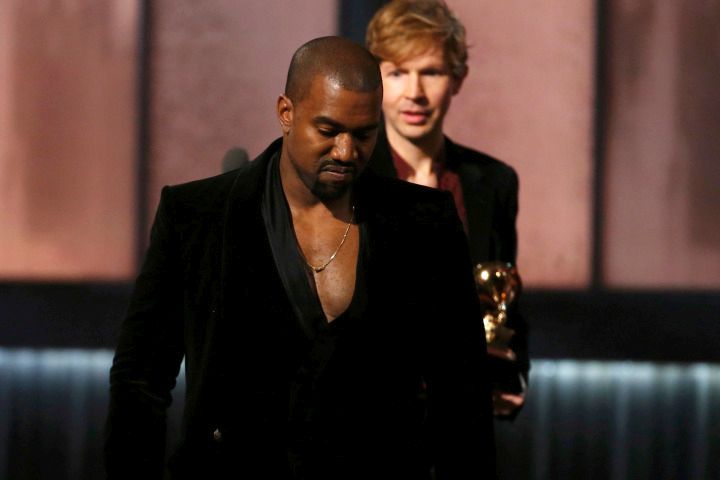 For those unfamiliar with the situation (and I admit to missing the awards show itself, as well as only monitoring the spectacle from afar through various online publications), the whole ordeal centers around Beck winning the Grammy for Best Album, something Kanye West felt was unfair, and stated so in an interview following the event in which he told first told TMZ and then E! "C'mon man, I love Beck! But he ain't have Album of the Year; he needs to respect artistry."
The interview set off a firestorm of backlash over Kanye's remarks, even drawing out the ire of UK rocker Shirley Manson, who had several choice words for the R&B pop artist. It was only six years ago when Kanye did something similar, except much more disrespectful to the artist who won Best Album, Taylor Swift. All of this still fits into the backdrop and the foreground on an artistic society, as well as a growing world-wide culture in general, where opinions are considered truth just for the sake of having them.
One of the transitions that the media world is in presently involves its use of social media to tell the stories it reports on. Though most TV, radio, and print news organizations appear to have strong followers through Facebook and Twitter, more and more people are turning to each other and their selection of "experts" for the news of the day. Many people use these channels to state pure opinion, and disguise misinformation for fact. One's opinion's have become truth in the eyes of many beholders.
Adding to this dichotomy is the ever expanding music industry, where countless artists emerge daily, all staking their claim to some form of the entertainment pie. The pop world has shrunk in the last decade as independent and unsigned artists have made inroads into the once all-powerful mecca of music publication. Using outlets like indie radio and Spotify, the old dogs who used to determine what musicians would become stars no longer have the same power. What does this mean for the pop stars of today? Most of them seem a little more sensitive than they used to.
I'm not exactly sure if a Grammy award in 2015 carries the same influence in the music buying public's eyes that it did a decade ago, but there is still prestige attached to the honor. It is one that Beck certainly deserves, but the only people to say that Beyonce wasn't as deserving are the handful of individuals who serve on the selection committee panel for the Grammy's. Yes, that's right. A panel of individuals not only choose the nominees, but also select the winners. It's even more of a political game than the US' convoluted voting system of districting/redistricting. Music fans are not the decision-makers in this process, only a select body of individuals are.
When you have sold out arenas, created multi-platinum albums , and been heralded as a music-god it's difficult to not assume that your will, let alone your opinion, isn't more valuable than other people's. From the position I sit in running a radio program, we run into artists periodically who feel some form of entitlement due to them just for being creators of music, as though they deserve to be heralded, have their music aired, and be celebrated just for showing up to the game. It couldn't be further from reality, but some people just don't understand that. A swift kick in the pants send some back to reality. I do hope, for Kanye's sake, that kick has hit something in his consciousness from the response to his recent behavior, that at least gets him thinking about his actual place in the artistic universe that everyone else occupies. Especially as it involves true, real, and unknown artists.