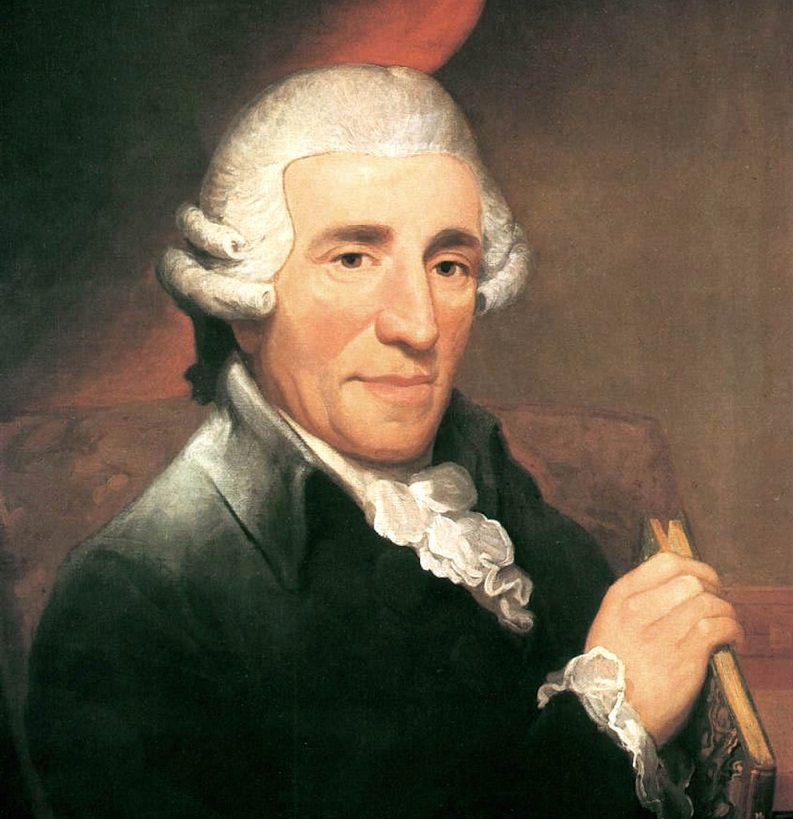 It might at first seem odd to begin to review Haydn's impressive symphonic oeuvre beginning with his final work, but starting at the end of a catalog can often be as revealing as starting at the beginning. In this article, I make a brief exploration of this magnificent Symphony, placing it in its rightful historical context and outlining its musical significance. In this Symphony it is easy to hear the stylistic traits that have become frequently associated with this great composer; including his melodic, rhythmic, and structural ingenuity and his complete mastery of the orchestral palette together with his wonderful sense of humor.
Throughout Haydn's long life (1732, Rohrau in Austria – 1809 Vienna), he completed 104 Symphonies. This alone would be a significant achievement for any composer but it's worth remembering that Haydn also wrote numerous Concerti, Operas, Oratorios, String Quartets, and Quintets, together with a huge quantity of astonishing Piano Sonatas.
Haydn played a major role in the development of the Classical Symphony and as you might expect, the development of the orchestra. He is often credited with being 'the father of the symphony', an accolade in my opinion, Haydn justly deserved. The early Symphonies would have been scored for modest forces consisting mostly of Violins, Violas, Celli, and Double Basses. A group of no more than 25-30 performers. Wind instruments such as flutes, oboes, horns, and bassoons were a more common feature in the later Symphonies such as No. 20 and 32. The score for the 104th Symphony requires an orchestra similar to what we might expect to see on a 21st Century concert platform comprising; flutes, oboes, clarinets (in A), bassoons, French Horns, trumpets, timpani, and a full string section.
Aside from Haydn's development of the Classical orchestra into a form very similar to that of the present-day Symphony Orchestra, Haydn created the musical form or structure of the symphony that largely held firm until the late 19th century. What Haydn achieved was to establish the four-movement symphonic form that adopts the following pattern of tempi: fast, slow, medium, fast. Each of these movements has its own unique musical structure and character with the opening movement often in sonata form and the final movement in rondo form. Middle movements often took a more straightforward binary (AB) or ternary (ABA) form. These musical structures are immensely important in the progression of music and still find their way into the music of living composers across the world.
Symphony number 104 was to be Haydn's final symphony. It was written in 1795 and premiered in the same year at The King's Theatre, London on May 4th with the composer himself conducting. It was greeted with warmth and praise from all quarters even though Haydn's popularity at the time, was not as strong as it had once been. Haydn noted in his diary that "the whole company was thoroughly pleased and so was I. I made 4000 Gulden on this evening: such a thing is only possible in England."The 104th was to be the last of what has been named his twelve "London Symphonies" and Haydn's final symphony.
The movements of the Symphony are as follows:
Adagio, leading to (2) Allegro
Andante
Menuetto
Allegro spiritoso
The key of the Symphony in D minor which supporting the opening Adagio tempo that evokes a strange and solemn mood. Fortissimo orchestral tuttis and dotted rhythms that begin the work contrast with quiet delicately scored string responses. After only two minutes the Adagio gives way to the Allegro, with a quite sudden brightening of the mood as Haydn moves into the key of D major. It feels as if we are in much more familiar Haydn territory at this point as the Allegro presents us with a stunning opening melody. The second theme is essentially a variation on the opening theme of the Allegro and demonstrates Haydn's economic of compositional technique: no musical material is wasted or unrelated. For students of musical analysis, you will discover that the constraints of sonata form are neatly and imaginatively manipulated by Haydn during this movement. Boundaries are pushed and expectations challenged. The development section of this opening movement is one worthy of deeper scrutiny than this essay aims to provide, but it shows Haydn to be a true master of the form; powerful and in total control.
The second movement (Andante), now begins in the key of G major and initially lulls us into a false sense of security with its light and airy feel. At Bar 38 Haydn takes us seamlessly into the tonic minor (G minor), and the whole atmosphere alters. There are unexpected harmonic twists and turns accompanied by a tremendous sense of drama. The close of the movement echoes the opening as if the storm has subsided and the calm innocence has returned.
The Minuet (D major) and Trio (Bb major) is littered with all kinds of rhythmic quirks underpinned by what I hear as Haydn's unfailing sense of humor. It is not stretching the musical truth to say that one can easily hear Beethoven in this movement but I will leave that up to each of you to decide upon.
For the finale, Haydn returns to the key of D major. The opening 22 bars are anchored by a tonic pedal that leaves us in no doubt that we are back in our home key. An alla breve (2/2) time signature generates the spirited feel to this last movement of Symphony 104. It is claimed that the opening theme of this movement has its origins in a Croatian folk tune or is possibly even reminiscent of the London street cry for "live cod". What is also a little unexpected is that this finale is also in sonata form, not rondo. This gives Haydn full reign to explore the thematic material he has composed in a way that perhaps rondo form cannot. The vitality and pure inventiveness that saturates this last movement are extraordinary. There are numerous unanticipated harmonic swerves and Haydn fully exploits the initial melodic theme right into the final section (the coda) of the symphony. Tovey argues in his analysis that Haydn composes "an ingenious transformation, not to be outdone by Wagner or Liszt, of the figures of the main theme." [1] This illustrates how far into the future Haydn's influence stretched, including Brahms in the finale of his own second Symphony.
There remains a tremendous amount of analysis and discussion untouched in this short survey, but perhaps I hope it has inspired you to find out more about this extraordinary Austrian composer and his vast catalog of works.
Suggested Performance Link:
Further reading:
Haydn by Richard Wigmore; Faber & Faber – ISBN: 978-0-571-23412-7
The Classical Style by Charles Rosen; Faber &Faber – ISBN: 0-571-22812-7
[1] Donald Francis Tovey – Essays in Musical Analysis (Symphonies and other Orchestral Works) Oxford University Press (1981) ISBN: 0193151472 – p. 374