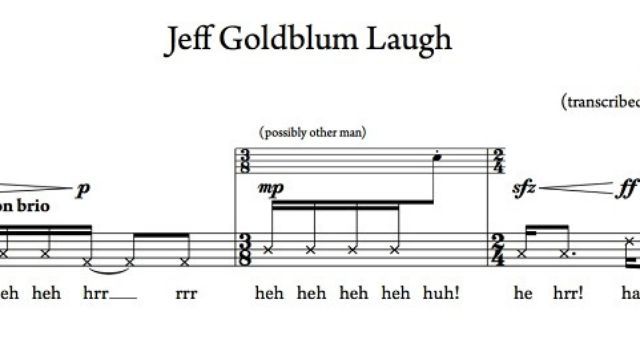 Jeff Goldblum is easily one of the most intriguing people to have ever graced the silver screen. In his breakout role in the original Jurassic Park, Goldblum portrayed Ian Malcolm, a mathematician who specialized in chaos theory.
His stark contrast to the scientists (and the attorney) created a comical aspect to the film that was needed in light of the carnage eventually unleashed by the reborn dinosaurs like T-­rex and the velociraptors.
Aside from having some of the best lines in the film series, Jeff Goldblum also showcased a rather iconic laugh, that has been forever enshrined in an imitation through music. That's right, music. Thanks to Evan Kent, a sheet music translation of the notable Malcolm laugh can now be replicated at will. Written as a duet, this extremely notable work was composed for piano, though it seems perfect for any instrument, especially brass.