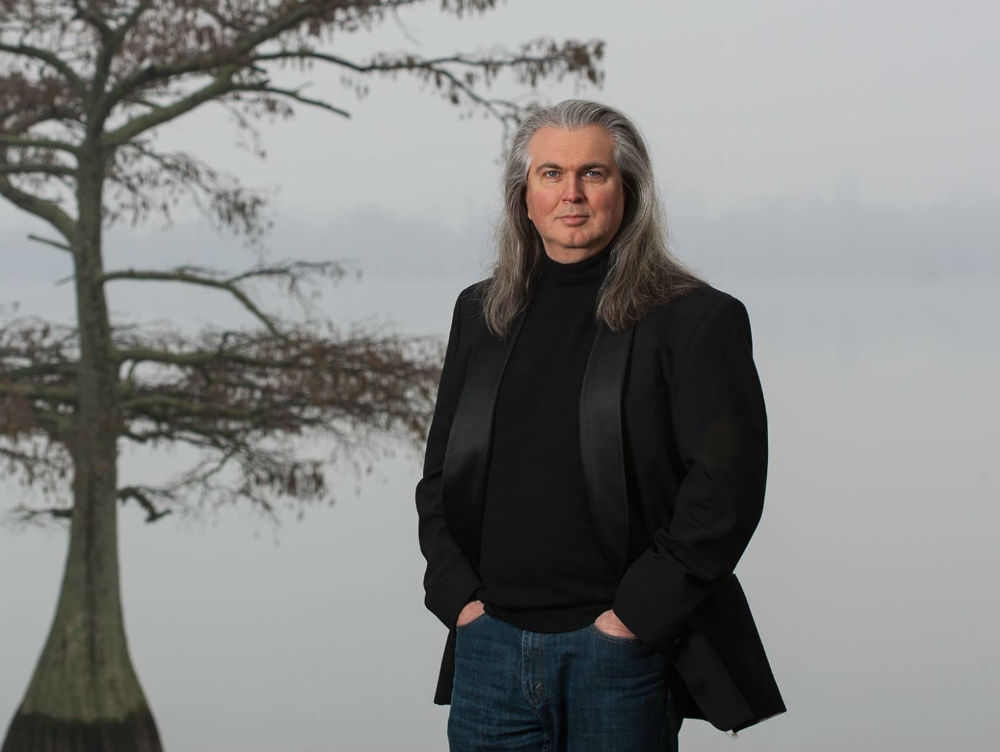 Pianist and composer Angelo Rapan recently released his debut album, Songs of Leaving. This work, which blends new age with a strictly classical background, tells story about the struggle –and the resolution– associated with departures from one's home country. It is quite autobiographical: after spending his childhood in Bucharest and then moving to Spain, to Belgium, to the United States and Hong Kong, Rapan has now found a home in Memphis, Tennessee (Great music scene, by the way, he remarks).
He has been playing the piano since the age of four, mainly influenced by his mother and siblings. A longtime believer in improvisation, he used music to overcome shyness when he was a kid: "When they asked me to say something, I was "I am not telling you, but I am playing it for you," he told us.
His early years as a pianist were marked by rigor. As soon as he enrolled in the George Enescu Academy, he was subject to annual competitions. "Every year you had exams, you went to school and you did not have a choice, you had to do something serious, you could not do anything else for fun, you had tests every year." So, even though he has no personal favorite in his classical repertoire, he admits to having a soft spot for Beethoven's pathetique. "I won some competitions with that!" he added cheerfully.
With an expansive musical knowledge that spans Piano performance, Ballet repertoire, Opera and Broadway (if you are looking for Broadway-themed inspiration, Rapan recommends Benny Andersson and Björn Ulvaeus's cold-war themed musical "Chess", the complete opposite of Mamma Mia), he conversed with us displaying a charming nondescript European accent with a slight British inflection.
What made you leave Romania in 1983?
After I won second prize at Maria Canals International Piano Competition in Barcelona, [Ars Nova Academy] offered me a scholarship, but being in a communist country, it was really hard for me to say "Hey guys, I have been offered a scholarship, would you let me go there". So, I went back to the same competition the following year, I won second prize again, and that time, I decided to take the scholarship. Romania was growing more and more secluded. I stayed [in Barcelona] and I did not go back. It was kind of traumatic, because my father was working for the government at that time, as everyone else in Romania. I knew he will be fired because he will never accept to sign any papers not recognising me as being a part of the family. Others family members had to do it so they won't loose their jobs, but I was OK with that. Everybody was supportive behind the curtain, but in the open they could not say that.
From there it was Basel, then Brussels, and then you left Europe. How did this constant moving between countries shape you as a musician?
At that time, you were seen as a brave person coming to a different country. People did not really know the challenges. Western Europeans were a little bit sheltered from the reality in the communist countries.
It was a humbling experience to go to the conservatory: you have to start from scratch, you have to introduce yourself, and knock on doors. Starting time after time, moving to another country, meeting people who don't know who you are and then starting somewhere else again was a humbling experience but it encouraged you to be at the top of your game, I think it served me well.
After hopping between European countries. You left for New York. What was your experience in the Big Apple like?
I had the opportunity to play for Martha Graham School among others. [Dance] is a completely different animal.
So what is playing for dance companies like?
[My past with] improvisation really helped me a lot. You cannot just play and ignore the dancers: you are playing for dance lessons, you are not playing repertoire—Gisele, Swan Lake– where they have to follow the score. In more of a workshop type of platform or lesson you really have to get attentive to what you are doing, you are dealing with characters. I remember Mikhail Baryshnikov, jumping all over the place, trying to keep us all alert and on pointe.
So was it your stint as a dance pianist what prompted you to shift from classical to a more contemporary genre as we can hear in Songs of Leaving?
I think dance offered me a platform where I could try something new. They were all happy with what I was putting on the table: they were not interested in the music, they were more interested in the counts and all of that. They were not judging me because the melody was not pretty, they were judging me for different aspects on their dance. I was free with my melodies and my colors.
How so?
At first, you have all the breaking exercises, which tend to be very classical and square. Once they went into developés and other free-form exercises, I was kind of able to go into my old music, which matches (or I thought it matched) perfectly what they were doing onstage.
What exactly is that "old" music you are referring to?
I had been doing that type of music since I was seven years old. I was doing the wolves, the birds, the sunshine. It was melodic, It was not noise: it was something I was searching, a path I was taking. I was trying to follow that in a musical discovery.
You recently released your first album "Songs of Leaving". How did that project come into existence?
This project of having a recording was always in my mind, and one day I said to myself "Look, you are not getting any younger. I need to knock on the door of some producer that know what they are doing and help me do this project and bring it to life."
You think "What am I going to do, just call [producer] Will Ackerman?" I emailed him one night and at about 2am, he wrote back saying "So glad to meet you, I love your story. Let's do it, I will be glad to produce your project" That was the first step.
What happened then?
I showed up a year later for our appointment at his Imaginary Road Studios in VT and we recorded all the songs. It's amazing the way he works because he has a vision on how to build that song and what the audience expects from that song. He was surprised that I had really long songs. Most of my songs were between 8 and 10 minutes long, and he said to me " this is not bad, because you really have the time to get into the music and discover who you are and where you are coming from and what you want to say, you're saying it with more depth."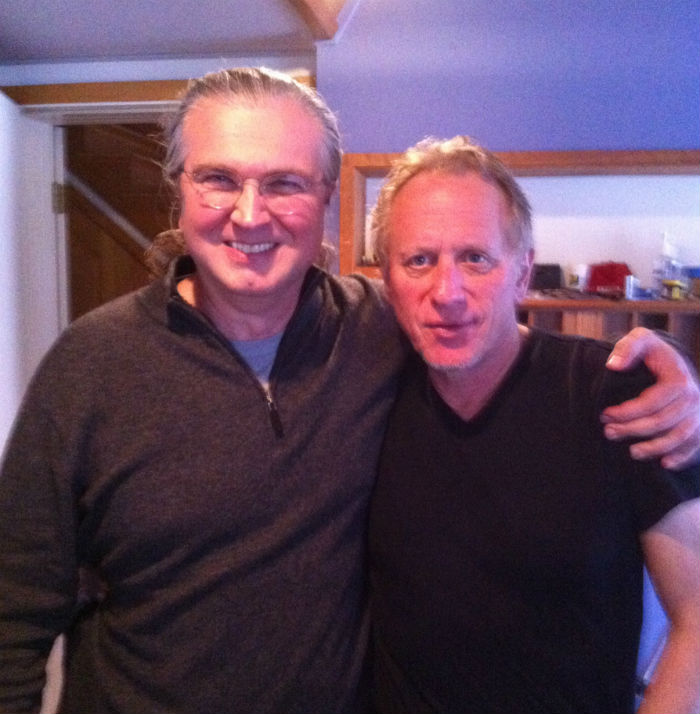 So what?
He said "we are going to do a radio version" (about 4:30 minutes long). He produced, cut a few things here and there, put in different instruments. Otherwise, he did not want to touch it because it was my inspiration and it made sense. It was not random sounds as new age music can sometimes be.
What's Ackermann creative process like?
We were listening to the recording and he said "I really hear a Cello here, what do you think? Let me call Eugene" "Eugene who?" "Eugene Friesen, he is a neighbor." We have a famous bass player Tony Levin, he played with Peter Gabriel and many musicians. You see, all of Will Ackermann's buddies are still in contact with him. When he hears something, he just gives them a call. For a project in CA, for example, he called Charlie Bisharat, who is a violin player who worked with Lady Gaga.
The album opens with "As We Left": what's the story of the piece?
[It's about] where it all started and how it started, with dramatic experiences as in leaving your family behind and moving to different countries at a very young age. Ackermann said to me "I think that people, even when it's far from now (Rapan refers to the eighties) can always relate to leaving the family to be on their own," and he really convinced me to go in that direction. All the tracks have something in relationship with leaving my country, leaving that place. I lived in the capital, but my parents are from Transylvania, so I remember the mountains the forest, when the wind blows.
Remember is the song that got the radio edit: what is it about?
Remember is about never forgetting where you are coming from, it's about always being aware that things are coming to you: physically you are not in the same place but you will always have them in your heart. It takes a second to to be back to those feelings and emotions. Remember, like the virtual Cloud, is that thought that stays suspended and you can access it.
Do you actually go home to Romania often?
I go every year. I am still blessed to have my parents there. I land and the airplane door opens, I take a deep breath and I say to myself "I am home".