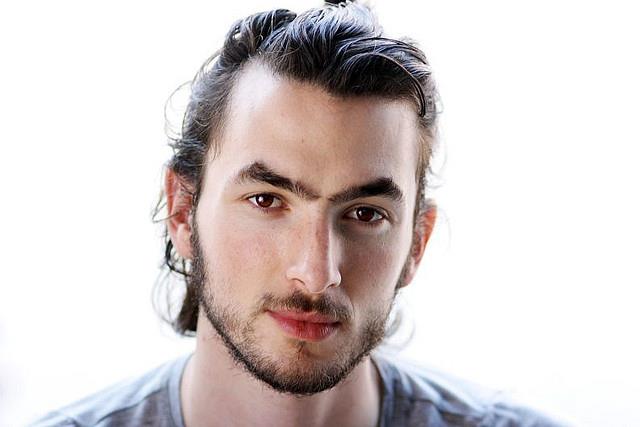 This eclectic mix comes with a solid foundation of baroque dance, which McCormick has been pursuing since he was eight on top of a ballet career. "We call [The Company] Baroque Burlesque," he told us recently, "It's really a mixed genre company: I hope to appeal to a broad audience, not just to dance fans, but to people who like classical music and circus among other things".  With past productions bearing names such as Rococo Rouge and Le Serpent Rouge, McCormick is perhaps best known to the audiences for his holiday production The Nutcracker Rouge, an erotic (but sublimely elegant) reinterpretation of Tchaikovsky's ballet–which is fitting, considering how erotic Tchaikosvky's score is and considering the climactic nature of the final pas de deux.
Currently showcasing his brand-new show Cinderella (it ends November 15!) which draws from Perrault's 1697 version, McCormick created a show where a cabaret version of Irving Berlin's sister then shifts to an operatic rendition (in French!) of Lorde's Royals, and where Prokofiev's original ballet score is danced by scantily clad dancers wering gilded mouse masks; Cinderella seduces the prince while The Fairy Godmother sings Lana del Rey's Born to Die better than Del Rey herself, and an opera singer belts an aria from Faust while executing a Russian split on a pole.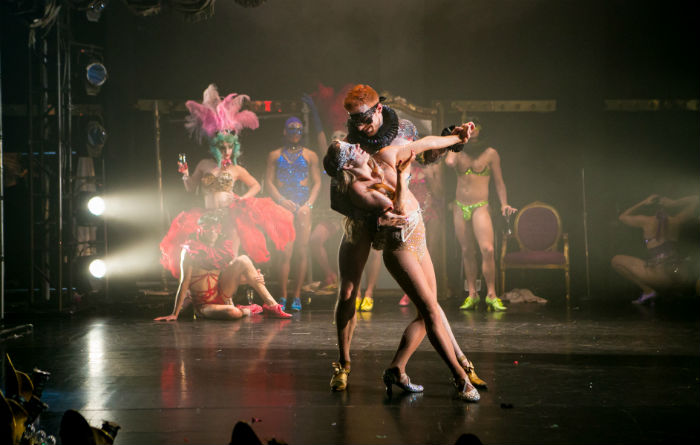 So, it was with great curiosity that we asked McCormick questions pertaining to the art of choreography, the soundtrack selection and his parallel projects–mark your calendars, he will choreograph Rusalka at the MET for the 2016/17 season!
Your style is very eclectic, yet your background in baroque dance is solid. What are the "baroque" elements a layman can look for when watching your show?
What you can look for on stage is the elaborate floor pattern of group movings, the small ballet footwork and the use of stylized port de bras, and the arms movement coordinate with the feet. A lot of what I am influenced by is the baroque aesthetic and the baroque period, which you can see in the designs and the costumes.
But how did you approach baroque dance in the first place?
It sort of found me. I met a French dance historian in my hometown in Santa Barbara, CA, and, I don't know..it's a very strange thing for a young boy to study, but I was drawn to the costumes, so ornate and so extravagant, and luscious. What I do with my company is much more free, but I am grateful for that strict background.
What is your creative process for each of your productions?
Every creation starts with choosing a story, usually, I re-imagine a fairytale. The music plays a huge role in my creative process because part of my interest and aesthetic is in combining different eras and genres into a cohesive show. If I am attracted to a piece of music it usually makes it into the show. I love the fact that the shows span classical and contemporary pieces without missing a beat.
Follow-up on that, how do you choose the songs? Do the singers have their picks?
There is a certain amount of trying pieces and seeing if they work in the show- it's like a giant jigsaw puzzle and the artistry is in putting it all together and making it fit. Sometimes when a new singer/musician comes on board, they'll have repertoire that they love to do or a new flavor to contribute to the company that is very exciting.
And then there are operatic arrangements to pop songs. How does that work?
I don't arrange them personally, I work with the singers, who have ideas of how to arrange it, and then I work with a lyricist, who, in the case, for example, of an arrangement of Lorde's Royals, translated it into French. What we do is trial-and-error with the singers, and then we figure it out together in terms of covers.
You are a choreographer: what makes a good choreography?
The thing I am most interested in is the performer's experience in the choreography. Of course we can make the most beautiful movements in the world, but to me, the thing that really matters it that the performer connects with the audience and with other people onstage–not necessarily impressive movements, but connections to what they're doing and the world we create.
So, your shows are famous for their refined eroticism, and you really like to draw from the classical music repertoire even for the most erotically charged sequence. Where do you see eroticism in Classical music?
Honestly, whenever I listen to baroque music, I feel there's an underlying eroticism, and that is enjoyable for me. Even though it seems very regal, I like to find the contrast, and I find that is there in the choreography. That's why I like to use a lot of Vivaldi and all those other gentlemen
[Eroticism] sort of feels like it's there, but it's like the third layer: it's not the first thing that you absorb when you listen to the music. That's part of what makes a good choreography, not to act out a music, but to illustrate it in a way that's not so obvious.
Speaking of classical music, what are your personal preferences?
I love anything Tchaikovsky, I love all of his ballet compositions and beyond. I love anything Vivaldi, I love Lully. Vivaldi is my main thing, and my favorite piece of all time is La Folia, because I love how every composer has their version of it. It's that ancient theme that so many people have interpreted.
You also choreograph operas in more "traditional" opera houses. Tell me more about it.
The more I work there, the more I get comfortable. Dance is one element in a larger production (see Traviata, act III) I am sort of figuring out how the dance works in a large story, so I am working with all these directors, who all have their perspective of what the role of dance is in the opera. I am choreographing through the director's lens, whereas in my company, I am pushing my own agenda.
For the 2016/17 season at the MET, you will choreograph Dvorak's Rusalka. I know it's still early, but can we get a general sense of what it will be like?
I think it's a mixture of visionary and contemporary: the director Mary Zimmerman is known for doing  all sort of exciting takes on operas. She did a Bellini opera at the MET that was staged in a rehearsal room. I really like her! I know it takes place in a fairy tale world, it's gonna have fashion elements with all the costume design.
There's one big dancing scene, a polonaise, which is pretty courtly and will be right up my alley. Apart from that, we will have some water dancing scenes that will be staged throughout the opera. The water nymphs will be more contemporary, earthy and seductive. The polonaise will be courtly, regal and with a hint of violence!
For your productions, you rely on recorded orchestral scores. Would you like to have your performers sing and dance to a live orchestra?
We generally perform to recorded orchestral tracks and often times have one or two live musicians… I'd love to work with an entirely live ensemble- it creates a whole different dynamic of listening between the performers that can be very exciting- performing to live music forces one to really live, dance and sing in the moment.
Company XIV performs at Minetta Lane Theater in New York City. Nutcracker Rouge, their grand Holiday debauchery, debuts November 25, 2015.