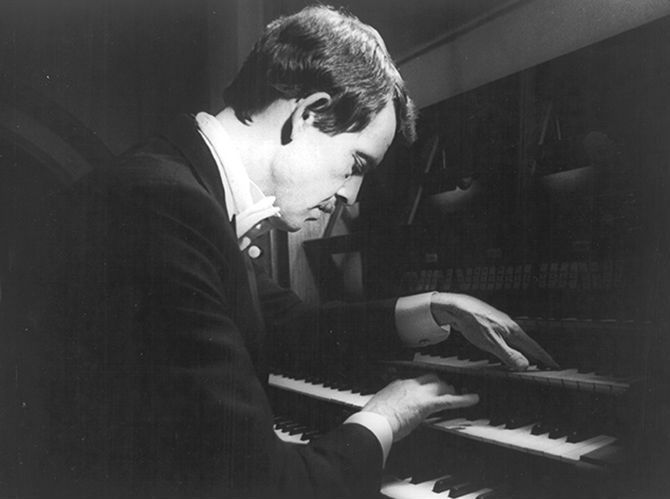 The world of organ and sacred choral music is richer because of the work of the internationally known organist and composer, McNeil Robinson (1943-2015). His death in New York City, on May 9, followed a long illness and an astounding career. He was respected as a teacher, performer, composer and conductor, and it was often hard to separate one from the other.
His work with prominent New York City churches and synagogues began in 1965 when he was in his early twenties. Leonard Bernstein recommended him for the position of organist and choirmaster at Park Avenue Synagogue, a post which he held for nearly 50 years. In addition, he served as organist and music director at various Christian churches with each appointment lasting for several years.
Robinson was a master at understanding sacred music: style, text, what was considered appropriate based on the liturgical calendar and the portion of the service where it would be included. He would often compose chants and responses an hour or two before the service began. Many of these were not published but they are a part of the music library of the religious institution for which they were written.
His sacred choral works invariably reached to the height or depth of the subject matter. One of his early works, Had I But Pinions, is a biblically based text about a dove flying far away to the wilderness to be at rest. The melody rises and gently falls as if the singers themselves are flying away. The music tapers off once the text indicates finding eternal rest.
As a composer, his commissions were not only from New York City houses of worship, but also from the Archbishop of Canterbury, the American Guild of Organists (AGO), Musica Sacra, and other major organizations. His compositions have been performed at Lincoln Center and are frequently performed in religious institutions throughout the United States.
As an organist, he gave recitals throughout the U.S., Europe and Asia, demonstrating his musicality and technique along with his gift of improvisation. He was encouraged and highly influenced by the French organist and composer, Marcel Dupré (1886-1971), whose own skill in the art of organ improvisation placed him in an elite group reserved for only the most gifted organists. Robinson was also a part of that group.
His organ improvisations were not reserved just for concert performances. He would frequently improvise during religious services based on a hymn. However, it was in his concerts where a simple melodic line would evolve into a work of approximately eight minutes, using a wide variety of organ stops, various manuals and pedals, all the while building with uncanny precision.
He taught organ and composition privately in addition to teaching at Mannes College of Music and being the chair of the organ department at Manhattan School of Music. The American Guild of Organists National Competition in Organ Improvisation was won by more of his students than by those of any other teacher. His choral and organ works were published by Theodore Presser and C. F. Peters. Several of his hymns have been published in new hymnals for several religious denominations. A memorial service will be held in New York City in October. Information is available on the AGO website regarding the date, time and place.
McNeil Robinson was tireless in his efforts to achieve the best. He stressed the necessity for singers to blend. No single voice was to be obvious. That resulted in choirs that had an ethereal vocal quality. A quality that flies away yet soars. When it finally settles, it is far away and at rest.