British-born composer Joby Talbot has an impressively diverse career, having written music in genres from ballet and opera, to classical, pop and film scores. He scored the animated movie "Sing," starring the voices of Matthew McConaughey, Reese Witherspoon and Seth MacFarlane. We spoke to him about his thoughts on composing different styles, his time as Classic FM's composer in residence, and the prospect of writing more opera.
An interview with composer Joby Talbot
Jordan Smith: You have composed in a wide variety of musical styles. Did you set out with that intention in mind?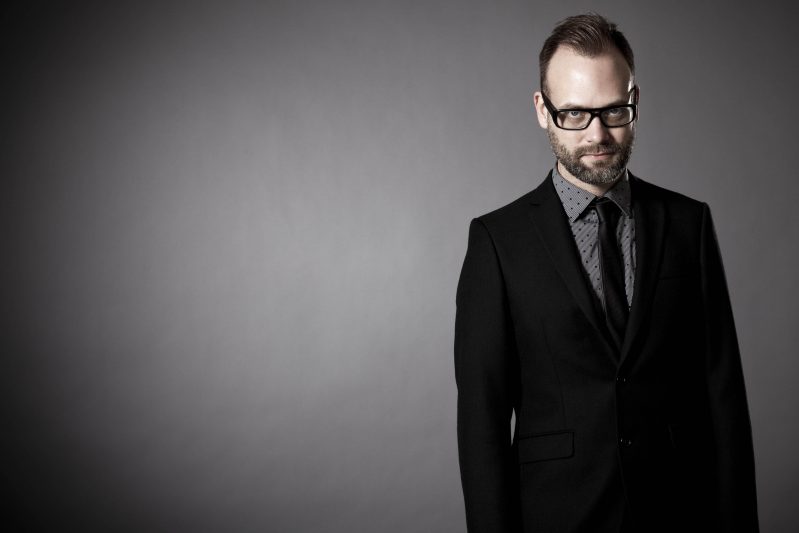 Joby Talbot: I think what I've done is take the opportunities that have come my way and run with them. I never understood why certain people don't listen to more than one musical genre. Growing up in London in the 1980s, it was amazing how many people would only listen to pop music. Many of my friends thought it was eccentric to listen to classical music and to play in an orchestra. I never got that, I played classical but was also involved with a rock band for eight years.
In my opinion, there are two kinds of music: good and bad music. I relish the opportunity to write operas and ballets, but also music for movies, guitar and electronica. Every project you do, you learn something new.
JS: Which artists have you found most inspiring to collaborate with?
JT: That's a difficult question because so many have influenced me in different ways. Working with Tom Jones was incredible; he has an amazing voice. It was also incredible to have Esa-pekka Salonen conducting my work.
The collaborators I have enjoyed working with most are Garth Jennings and Christopher Wheeldon. The projects I did with them pushed me further than I'd ever gone before. They were performed in really big arenas and I got the chance to work with extraordinarily talented people.
JS: I watched your comments on the ballet "The Winter's Tale" where you talked about the challenges of writing for new instruments and with different themes. How did you overcome these challenges?
JT: With "The Winter's Tale," Chris had the idea of asking for an on-stage band. The ballet consists of two very different worlds, in the first act you have this royal palace, which is rather stuffed shirt and monochrome, whereas the second act is wild, in the forest, at a springtime festival. It gave me the opportunity to do what I had wanted to do for a long time, a broken consort. This was a practice in the renaissance when they took instruments from different backgrounds and combined them. The result is folk music that doesn't come from any one place in the world.
One of the big challenges in doing this was that Instruments have a variety of features: some are quiet while others are loud and designed to be heard from a distance. One example was the accordion, which does not project very well. Alongside that we had some large Brazilian drums with tremendous resonance. To get around this we had to find a way to amplify the ensemble to prevent certain instruments being drowned out.
jS: Could you talk a bit about your experience as Classic FM's composer in residence and the album Once Around the Sun?
JT: I wanted to use the position to demystify the composition process and show musicians what I do, so they can have their say. I'm Currently writing a solo concerto, and getting input from the soloist; so, I find music should be an open and collaborative art form. When it's notated on a page, unless you can understand it, you can't get into it at all.
Classic FM asked me to come in and write one piece each month. I'd write the pieces and record them with a bunch of friends at my house. Then I would come in and talk to a DJ about the piece and how I'd approached writing it. The idea was that if the audience get to know you and how your life is unfolding they might appreciate the music more. I was not trying to write Impenetrable, difficult classical music, I thought there was no point in that, so I tried to take what I wanted to say and present it as clearly as I could.
I found it was a success, but looking back there are some things I would now maybe change. I worked with a small ensemble, whereas now I would go for a slightly larger line-up. It sometimes felt a bit like every month I was starting from the same place, and each piece was roughly the same length. But on the other hand, it opened up new opportunities for me. Three of the compositions from "Once Around the Sun" ended up being used in the ballet score Chroma.
jS: Your first opera premiered in 2015. What brought you to write in this genre?
JT: After many years of working against the system, trying to do it my way, I suddenly realized, after my ballets at Covent Garden, that these were extraordinary institutions with great histories. I didn't think I would ever write an opera. Some of the most extraordinary musical revelatory moments I've had have been in opera houses, but there's also been a high proportion of times where I've been bored sick. Then I got the opportunity, they told me there was a new opera house in Dallas, with great singers, an orchestra, librettist and costume designer. I was asked, do you want to work with that? and I jumped at the chance.
It was the librettist Gene Scheer's idea to do the opera about the 1996 tragedy on Mount Everest. As we were producing it, a film was made about the same subject. I wouldn't want people to think I was inspired by the film, because the opera came first.
For once, I was kind of in charge. And I was really happy with the end result. I thought if someone who can see behind the magic, and understands the prosaic way in which such productions are brought about, can be blown away by it, then that is a good sign.
JS: So did this give you a taste for writing more opera?
JT: Yes, it has. Once upon a time there were lots of composers working in opera, I'm thinking of Walton, Shostakovich, Copland, Britten, even Vaughan Williams. Nowadays there doesn't tend to be as many, composers either write thematic or opera. I've been involved with both, and also with composing film music. I think that what this has given me as a composer, is the training and ways to tell stories which you don't necessarily get when creating classical music. If I can bring that into opera and ballet, it can help produce a modern way of presenting narrative.
JS: Your latest score is for the animated film "Sing." What was it like to work on this project?
JT: The hardest thing for me about jumping between these different worlds is trying to deal with the different structures in the production process. The other day, I got an email from an opera company I'm working with asking to change a rehearsal in 2020.
With Movies, the schedule is much more flexible. In "Sing," I've been working with Illumination Entertainment. They have great talents in animation, but they have a way of working which is a bit like a production line and you have to slot into it. It's quite demanding because you are just one moving part in this great big machine. Your usual way of working and sharing material just isn't possible. At times it can be quite confronting and Hard. Having said that, I've done it once and I would understand it better second time round.
A major plus is getting to work with the greatest musicians and sound engineers. Hollywood has an amazing tradition of excellence in filmmaking and they've been producing music for movies for over a century. So it's a bit like being given the keys to the kingdom of Hollywood if you can supply the raw materials to create a score.
JS: Thank you for your time, Joby. In conclusion, are there any upcoming projects where fans can hear your music?
JT: My choral work, "Path of Miracles," is being toured all over the UK this summer. The Tenebrae Choir, the ensemble which commissioned the piece about the pilgrimage to Santiago de Compostela, is organizing the tour to celebrate its 15th anniversary.