Jim Peterik, of the Ides of March and Survivor, is best known as the co-writer of the rock anthem "Eye of the Tiger," which featured on the film "Rocky" and landed him an Oscar nomination. He recently released an album containing reinterpretations of some of his greatest hits. We spoke to him about the striking changes made to some of the songs on the album, a single he released in the aftermath of the Orlando nightclub shooting and his future plans.
An interview with Jim Peterik
Jordan Smith: Hi Jim, thank you for taking the time to talk about your album.  I enjoyed listening to the new interpretations of some of your greatest hits on The Songs. Could you begin by explaining how the idea for the project came about? Had you wanted to reimagine your music using different instruments and genres for some time?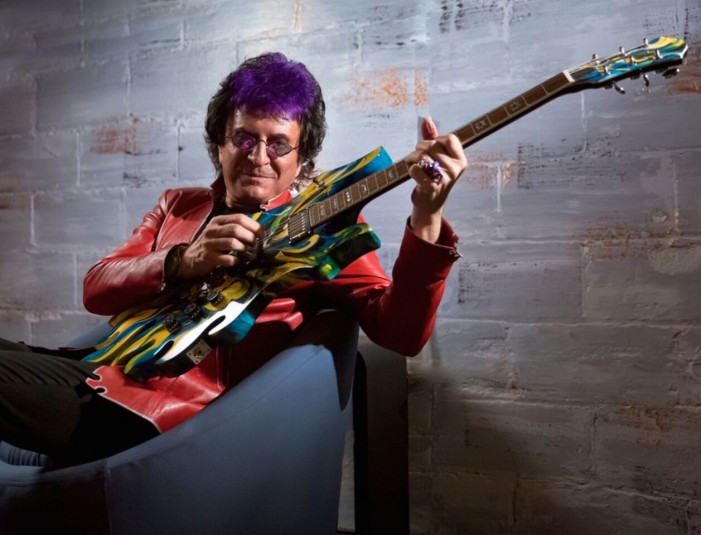 Jim Peterik: Hi Jordan. First off thank you for the positive review of The Songs!
Actually I had been intrigued by the idea of reimagining my biggest songs but at the same time frightened by the idea. It took the confidence and vision of producer Fred Mollin to convince me that a new take on my classic songs could work. As we worked in pre production experimenting with different treatments I became confident that we could pull this off.
JS: Your version of "Vehicle" is quite a contrast from the original with just the piano and guitar accompanying the vocals. How did this version come about?
JP: Fred Mollin is great because he looks at a song from every angle. "Vehicle" originally rode the crest of the power brass songs of the late 60s early 70s and I–like many–had it pigeonholed there. Fred sat down at the Wurlitzer electric piano and started playing a kind of "Riders on the Storm" vibe thing but with the "Vehicle" changes and I started singing in a whole different style from the original. Through this project, I came to realize that it's the song itself that holds the magic- even more critical to its success than the arrangement.
JS: "Eye of the Tiger" is of course the song that will stand out for many people. What made you decide to give it a bluegrass twist? Did you ever have any concerns about departing from the original with it being so popular?
JP: Of course I had concerns but I figured if you're gonna redo an iconic song you'd better make it a total departure. This bluegrass version is about as far away as you can get. But it still has power–though a very different kind.
JS: Do you have a personal favourite out of the reinterpretations on the album?
JP: Although I was very resistant to even including "Caught Up In You," feeling the lyric was too lightweight, Fred convinced me it had to be on the disk. Furthermore he heard it with a string quartet and no other instruments! I suspended my disbelief and went with the program. Now it's perhaps my favorite track and chosen as the push cut and video song. What do I know! (laughs)
JS: I listened to your recent song "We All Bleed Red," which was released after the Florida nightclub shooting. Can you tell me about your motivation for releasing the track and any reaction you've received to it?
JP: I was on the road in a hotel room when the shootings happened. I was gob smacked with the rest of America. The injustice just seemed too much to comprehend. My one outlet for my anger and sorrow has always been pouring my deepest emotions into a song.
A news interview took place the following day and a young woman outside the club just shook her head when asked about the horrific night. She said it was unreal to her. After all, "We all bleed red." Those four words summed up everything I was feeling and the melody and lyric poured out. The lyric video by Lynne Peters expresses the song perfectly.
JS: Are you working on any other projects at the moment?
JP: I basically never stop–only pause to catch my breath. I just completed the 5th Pride Of Lions cd for Frontiers records. As a co singer (with the amazing Toby Hitchcock) and writer and producer of every track POL has built momentum with every release now being able to headline shows all over Europe and in our home base of Chicago. This cd is called Fearless and we feel it's our strongest yet.
Also I am just finishing an amazing album, Scherer/ Batten featuring the 4 octave voice of vocalist Marc Scherer and award winning guitarist (with Michael Jackson and Jeff Beck) Jennifer Batten. The songs are all from my catalogue of songs that we felt needed a second chance having either been under-promoted or needing updated production. It's pure adrenaline Rock & Roll.
We are also rolling up our sleeves for a new Ides Of March album to celebrate 55 years as a band.