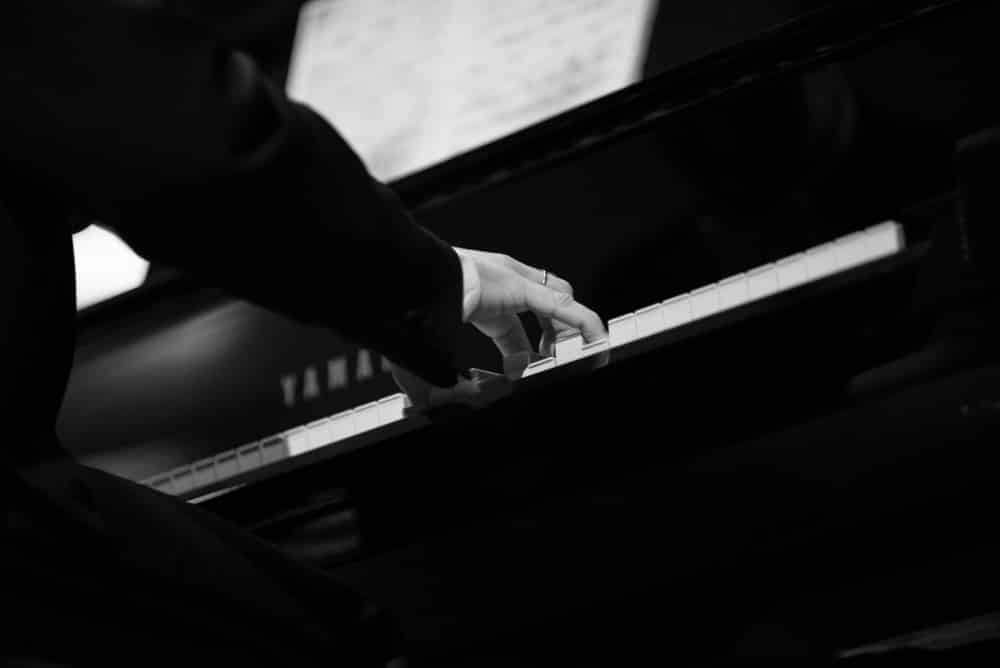 Being able to play an instrument or to sing is a skill accessible to almost anyone. The great difference is not being able to play or sing but to accomplish it well. Quite often, as a teacher, I am asked, how long does it take to learn the piano and I can only offer my honest opinion and say as long as it takes. What I am not trying to be is evasive or in the very least bit facetious, but be clear that it is a lifetime's work. You can, of course, learn the basics of any instrument relatively quickly, depending on how often and how you practice, but to play well, or competently is another matter.
How to Play Classical Piano
Learning to play Classical piano is no different in this respect and takes dedication, and a certain determination to accomplish. If you are beginning to play the piano with the aim of becoming a concert pianist, performing from the catalogue of great piano sonatas and concertos, then you will be looking at over twenty years of focused study. I would recommend the support and guidance of an experienced and understanding teacher if this is your genuine goal.
There are, however, many smaller, more achievable aims that can bring huge amounts of pleasure and fun along the way. Very few pianists who begin and find the motivation, time and money to learn for a long time, become concert pianists, but tens of thousands of people play the instrument to a high standard and derive immense enjoyment from it.
Part of the process of learning any instrument is to have a joy of learning itself. If you enjoy the learning, you'll develop faster (with practice), and take pride in every success you achieve. Classical Piano playing can involve immensely challenging technical pieces but also a broad range of equally delightful pieces from the Baroque to the present day. Developing an expressive way of playing that in some way communicates the intentions of the music for me is just as important as being able to deliver a virtuosic performance. Being able to play a relatively simple piece with feeling, sensitivity and total technical control is impressive.
There are two main strands of learning I consider vital for the aspiring Classical pianist. One, as previously mentioned is to develop a technique that allows you to play what you want in the way you want to play it. The second strand is to grow an interest in the music you are learning and aspiring to perform. For me, this is a pursuit that never stops but one that has genuine value when learning, in this case, the piano. My reason for this second strand is to begin to cultivate a knowledge of the composers and their music.
To understand why they wrote the pieces, (as far as possible), and to embrace the musical conventions of the time. This can be particularly challenging when considering authentic Baroque performance. When the two strands are combined then you have the opportunity to become a performer who not only understands the subtle nuance of the music but has the skill to perform it to a high standard.
On a purely technical level, it is important to remember that building a firm technique takes time and not inconsiderable patience. The thing to keep in mind is that through this patient and focused approach you will be able to play the pieces in the way you desire. One key element I advise my students on is speed. Often the less experienced pianist will tackle a new piece with great gusto and enthusiasm but at a speed that is wholly inappropriate, and one that leads to mistakes and frustration. Keeping the study speed to that of the speed that you can play the most difficult passage is a good rule of thumb. As the technique develops and the fluency increases then speed can be added gradually, heading towards the marked tempo.
The question of how to develop a solid technique is an open one with many different schools of thought. In some respects, this needs to be approached according to the individual aspirations of the student. Do you work with a teacher or try to learn alone, perhaps using an online source? Certainly, when I began to learn the piano the option of an online course did not exist.
You went to a teacher, who was often seen as the font of all musical knowledge, and you did what they told you. Thankfully this somewhat dated view of music teaching has all but vanished in favour of the model I suggest above. If you do decide to work with a teacher then I would advise you to take several trial lessons with different teachers until you find one you are comfortable with and one who is sympathetic to your aims. They will offer you an introduction to the many technical pathways that are open for you to explore and support your learning by suggesting an appropriately broad range of pieces.
If you opt for the online classroom, the same advice applies. Try not to rush into the first site you find online. Be clear that you want to learn how to play classically and to develop a lasting technique rather than just to be able to play a selection of well-known pieces. Of course, if that is your aim rather than the latter then there are a multitude of options, but choose carefully.
In the final analysis, you will need to learn to play your scales and arpeggios confidently, gain control and balance of both hands and nurture a full range of dynamics to capture the expressive qualities of classical music.
If you 'go it alone', it is often considered harder to achieve results you will want. It is perfectly possible to do so but far more challenging. In the world of jazz and popular music, a great many pianists have received no formal tuition and can play what they want in the way they want to do it. It is achievable but a little support from a knowledgeable teacher can make the learning of classical piano a smoother and ultimately more enjoyable experience.