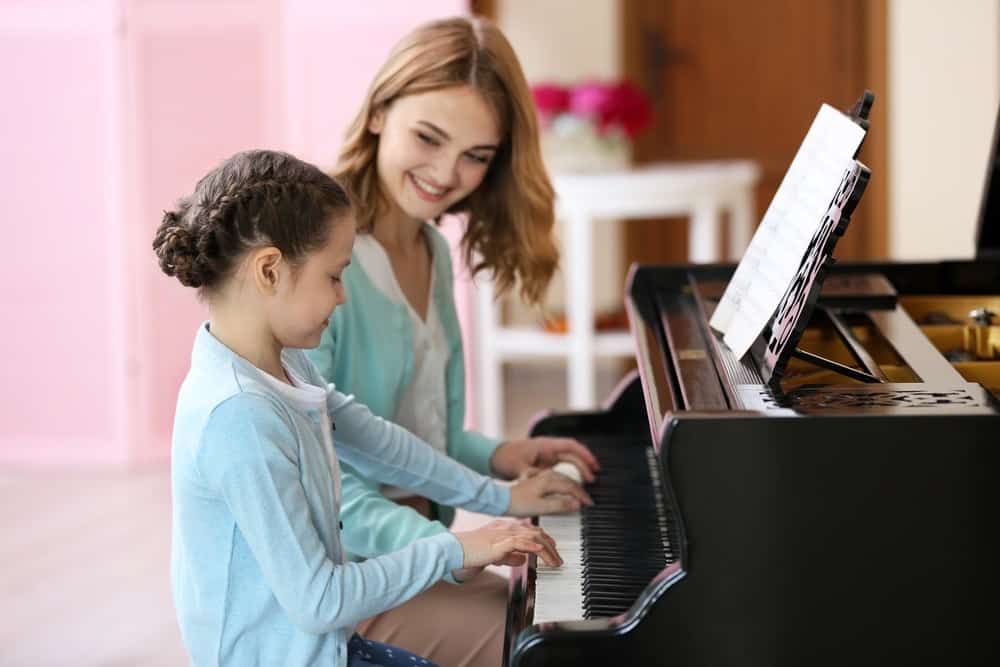 Once you have achieved a good level of confidence on the piano, you might find yourself thinking about teaching. Maybe people have asked you if you teach? If this makes you pause and think about it, then maybe teaching the piano is something you want to explore.
You don't have to play at the highest level in order to begin teaching. If you are around grade 5 ABRSM level, you should be quite capable of teaching beginners. You don't have to have any qualifications to teach the piano, but it helps your reputation if you do. Also, although it's not required, you might consider taking a one-year teacher training program.
How To Become A Piano Teacher
Teaching the piano is a really enjoyable way to earn a living. Sharing your love of music and skill of playing is something that has lasting benefit for young and old alike, so you do get a feeling of doing good in the world.
It's essential to have patience and remember the process of learning the piano so that you can relate when a student has difficulty. Most piano teachers continue to take lessons even after they start teaching as learning the piano never really ends – it's a life-long journey.
HOW TO GET STARTED
You might want to trial teaching and get some hours under your belt by teaching people you know for free. Do you have neighbors with children who might want to give the piano a go? Are there any adults – colleagues or friends – who might want to try?
You can start teaching piano while working a full-time job. Take on a few students in the evenings and/or on Saturdays.
Once you start to build up your client numbers, you might feel ready to quit your 9 to 5 job and teach more hours. Lessons for children will always need to be after school hours, but you can increase your client number by teaching adults in the mornings or early afternoons. Saturdays are very popular for children as they are not tired from a day at school and tend to be more focused.
HOW MUCH SHOULD YOU CHARGE?
Once you start to find your feet, think about charging. Look online for local teachers and find out what their fee is so you have an idea of the going rate. Take into account that you're just starting out, and charge accordingly.
Should you charge for a block of lessons or accept pay-as-you-go students? This is something that you can only decide for yourself. There are arguments for and against.
Most teachers will offer a make-up lesson if a child has been sick, but usually only within the same week as the missed lesson. For students who just forget or don't show up, charging for your time is completely justified.
HOW TO GET STUDENTS
Once you've got your feet wet and feel ready to take on more students, tell everybody you come into contact with that you're teaching piano. Have a business card with your address and phone number and give it to as many people as possible.
Sign up with online lists of music teacher and register as a teacher with your local music store. Start a dedicated Facebook and Instagram page for your piano school and post often about what your students are achieving. Remember not to post photos or videos of children playing unless you've cleared it with their parents. The word should soon start to spread.
When you've got several students who can perform some pieces, put on a small concert and encourage them to invite extended family and friends. Usually, after an event like this, you'll get a flurry of phone calls from parents who want to sign their children up for lessons – or want to take lessons themselves.
EMPLOYMENT OPPORTUNITIES VS SELF-EMPLOYMENT
There are quite a lot of piano teacher jobs listed online. When you work in a school setting you might find the pay is lower than if you teach privately. But there are benefits. Schools will sometimes train you and as you accumulate qualifications, your pay may increase. You'll also be supported when difficulties arise and, best of all, get paid school holidays and sick pay.
There are school jobs abroad to consider – sometimes with really good pay and subsidized housing. Usually, to be in the running for such jobs, you need a degree and a couple of years of professional teaching experience.
If you choose to teach privately, you are in control of how much you earn and how much you work. But on the downside, there's no sick pay or immediate support.
Many private teachers teach in their own home. This involves a lot of people traipsing in and out of your house – depending on how many hours you teach of course. It can be intrusive to other family members and it can be noisy. Consider neighbors when setting up your private teaching business. Alternatively, you might find an outside venue where you can teach, but the cost will cut into your income and it can be hard to find a venue free on the days and hours you need.
GET A DBS CHECK
A DBS or criminal records check is easy to do online and costs very little. Most parents will have more confidence in hiring you to teach their children if you have a DBS certificate.
GET INSURANCE
When teaching from your home, you should get insurance. Public Liability and Private Indemnity at least. You can also insure your piano and any recording equipment. It's very inexpensive, especially if you buy through a professional music teachers' group.
GOING FULL-TIME
If you eventually leave your job and go into full-time private teaching, you should register as self-employed and then you will need to keep track of your taxes and submit a tax return. Get into good habits right away of keeping track of your business expenses and income. The venue you teach in, whether it's your home or someplace else, will be a tax-deductible expense. Check your local tax laws to find out what you can write off on your taxes.
NETWORK WITH OTHER TEACHERS
Teaching the piano from your home can be somewhat isolating, so make contact with other teachers locally and online. There are social media groups for piano teachers where you can find help when you have questions. Also, there are many professional development conferences for piano teachers in major cities. These are great as you get to leave the house and meet lots of other people doing the same as you. Meeting them and sharing stories and ideas can be wonderfully enriching and enlightening as you realize you're not alone!