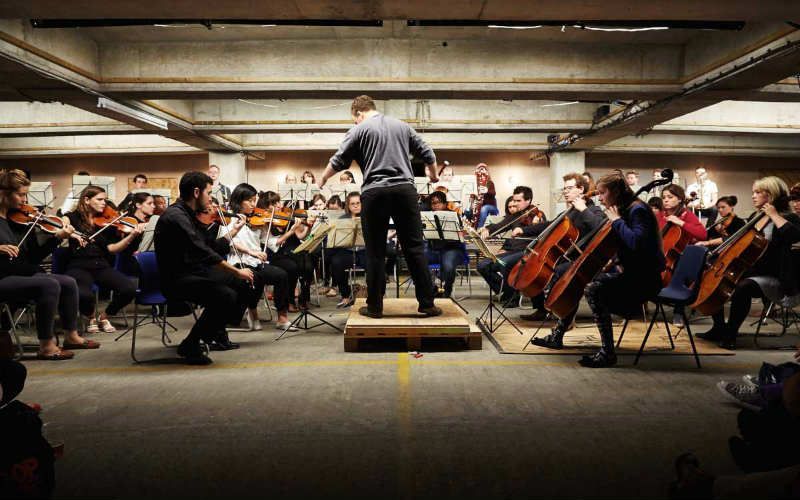 If you're sick of attending performances in the usual environment of a concert hall, there's no reason to let that stop you from seeing good music. Summer offers many alternatives to this and in London, one of these options is the Multi-Story Orchestra, which since 2011 has transformed an empty car park into space for musical performance.
Tickets are now on sale for its summer 2015 program, which includes a variety of pieces from Beethoven's Symphony no. 7, to John Cage's Living Room Music. The program is part of a project by the arts organization Bold Tendencies.
The orchestra is led by composer Kate Whitley, and conductor Christopher Stark, who serve as co-artistic directors. Its first performance was of Stravinsky's Right of Spring in 2011. Since then, Multi-Story has established itself on the seventh floor of a ten-floor car park in Peckham.
"Multi-Story grew out of experimenting with performing classical music in as many different spaces as possible (bars, clubs, warehouses, and museums). We wanted to get our friends to hear classical music, and felt, instinctively, that escaping the stiffness and formality of concert hall would be the way to do this," Whitley and Stark wrote in a Guardian article last year. They argued that creating a new environment would help younger people, who often feel alienated by a concert hall setting, become enthusiastic about classical music.
What began as an annual performance grew into a full concert season in 2014. The orchestra overcomes the problem of the echo produced by the carpark by using the audience to improve acoustics. By forming a circle around the players, the listeners help to absorb the music and create what Whitley and Stark call an intimate concert. The large space in the carpark also permits audience members to walk around, enjoy the view of the city from such a high vantage point, or get drinks from the bar. Audiences for the performances reach around 1,000.
The orchestra is made up of freelance musicians. As well as the car park, the group visits schools in the local area to encourage more people to get involved with classical music. This sometimes proved even harder than had been anticipated. According to Whitley, some pupils at one of the first schools she attended were unable to identify a violin when she held the instrument up for them to see.
This year, the Aldeburgh Festival invited the orchestra to give a concert to open the event in June. The venue was the local council's staff car park, where an audience of around 600 attended. It performed Beethoven, and, in keeping with its mission, engaged three local school and youth choirs in a performance of a piece called Alive written by Whitley. A review of the concert noted that when it came to the playing of Copland's Appalachian Spring, "It did not seem at all inappropriate that in a work so much associated with the outdoor life the quiet final bars were augmented by some passing traffic."
Alongside Multi-Story, Stark also works in opera. He conducts with English Touring Opera and at the Glyndebourne Festival, where this year he will assist with the staging of Mozart's Die entführung aus dem Serail. Whitley has won awards as a pianist as well as for her compositions. In 2013, she received a Sky Academy bursary in recognition of her efforts to bring music out of the concert hall and into new settings.
In this video, you can see the orchestra preparing to perform Whitley's composition Alive, and here they play Brahms' Symphony no. 1.