In July 2016, a (rather large) group of musicians came together in Germany and broke the Guinness World Record for the largest orchestra.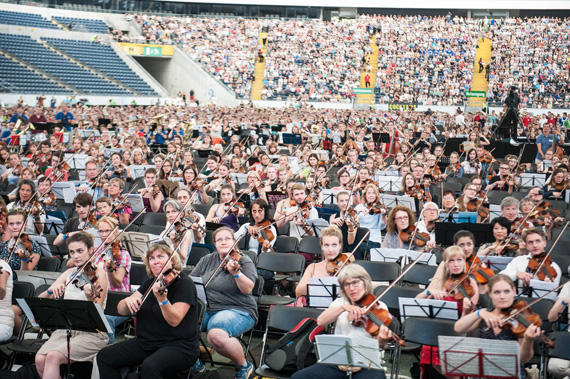 A total of 7,548 musicians gathered in the Commerzbank Arena in Frankfurt for the record attempt, successfully beating the previous one set by an Australian orchestra in 2013.
But the musicians didn't just manage to converge in one place, they also played a program of music. Conducted by Wolf Kerschek, they played Beethoven's Ode to Joy, Dvorak's Symphony No. 9, and some well-known pieces of pop music.
Jens Illemann, a trumpeter from Hamburg who initiated the Wir füllen das Stadion (We fill the stadium) project, explained that he wasn't solely concerned with the world record. He also wanted to show how music could bring people together. Musicians traveled from across Germany, and also from Austria and the Netherlands.
"It was unbelievable, playing together with so many people, but it worked well, sounded good and was great!" one participant said afterward, while another added, "It's an experience we will enjoy speaking about in the years to come."
The full concert was recorded and you can find out more at Wir Füllen das Stadion's website. Below is a short clip of the performance.