The music of composer Heitor Villa-Lobos (1887-1959) reflects a combination of traditional European and native Brazilian influence. He was exposed to classical music at an early age through the musical evenings his father hosted in their home.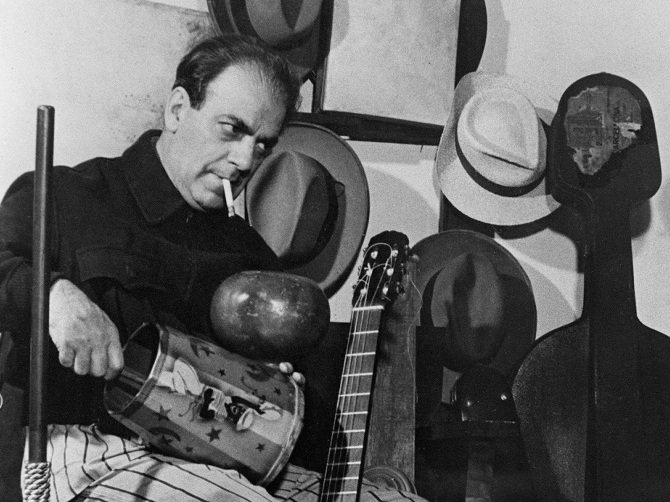 His music education, at first, followed the standard formal training of harmony and learning to play several instruments. It was his interest in the folk music of Brazil that led him to spend years studying the musical elements of native cultures. Those elements were frequently incorporated into his concert works.
After Brazil abolished slavery in 1888, the dominance of European music gave way to more folk music. Villa-Lobos heard the street bands in his hometown of Rio de Janeiro while relying on his classical training to help support his family following the death of his father in 1899. Heitor earned money by playing with movie and theater orchestras. He later went on several expeditions to Brazil's interior to study the music of native groups. That music had further been influenced for hundreds of years by the Portuguese explorers and settlers, and the African slaves.
This alternating between classical and folk music continued in both his performance and composition. He played cello in an opera company orchestra in Rio and wrote improvisations for guitar based on the folk music from his expeditions. Instead of choosing one style or the other, he composed two symphonic poems in 1916 that blended Brazil's interior with classical music training. Although the works, Amazonas and Uirapurú, were not performed until several years later, they were both for orchestra and both were based on the sounds within the Amazon rainforest.
He was influenced by several famous names of the early 20th century such as pianist Arthur Rubenstein and Ballet Russes founder Sergei Diaghilev. Another who particularly inspired him was guitarist Andrés Segovia, who commissioned a work for guitar. The result was 12 short pieces related to Brazilian street musicians called "chorões."
Choro music rose in popularity from the freed slaves and the growing middle class. The term is used for the style of music and the instrument ensembles used to perform it. Popular instruments include the guitar, flute, and cavaquinho – a four-stringed member of the guitar family. The type of music is lively, filled with key changes and different rhythms.
Following these short guitar pieces, Villa-Lobos composed a larger work, Choros, written between 1920 and 1929. The work was made up of 14 movements plus introduction and finale. Some were for solo instruments, others for chamber and full orchestra and some had either men's or full chorus. They included traditional as well as native instruments.
Villa-Lobos combined his lifelong admiration of J. S. Bach and his interest in Brazilian culture in one of his most famous works, Bachianas Brasileiras. Written between 1930 and 1945, it contains nine suites for chamber ensembles and demonstrates how Bach's compositional techniques can be interwoven with Brazil's folk music. Out of the nine suites, it is the fifth one that particularly stands out.
Bachianas Brasileiras No. 5 was composed for eight cellos and soprano solo. The lyrical "Aria (Cantilena)" uses text by Brazilian poet Ruth Valadares Correa about the beauty of nature. The poet was also a soprano and sang the world premiere of this work. The melody keeps going, gently moving, effortless within the 5/4 time signature, without stops and starts. The aria ends on a sustained high note that fades into stillness.
Villa-Lobos also wrote music for Brazilian and Hollywood films, was a conductor, music educator and remains one of the most influential Latin American composers of all time. His works continue to be recorded and performed in recitals and on concert stages throughout the world.