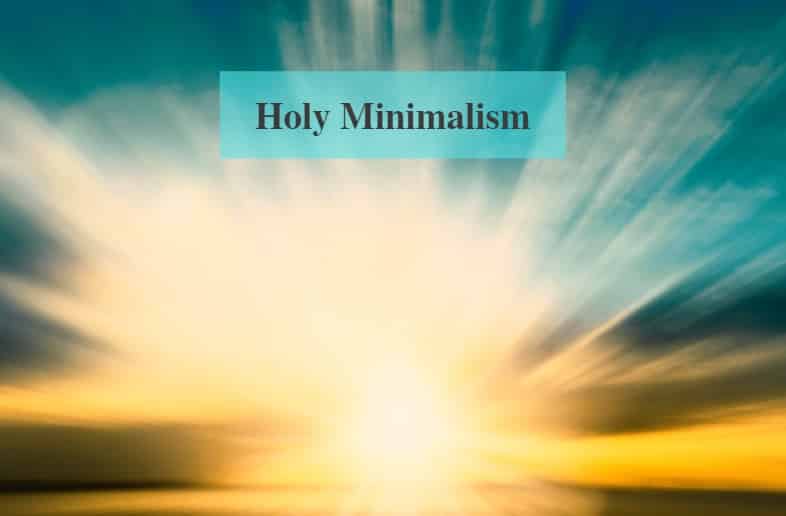 Before I delve headlong into an exploration of the holier side of minimalism, I thought it might be helpful to give a brief explanation of the movement itself first. Minimalism as an artistic movement began in the post-war decade, gaining favor in the art world throughout the 1960s. The minimalist style of music gained a foothold by the late 1960s based as you might expect on the artistic movement that preceded it. After the global nightmare that was the Second World War, it is possible to understand why artists moved towards simplicity that, in musical terms particularly, was also meditative and calm. The music, like the art, was streamlined, sleek, uncluttered and almost immediately accessible.
Holy Minimalism
Composers like Michael Nyman, La Monte Young, Terry Riley, Steve Reich, and Phillip Glass quickly immersed themselves into this new artistic movement and in doing so created a style of music that remains highly popular today. Their styles, though each unique and diverse, often orientate around layered repeating rhythmic and melodic patterns, called ostinato, that derive influence from the music of the Balinese Gamelan.
There is a multiplicity of compositional techniques that these composers employ in their works that draw on Jazz, Japanese traditional music, Indian Classical Music, and the contrapuntal techniques of Bach. What emerges is a music of effortlessly complex textures, motivic melodies, and frequently significant homogeneity. This last element is a key feature of minimalism involving the invention of less traditional instrumental combinations such as six pianos, four marimbas or pieces of wood.
Even though a significant amount of music that can be heard as fitting into the increasingly broad category of minimalism is secular, there is a treasure trove of devotional music too. This is where the title of the article comes into focus as some composers have been singled out as 'holy minimalists'. The nick-name may not be appealing to these composers who far from being creators of only 'holy' music compose a broad selection of both sacred and secular works.
One of the most influential and respected composers of 21st Century sacred music is the Estonian composer Arvo Pärt. If you hear Pärt's music for the first time, you could be forgiven for assuming this is the way that he has always approached musical composition. His music shines with beautiful clarity and structural solidity but his origins are more closely aligned to the second Viennese school than the work of the minimalists. Pärt reached a crisis point in the late 1960s finding that his religious beliefs and compositional methods were attracting unwanted attention from the authorities. This effectively led him into a self-imposed exile after which he emerged as a very different composer with a musical language he named 'tintinnabulum': (Latin for little bell). In so many ways this wonderful word succinctly encapsulates the music of Pärt.
Pärt's collection of sacred works is impressive with many being based on texts from the Orthodox Church which he joined in the late 1960s. If you listen carefully you can also find distinct traces of Gregorian Chant in his sacred works that owe much to the work of the composers of the Renaissance. Of the large-scale sacred pieces that Pärt has written
'The Berlin Messe'(1990),
his 'St. John's Passion'(1989),
and the 'Te Deum'(1984),
https://www.youtube.com/watch?v=n5ghhmWrubY
are amongst the most performed and celebrated. Amongst the maelstrom of contemporary trends Pärt has remained true to his belief in musical simplicity, creating almost translucent, shimmering scores that are immediately compelling.
Henryk Górecki was not a name many people were familiar with until 1992 when his 3rd Symphony titled 'The Symphony of Sorrowful Songs' was recorded by the London Sinfonietta with soprano Dawn Upshaw as soloist.
The record quickly became an international success selling over a million copies. What shocked and inspired this success was not only the still, dramatic and refined music of this Polish composer but the words he set. Whilst imprisoned in a Gestapo camp in 1944, Helena Blauzusiakówna only 18 years old wrote these words for her Mother to read on the prison walls:
"Oh, Mama do not cry,
Immaculate Queen of Heaven
Support me always".
The words show no fear for her death but deep concern for the feelings of despair her Mother will have. So powerful was Góreckí's setting of these words that is resonated across the world and placed him as a key composer of 'holy minimalism'.
The music of Górecki is highly expressive, combining gigantic chordal structures against delicate consonant folk-like melodies. His facility to evoke emotions through his compositions is captivating and enthralling. Similar to the work of Arvo Pärt, Górecki's scores have a meditative quality that invites alignment with the sacred minimalists.
One of the most devout composers to emerge from the British contemporary music scene in the last century was John Tavener (1944). From his mid-twenties, Tavener was already carving a reputation for himself amongst the young composers of the day. He was a talented pianist and an avid admirer of the works of Stravinsky whose 'Canticum Sacrum' inspired Tavener to begin exploring his own compositions. In 1962 he gained a place at the Royal Academy of Music where he devoted his studies solely to composition.
Tavener's works are dominantly religious and he converted to the Russian Orthodox Church in 1977 from where many of his pieces are influences. The work that projected Tavener into the public forum was when his piece titled 'Song for Athene', was performed as part of the funeral for Diana, Princess of Wales in 1997.
Such was the impact of this piece on the British public that not only did it assure Tavener's place in history, but it seemed to capture the collective grief of a nation. It is s simple score for an a capella, four-part choir and with a brief duration of seven minutes.
'The Protecting Veil' (1988), commissioned by cellist Steven Isserlis, is a further fine example of Tavener's sacred works.
I have included this not only for its sheer beauty but as it is an instrumental work as opposed to a choral one, yet inspired completely by the Russian Orthodox Church and its commemoration of the apparition of Mary in the tenth century. The ten-minute work is structured in eight titled sections, each of which comes from the life of the Virgin Mary.