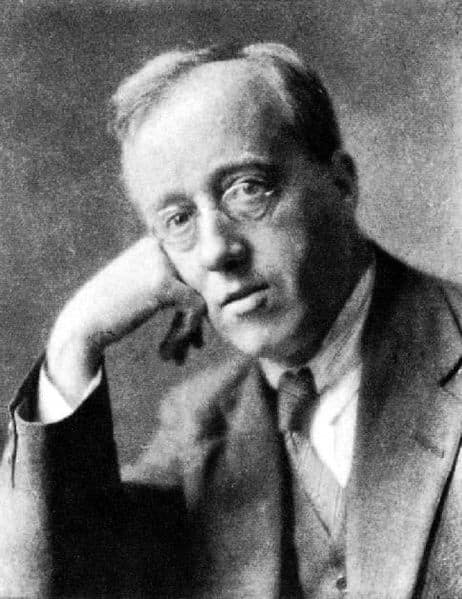 Gustav Holst (1874 – 1934) has become one of today's 20th century's most renowned classical composers. He is famed for transforming the heights of musical composition in the world but he is most recognized for his world-famous composition The Planets. Aside from changing the face of composition in the world, he is also credited with being responsible for the advancement of English orchestral music by helping it to move forward beyond the boundaries of England and the UK. To learn more about this impressive man, here are 10 INTERESTING Facts about the Composer – Gustav Holst:
Facts About Gustav Holst:
Family life
Gustav Holst was born in 1874 in Cheltenham to a Swedish father, Adolf Von Holst and an English mother, Clara von Holst. Holst came from a highly musical tradition as his father was a well-known composer and teacher of harp music. His father, on the other hand, was a professional musician. Holst received a large portion of his early education from his father. When Gustav was only 8, his mother passed away but his father opted to send him to the Cheltenham Grammar School for Boys, which is where he learned how to play the piano and organ pieces as well as compose anthems and symphonies.
2. Neuritis in his arm
As a child, Holst struggled with his health, a fact that his father often seemed to ignore. He suffered from bad eyesight and would struggle with breathing difficulties from time to time. As a child, he also developed neuritis in his arm, which refers to the inflammation of the nerves around his arms that was often extremely painful for Holst. He maintained and struggled with this condition all through his career and was even forced to stop playing the piano because of the condition.
3. He was extremely intelligent
Aside from creating marvelous compositions, Holst also seemed to excel in other areas of life. As a matter of fact, it is said often that he rarely failed at anything that he attempted. Although he is remembered greatly for his composing, his forte was varied and wide to include opera and chamber music, as well as orchestral and vocal music. He was also highly interested in astrology and Sanskrit literature which helped to influence his music, therefore making it distinct and different from all others.
4. Vaughan Williams
When Holst was only 21 years old, he met Vaughan Williams who was Holst's best friend and fellow musician. Vaughn Ralph Vaughan Williams was an equally respected composer that managed to create nine successful symphonies, operas and film scores. Both Holst and Williams were huge fans of English folk songs, which they employed heavily in their compositions to produce some of the best music the world has ever heard. The two lifelong friends were each other's greatest critics.
5. Marriage
Holst met William Morris who encouraged him to join the Hammersmith Socialist Choir where he taught madrigals created by Thomas Morley and works by Mozart. It was at the Hammersmith Socialist Choir that Morris met and fell in love with the youngest soprano, Isobel Harrison. The two got married at the Fulham Register Office on 22nd June 1901 and after settling down, Isobel took part in dressmaking so that they could make ends meet. In 1907, they had their first daughter Imogen.
6. Teaching
After getting married, Holst's tried to make money from his works but publishers would often reject his pieces. It was during this period of financial struggle that Holst took up his first teaching job at Allen's Girls School in Wets Dulwich where he worked as the music master. He worked in several schools after that including as the Director of Music at St. Paul's Girls School in Hammersmith, as well as the Director of Music at Morley College; he maintained these two positions until he passed away.
7. The Planets
Gustav Holst was a remarkable composer that dabbled in many genres. However, he is most recognized for his seminal work The Planets, which is a pigeonhole that many people sadly place him in despite his impressive oeuvre.  In 1908 he traveled to Algeria where he was enthralled by the concept of Astrology and the Algerian culture, which largely inspired the creation of The Planets. At first, he created The Planets to represent his journey from an industrialized nation (his country Britain) which was represented by the planet Mars to the last stage of his enlightenment which was represented by Neptune. He called the composition Seven Pieces for Large Orchestra but the names of the planets were added later on in the process.
8. Other works
Because the Planets became so successful after it was performed for the first time, it blinded the public about Holst's actual musical capability and genus. As a result, many of his pieces were unknown during his lifetime and many are still undiscovered and remain unpublished even decades after his death. Holst came up with over 200 works that included ballets, songs, operas and choral hymns.
9. Personality
Because he was a loner and was extremely shy, the few friendships that he did manage to create lasted until his passing from congestive heart failure at the age 59. He was a well-known vegetarian and he lived an extremely clean lifestyle as he never drank or smoked. Since he was also obsessed with astronomy, he would often create horoscopes for his friends.
10. Lost pages found
Lost sheet music belonging to Gustav Holst was discovered in New Zealand after years of being lost. The pages of handwritten music by the composer were found in a regular archive cleanup at the New Zealand based Bay of Plenty Symphonia as they were clearing up the music library. The handwritten music that was discovered was pages of original Holst music from 1906.
Among them was a previously unpublished version of "Folk Songs from Somerset," which features a collection of folk songs that were once conducted by Holst. Evidence that the pages were indeed Holst's include his address written on the top of one page as well as signatures and a handwriting that matches the composer's previous work.