Answer to Influence" aims to take the listener on an emotional journey, beginning with sentiments of doubt or even cynicism and culminating on a much more positive, upbeat note. It's a concept that Greg and the Granules pull off convincingly for the most part, creating an album with a depth of feeling that is often absent from the pop/rock genre.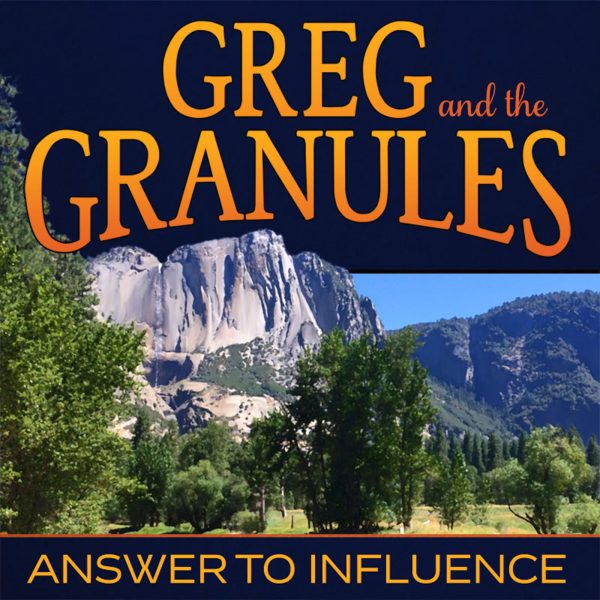 "Somebody Else" opens the album with a mildly melancholic acoustic guitar and a steady pace that continues on "All at Once." The latter track crescendos in a chorus that seems to combine mournful and hopeful elements together.
"No Words" follows in a similar vein, with Greg Maechling's vocals underpinned by a simple but catchy guitar part.
"Midway Offer" acts as something of a pause in the emotional journey, with a slightly psychedelic interlude on the album's shortest track. Maybe it's this that aids the shift to the upbeat mood characterising the last two tracks.
"Big Reveal" is a dramatic shift, almost feeling like a new musical world. The optimistic tone comes through with a sunny guitar riff and percussion beats bearing an African influence. There's still a slight touch of doubt in the opening lyrics as Maechling sings, "I think it's OK." "I Knew you When" returns to a typical rock style, but does not lose the generally positive tone.
Greg and the Granules' debut EP is a promising start  and will appeal to fans of singer-songwriter music with some rock and a touch of psychedelia thrown in for good measure. The opening three tracks could perhaps have displayed a bit more variation, but the emotional shift towards the end is effective.
Get more news about Greg and the Granules on their Facebook page or at Bandcamp.