Italian opera composer Gaetano Donizetti giving us the opportunity to look through his works and select five of the best arias. He composed around 70 operas throughout his career. After establishing his reputation in Italy and reaching an international audience with his operas, Donizetti traveled later in his career to Paris and Vienna where he continued to compose and direct productions of his operas.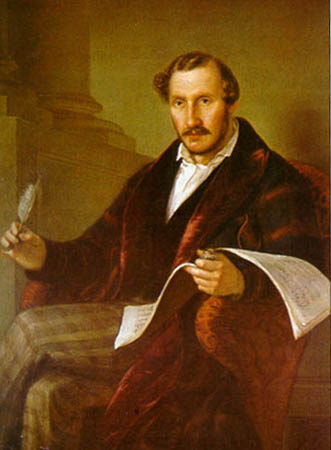 Take a listen to these five great arias and enjoy it!
Quel guardo il cavaliere, Don Pasquale,
This aria is sung by Norina, the young girl who is sought out by 70-year-old Don Pasquale to be his bride in Donizetti's comic opera. Russian soprano Anna Netrebko gives a memorable performance in 2001.
Ah! mes amis … Pour mon âmi, La Fille du Regiment
How could we have a list of opera arias without Pavarotti? And what better choice than the Nine High C's aria? Make sure you stick around until the end of the clip, his ability to hold the last high C is remarkable!
Il dulce suono, Lucia di Lammermoor
Joan Sutherland is Lucia in this recording from Covent Garden in 1959. The aria is part of the scene where Lucia goes mad on her wedding night, stabs her husband without being aware of her actions, and then wanders the great hall in reflection on the past. Performances by Maria Callas of this aria were also highly praised.
Una furtiva lagrima, L'elisir d'amore
This aria comes towards the end of act II of Donizetti's comic opera, as Nemorino believes that the "love potion" he has bought to win over his dream lady works. The potion turns out to be cheap red wine sold to him. Juan Diego Flores performed the aria in the above video in Paris in 2004. The aria has a long history of being recorded, going back to the legendary Caruso who performed it in 1911.
Al dolce guidami, Anna Bolena
As Anna goes mad in her cell, she sings this aria in act II of Donizetti's opera about the fate of one of Henry VIII's wives. Although Donizetti was already established in 1830 when this opera was written, Anna Boelena increased his reputation significantly, especially abroad. This recording was made by Maria Chiara, who is best known for her roles in operas by Puccini and Verdi, in the early 1970s.