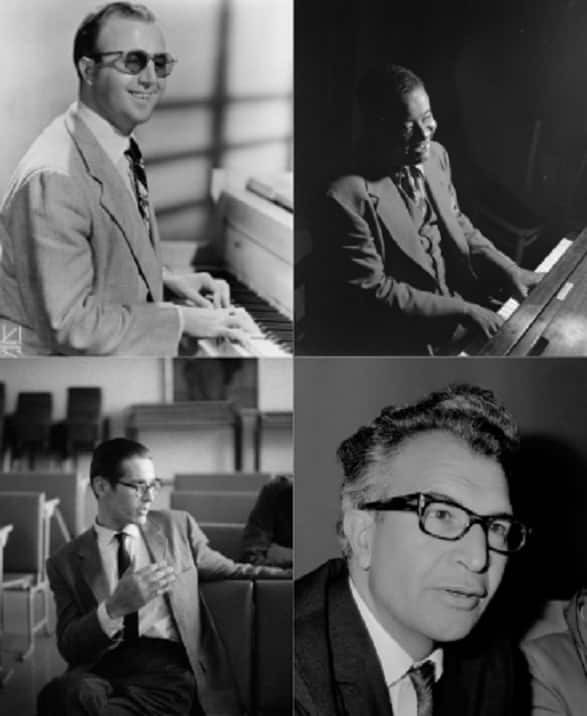 There are far too many renowned jazz pianists to name and explore in this article. Instead, I have hand-picked a selection of the pianists that I feel have made an impact on me as a jazz piano player over many years.
Famous Jazz Pianists
1. George Shearing
I have deliberately chosen George Shearing as my first example of a remarkable jazz pianist because not only is he a superb musician but he is not from the USA which is considered to be the home of jazz. Shearing was born in 1919 in the rather insalubrious area of London called Battersea. His beginnings were humble, with a Father who was a coal miner and a mother who made her living cleaning trains. Shearing was one of nine children and born blind. Similar to so many jazz musicians, Shearing received little formal musical training even though he did receive many offers from Universities to study music. Shearing politely refused the academic route preferring to play with a band of blind musicians in the early 1930's. Soon after, Shearing made a début on the BBC radio and this was the launch of his career.
By 1947 the lure of the United States music scene proved too enticing for Shearing and he moved there to establish his professional career. Selling an impressive 900,000 copies Shearing and his quintet had made the headlines by 1949. It was not long after that success that Shearing took up a regular slot in New York's famous Birdland jazz club. From there Shearing's reputation grew and success followed success. Perhaps his most famous tune is called 'Lullaby of Birdland' the in many ways captured Shearing sound in a single piece.
2. Art Tatum
https://www.youtube.com/watch?v=KxadblDT6zI
Another very famous jazz pianist called Oscar Peterson was as a young and slightly arrogant boy, taken by his Father to hear Art Tatum. So the story goes, his father insisted that the young Oscar wear a blindfold at the start of the concert, to encourage him to listen carefully. At the interval, his Father removed the blindfold and asked Oscar what he thought. Oscar was astonished to realise that what he had heard was the playing of a single pianist, not the two he had imagined.
Such was the immense skill and effortless virtuosity of Art Tatum, that it is perfectly understandable that the young Oscar could have been fooled into thinking there was more than one pianist on stage. Tatum was able to perform in such a way that almost no note was left unplayed. He was a master of the 'stride' piano and able to improvise with such fluency and imagination that was unique to him.
Like Shearing Tatum was born in the early part of the 20th Century (1909), and lived a relatively brief time, dying of kidney disease at only 47. In that brief period, Tatum became best known perhaps for his recording of 'Tea for Two' which became his signature tune. Tatum toured the US and the UK making a name for himself everywhere he performed. The saxophonist Charlie Parker was a great admirer of Tatum as allegedly was the Russian composer and pianist Rachmaninov. 
3. Bill Evans
The name of Bill Evans may not be as familiar as those of Art Tatum and George Shearing, yet Bill Evans is one of the most influential jazz pianists of his age. He was born in 1929 in New Jersey, USA. Evans was first taught piano by his mother and later graduated with a music teaching degree from Louisiana College. By 1956, having been released from his duty in the US Army, Evans returned to the jazz scene to notable effect.
Almost immediately, Evans began to carve a name for himself with distinctive new recordings that showed an individual approach to harmony. Coupled with an almost Chopin-like lyricism that allowed Evan's melodies to float over the underlying rhythm made him stand out as a new voice in the world of jazz.
A major step forward came in 1958 when Evans embarked upon an eight-month engagement with the Miles Davis Sextet. Even though Davis was a task-master and an inspiration Evans made a significant impact on the jazz icon and the album Kind of Blue. In particular, Evan reinforced the modal direction in which Davis was already exploring.
This, in turn, created a highly unique and slightly bleak tonal quality to the album. Later in the same year, Evans left the sextet to pursue his own musical ideas. The album from that year titled 'Everybody Digs Bill Evans', contained one of his most popular tracks, 'Peace Pace'.
4. Dave Brubeck
To many, the track 'Take Five' has become the signature tune for the Californian born jazz musician Dave Brubeck. What is not always understood is that Brubeck did not compose that famous tune, it was his equally remarkable alto saxophonist, Paul Desmond. Brubeck was a composer in his own right, beginning life as a pianist through piano lessons with his mother.
Whilst many jazz pianists have not received or chosen formal musical training, Brubeck studied music at the College of the Pacific in California. In 1946 Brubeck attended Mills College in Oakland where he took lessons in composition with the colourful French composer, Darius Milhaud.
In 1951 Brubeck formed what would turn out to be a seventeen-year collaboration as the Dave Brubeck Quartet. The quartet toured extensively playing alongside some of the biggest names in the world of jazz, including Ellington, Charlie Parker, and Stan Getz. The number of well-known tracks from the albums that followed is substantial.
Brubeck's musical pedigree showed through in many of the works where new and extended structures were explored alongside unusual time signature and harmonies. The influence of Milhaud is ever-present. The album 'Time Out' has some of the most inspirational and experimental tracks on it. 'Blue Rondo A La Turk' similar to 'Take Five' became featured on jukeboxes which were almost unheard of in the realms of jazz music. Brubeck also wrote beyond his quartet, often trying out classical structures in his work including work for the American Ballet Theatre in 1960 titled 'Points of Jazz'.