During the 2014 iTunes festival, award-winning composer Eric Whitacre wowed the audience with a choral version of Miley Cyrus's Wrecking Ball, with the participation of singer Marius Beck, whose initial cover of Wrecking Ball inspired Whitacre's rendition. The 2014 iTunes festival marked the debut with his professional choir, aptly named the Whitacre Singers. As expected, it's quite different from the original version of the song, where a scantily clad Miley Cyrus toys with metallic tools and ultimately rides on top of the wrecking ball—it would be interesting, though, to see if Cyrus could pull off Whitacre's choral arrangement.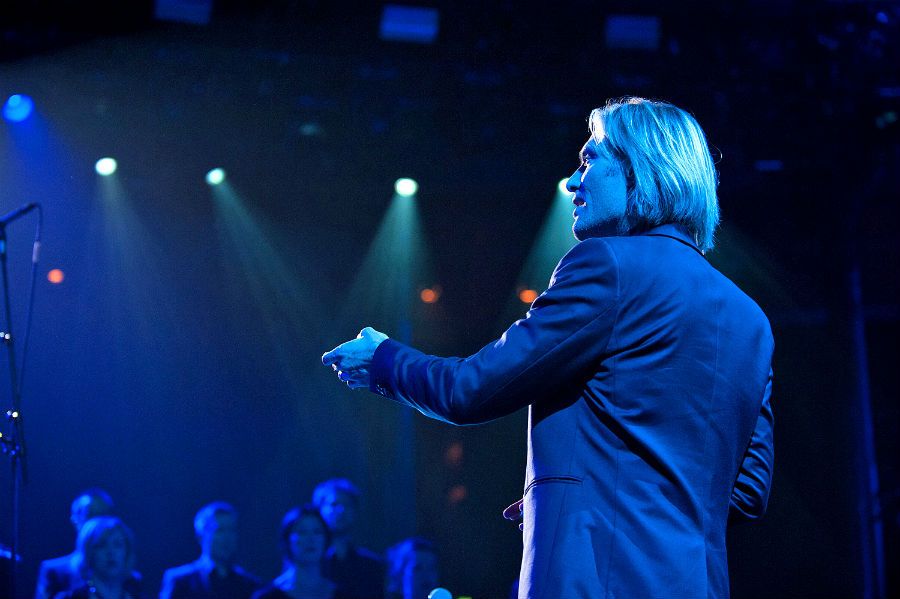 During the same occasion, he performed an arrangement of Hans Zimmer's Time, and the renowned soundtrack composer was welcomed onstage. (Photo:Edu Hawkins/Redferns)
Whitacre, 45, is best known for his choral works: in 2012, he won a Grammy award for best choral recording for Light&Gold, released by Decca while, in 2009, he started the Virtual Choir project, where singers upload their videos from all over the world and the video is then "synchronized into a a single performance to create the Virtual Choir," as Eric Whitacre's official webpage clarifies.
Whitacre also forayed into musical theater: in 2003 he composed Paradise Lost, Shadows and Wings, whose score combines styles of opera, musical theater, cinematic music, electronic, ambient and techno and tells the story of an abandoned tribe of angels searching for their wings—and it comes with an anime prologue. It will hit the West End in the 2015/2016 season.
Eric Whitacre's Eric Whitacre Live at iTunes Festival 2014 was released on March 23rd.