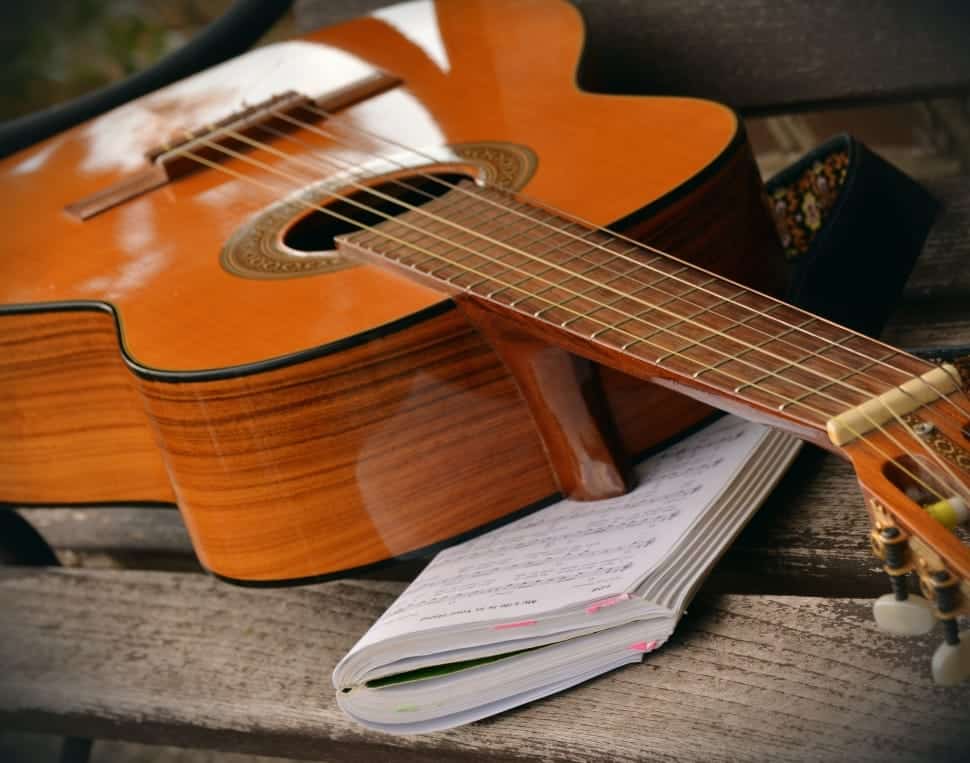 Classical guitar is often seen as the perfect tool to get someone into playing guitar. However, this instrument has a lot more depth than most beginners are aware of. Traditionally played using fingerpicking, a classical guitar can prove to be pretty challenging.
Learning scales and technique aside, one of the best ways to get started to actually learn how to play a few songs. What we have here is a couple of easy classical songs for beginners which will start you off on the right track. Some of these are more traditional in nature, while others not so much. Either way, all of these have a lot of learning value to them.
Easy Classical Guitar Songs for Beginners
1. Sting – Shape of My Heart
Whether or not you're a Sting fan, Shape of My Heart is just one of those songs that flow naturally on a classical guitar. This is in part because the piece was written specifically for this instrument. That natural, organic sound of nylon strings really gives the song a lot of depth. All that aside, there are two reasons why this song is on this list.
For starters, it is a very easy song to learn. The chords are not that hard to grip even for total beginners. Additionally, it will challenge you to form good fingerpicking habits as the pattern used isn't too linear. Instead, it has a progression.
They say that the best way to learn classical guitar is to play classical pieces written specifically for classical guitar, but this song proves that there are more ways to get to the same goal. Besides, this is one of those songs you can start playing around the campfire and entertain your friends.
2. In The Hall Of The Mountain King
The next tune is one that just about everyone knows, even if they aren't aware of it. In The Hall of The Mountain King is a song written in the late 19th century for a Norwegian play called Peer Gynt.
The song itself is pretty straightforward and introduces the player to a few basic techniques in a very easy to handle way. If you are having trouble with fingerpicking, this song is a good place to start. Here's why. The melody is very linear, monophonic and easy to handle. More importantly, the vibe of the song doesn't change with or without bass notes.
This allows you to work yourself up from the simple melody into a complete song at your own pace. We suggest that you start working in bass notes as soon as you feel comfortable as that's the best way to keep things challenging.
3. Buree in E Minor – Bach
Okay, so far we've been going over some pretty simple songs that will get you started with fingerpicking. This next one is a bit different. Buree is one of those pieces that sounds super complicated when you hear a skilled guitar player play it. Is it too complicated for a beginner? We don't think so.
This particular song can teach you a few very important skills that will serve you well as a guitar player. First and foremost, you will learn that slow is smooth and smooth is fast. With playing guitar, it is imperative that you don't get ahead of yourself. Building up speed takes time but it is a process that brings many rewards if you are patient enough.
Secondly, the song is a perfect tool to train yourself on how to quickly change chords on a classical neck. As we know the neck on a classical guitar is much wider than that of a standard acoustic, so this skill comes in very handy. In summary, Buree is very easy on the right hand, which is great for those struggling with fingerpicking, and very challenging for the left hand. Besides, it's Bach.
4. Is There Anybody Out There – Pink Floyd
Explaining why Pink Floyd is one of the best bands ever to grace the world feels rather redundant. Their musical genius is something we will enjoy and ponder about for generations to come. All that aside, Pink Floyd is responsible for what is arguably one of the best songs you can learn as a beginner classical guitar player.
Is There Anybody Out There has made this list because it combines a few techniques we find to be essential for beginners. You have one of the most standard fingerpicking patterns used today, a very neutral chord progression in terms of difficulty, and finally an arrangement that isn't too monotone.
This is a song that sounds great whether you are playing it very slow or at full speed. It's a song you can really enjoy while learning it and not just a set of chords you're forcing yourself to go through as a part of your practice routine.
5. Swan Lake
Last but not least we have another awesome classical tune that is perfect for beginners. Swan Lake is probably the least challenging song on this list, which is good if you're completely new to classical guitar.
However, it isn't as easy as some may think. Even in its simplest form, playing the melody of this piece will require you to push your left hand to its limits. There are a few chords that require you to play far away frets in succession, which will tell you exactly how far your index finger and pinky finger will stretch. Additionally, it is a great tool to introduce yourself to pinky finger slides. Once you introduce bass notes, it can really sound impressive.
Final Thoughts
Finding easy classical guitar songs for beginners is not too difficult. It all comes down to knowing what you can and more importantly, can't do at your skill level.
As long as you keep yourself challenged and approach developing new skills with patience, you will see improvement fairly quickly. The songs on our list will offer that challenge whether you are completely new to classical guitar or if you're just starting out with fingerpicking.