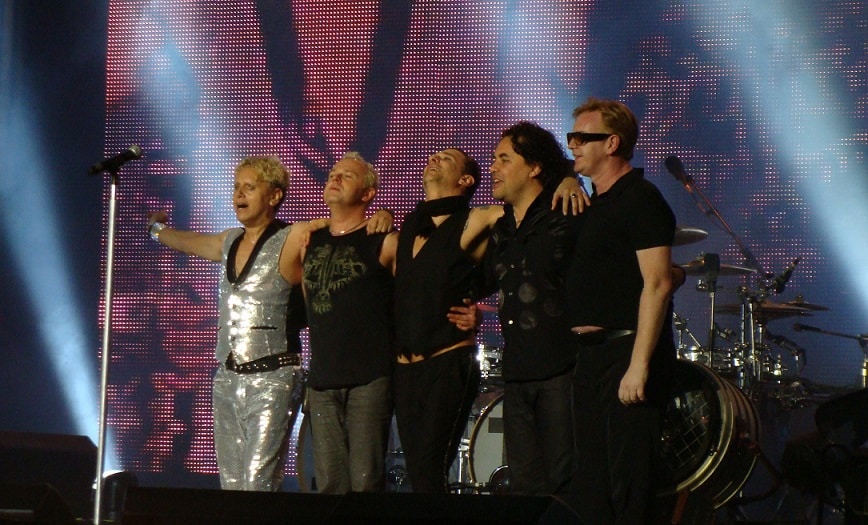 Biography of Depeche Mode
30 years is a long time to be in the music making business and more so as a group, yet this is the amount of time behind the great Depeche Mode band. A group of musicians that each bring a set of unique talent to the group, Depeche Mode continues to impress the masses because of the originality they bring to the music scene. Here is their story;
DISCLOSURE: This post may contain affiliate links, meaning when you click the links and make a purchase, I receive a commission. As an Amazon Associate I earn from qualifying purchases.
How it all began
One of Depeche Mode's founders, Andy Fletcher, admits that his inclusion in the band was purely accidental. When he and Vince Clarke were schooling in China back in 1977, the idea to sing in a band was born. It is only because Andy played the guitar, had a bass and was English that he found himself trapped in this mix.
Well, he clearly liked the experience because he stayed. The band name then was No Romance and before everyone settled in their current role, they moved and sang with friends before finally finding balance in 1980. Depeche Mode was born when they included Dave Gahan, in their line-up of Clarke, Gore, and Fletcher. The first time the group performed as Depeche Mode was in May 1980 at a school event at the James Hornsby School in Basildon, former school for Gore and Fletcher.
Why choose Depeche Mode as a name for a band? Well, it is Gore who has been on record explaining this very important aspect of the band. Apparently, the name bears a fashion inspiration because it is actually French for "Fashion news", an actual French magazine.
Breaking the ceiling
Before their music got to be played on air, Dave Gahan recounts the journey of how humble their beginnings were. Like any other artists did, they had a demo tape but it was the only one they had so they could not afford to mail it or leave it behind. They took the tape to various recording companies, most of which did not listen to it because the group wanted it played before they could take it elsewhere.
Those that took the initiative to listen to it wanted to offer them deals, with some like Phonogram offering them money they had never imagined just to get them signed up. To date, the band has worked with some of the world's renowned record labels like Mute, Sire, Reprise, Capitol, Virgin, and Columbia.
Who are the members?
Andy Fletcher, whose full name is Andrew John Leonard "Andy" Fletcher was born on 8 July 1961 and is popularly referred to as "Fletch". In early band formations, Fletch played bass but his role evolved with the addition/leave of supporting members.
According to publications on the band, Fletch can play various roles apart from songwriting. Fletch has always been the band's manager most of the time and has on many occasions spoken for its welfare. If you have not heard it from Fletch, then Depeche Mode news has not been made.
Martin Gore was born on 23 July 1961 and is a key part of Depeche Mode band. Apart from writing most of the songs that the band has produced, Gore is also a lead leader for many of them. His seemingly dedicated role in this band is due to the fact that he helped to establish the band. He plays the guitar, keyboard, remixes songs, and is a seasoned producer.
Dave Gahan was born David Callcott on 9 May 1962 and is easily identifiable from the Depeche Mode band by this baritone voice. He is a lead singer alongside Martin Gore and he too writes songs for the group. Apart from his contribution to the band, Dave has a couple of singles but that does not comprise his role in Depeche Mode.
Vince Clarke who was born as Vincent John Martin on 3 July 1960, was the initial songwriter of Depeche Mode when it debuted in 1980. He would leave soon after and the reason he left has been the object for speculation ever since. In his own confession, Vince Clarke once said that soon after the band became famous, some of the material they produced, although still good, was too dark for his taste.
Alan Wilder joined Depeche Mode soon after the departure of Vince Clarke as his immediate replacement. Born on 1 June 1959, Alan would serve in the band up until 1995 then leave to pursue personal interests.
The band's members are currently listed as Dave Gahan, Martin Gore, and Andy Fletcher but this small team has taken their compositions of Synth-pop. New wave, dance rock, electronic rock and alternative rock to worldwide attention.
Achievements
The journey to fame and stardom for Depeche Mode has seen this group of performers transform from carefree talent to men of stature and authority in their trade. Their most recent achievement of 2018 is a nomination to be inducted as residents to the Rock and Roll Hall of Fame.
In December 2016, Depeche Mode was named as the 10th most achieved dance club in history by the American entertainment media brand, Billboard. If you think of the 50 Depeche Mode songs that have been featured on the UK singles chart, you can imagine how great a band this is. To add to this, 17 of their albums have been on the top 10 list on the UK charts over time. There is a reason why the Depeche Mode band was ranked among the "100 Greatest Artists of All Time" by VH1 (a cable and satellite television network based in New York) and it is not luck.