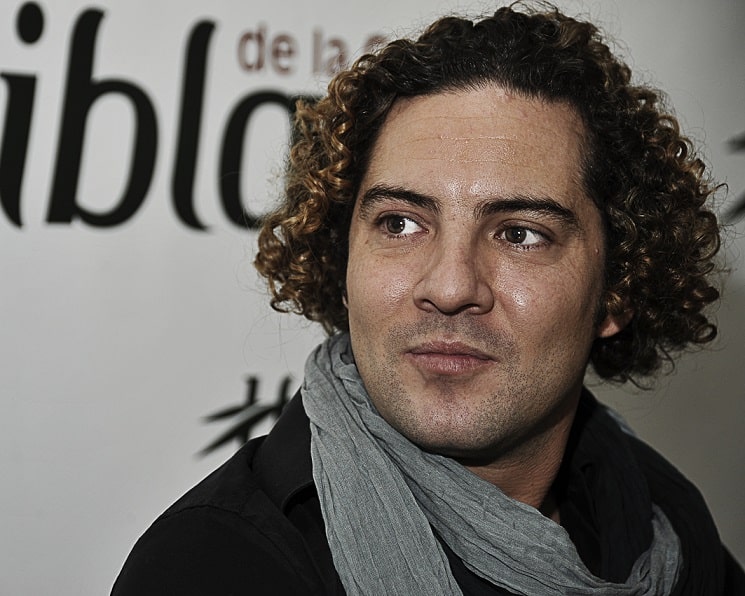 Biography of David Bisbal 
David Bisbal is a famous Spanish singer who has gained raving acclaims for his much-loved Latin pop hits. The Almeria born pop sensation is also a celebrated actor and an avid songwriter. His break into the limelight began when he appeared on the Spanish interactive reality TV show Operación Triunfo in 2002, in which he emerged a runner-up.
DISCLOSURE: This post may contain affiliate links, meaning when you click the links and make a purchase, I receive a commission. As an Amazon Associate I earn from qualifying purchases.
Ever since, Bisbal has enjoyed a colorful singing, acting, and songwriting career, marked by five successful studio albums and multiple live albums, with all of them commanding the Spanish Albums Chart. His Latin pop mastery has seen him bag IFPI Platinum Award, a coveted accolade given to those who have sold over 1 million copies across Europe. Hailed as an international crossover artist, David Bisbal is a regular feature in music tour circuits in the Latin America and Europe.
David Bisbal Background
Born David Bisbal Ferre on June 5, 1979, in Almería, Spain, the Latin pop sensation rose to fame on the opening season (2001-2002) of the favorite TV show Operación Triunfo (the Spanish version of Star Academy). In this debut season, there were a total of 16 contestants, and he came only second to Rose López. As a top three finalist, David Bisbal was fighting for a chance to represent Spain IN the Eurovision Song Contest. Soon later, he accompanied Rosa López as a backing vocalist in the 2002 Eurovision Song Contest in Tallinn, a stage that acted as a springboard for his chart-conquering solo recording career.
Even before then, David had gotten his feet wet in the industry. After dropping out of school at around age 15, David had a short stint as a worker at a local nursery before meeting the producer of the Orchestra Expressions, who is credited for discovering his singing prowess. After listening to his samples, the producer offered David work as the leading voice of the orchestra.
It was when he was working in Orchestra Expressions that David developed as a singer, and found his passion for music. After summoning enough courage, he decided to audition for a place in the Operación Triunfo.
After his compelling performance on Operación Triunfo, David Bisbal got the attention of Vale Music Record, the first label to sign a contract with him. With the label, he released his debut album dubbed Corazón Latino with Kike Santander in Miami. The album went on to top Spanish Album Chart and became platinum for a whopping seven times, with the first time in summer of 2002.
Ave Maria, the first single from the debut album, was such as sensation hit that he sold over one million copies and won the Latin Grammys. At this point, there was nothing that could stop the Latin songbird. His second album was released in February 2004, and it was equally a huge success in the Latin market. This and most of his subsequent albums and singles were produced and written in conjunction with the Spanish pop hitmaker and friend Kike Santander
Family
David Bisbal was born in Almería, Andalusia, Spain to a Maria Ferre Montoya (mother) and a professional boxer father, José Bisbal. His father was also a member of flamenco trio band. David is the youngest of a family of 3 siblings, a sister called María del Mar and a brother named José María.
Childhood and Early Life
Even as a young kid, David Bisbal has always been a talented performer, although he was quite shy about singing or performing in public. He attended IES Al-Andalus, a secondary school in the far-flung of Almeria. At the age of 15, he dropped out of the secondary school, at which point his father helped him get a job as a helping hand for a Ranger friend at a local nursery in Almeria.
Discography
In his colorful career as a Latin pop artist since 2002, David Bisbal has managed to bang out 5 incredible successful studio recording albums and several live albums. His stand-out work includes:
Corazón Latino — this debut album was released on October 15, 2002, to US and Latin American market. It topped the Spanish Album Chart.
Bulería — Released on February 10, 2004, and went on to hit #1 on Spanish Album Chart.
Premonición — was released on October 3, 2006, hit #1 on Spanish Album Chart.
Sin Mirar Atrás — Was released on October 20, 2009, hit #1 on Spanish Album Chart.
Tú y Yo — Released on March 18, 2014, also hit #1 on Spanish Album
Hijos del Mar — Released on December 2, 2016, you guessed it; the album hit #1 on Spanish Album Chart.
His live albums include Todo Por Ustedes (2005), Premonición Live (2007), Acústico: Una Noche En El Teatro Real (2011), and Live at the Royal Albert Hall (2013). They were all a phenomenal success in Spanish and Latin America markets.
Achievements
As of this date, David Bisbal has managed to sell over a whopping 6 million records in America and Spain. Of these, he got two diamond albums, 17 gold, and 48 platinum. His first two albums — Corazón Latino and Bulería — both won the coveted IFPI Platinum Award for selling more than 1 million copies each across Europe.
Other notable achievements include:
Won the Latin Grammy in Miami in 2003 for "Best New Artist."
He was featured in the Spanish version of Waving Flag, the FIFA 2010 Official World Cup song
Won the Latin Grammy in Las Vegas in 2012 for "Best Traditional Pop Album"
David Bisbal has also performed for a number of TV shows, include Jane the Virgin, Herederos, and many more.