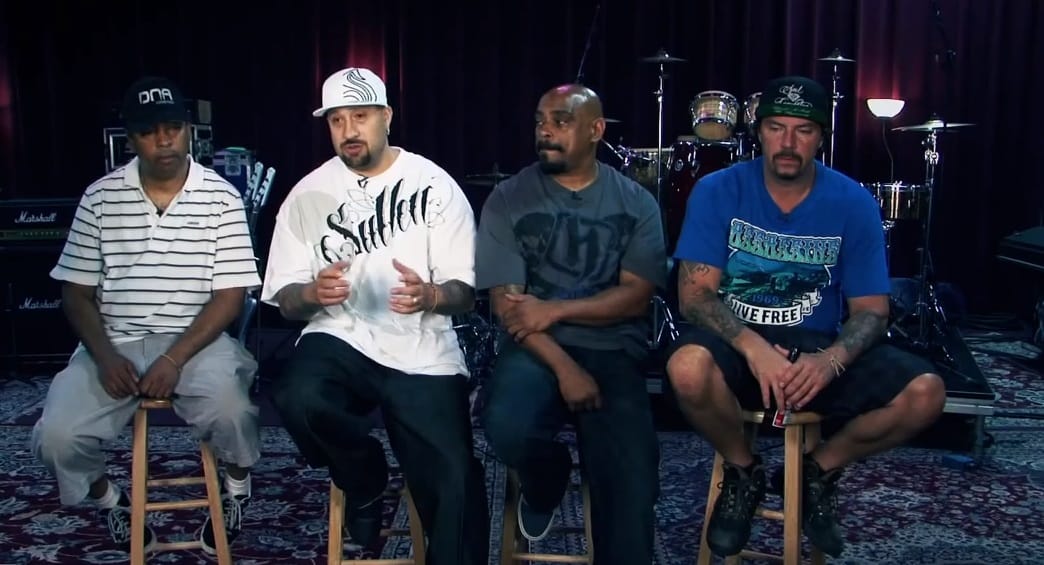 Cypress Hill Biography
Innovatively cool beats, off-the-chart flow rap, and lazily gangsta lyrics … welcome to the fabulous world of Cypress Hill, perhaps one of the best Latino hip-hop bands to ever grace the airwaves.
DISCLOSURE: This post may contain affiliate links, meaning when you click the links and make a purchase, I receive a commission. As an Amazon Associate I earn from qualifying purchases.
Cypress Hill is well-known for being the first ever Latino rap music group to churn out both platinum and multi-platinum albums and sell more than a whopping 20 million copies across the globe. Most notably, the Latin American group has been an avid advocate of marijuana legalization, which deservedly marries well with its slow, stoned funk style.
Cypress Hill: The Background
Established in South Gate, California, the Cypress Hill was born out of another hip-hop music recording group known as DVX (Devastating Vocal Excellence). The latter was formed in 1988 when two Cuban brothers – Senen Reyes (well known as Sen Dog) and Ulpiano Sergio Reyes (stage-named Mellow Man Ace) decided to team up with Louis Freese (also known as B-Real) and NY native Lawrence Muggerud (popularly known on stage as DJ Muggs and former member of rap group 7A3).
It was not long before one of the Reyes brothers; Mellow Man Ace quit DVX to go solo. The band soon sprang back christened as Cypress Hill, so named after a South Gate popular street.
A Little About Members
The two founding Reyes brothers were born in Pinar Del Río, a rustic town in Cuba where they spent their early childhood before their family immigrated to the US in 1971. It so happened that their father was thrown out of his teaching job after he refused to teach Stalinism and communism at a Cuban high school. The Reyes family spent a short stint in Casada Libertad, a Miami refugee apartment before moving to South Gate, California.
Senen Reyes, aka Sen Dog, was born on November 20, 1965, while his younger brother Ulpiano Sergio Reyes, better known on stage as Mellon Man Ace was born on born April 12, 1967. The two spent their childhood with Slayer drummer Dave Lombardo and even went to high school together.
Mellow Man Ace called it quits from DVX in 1988, and released his debut album on Capitol a year later. Aptly named Escape From Havana, Mellow's first album featured hits from the likes of Def Jef and The Dust Brothers. In 1990, he released a Top 20 single hit alongside Ace. The Latino artist recorded one more album named The Brother with Two Tongues before fading into music oblivion. It wasn't until 2000 that he came out of retirement to whip another album called From The Darkness Into Light. Meanwhile, his brother, Sen Dog, enjoyed the limelight as Cypress Hill took over the airwaves one hit after another.
B-Real, lead rapper of Cypress Hill, was born Louis Freese on June 2, 1970, in Los Angeles to a Cuban mother and a Mexican father. At the age of 5, B-Real and his little sister moved to South Gate along with their mom. He went to Bell High School in California where he met and became friends with Reyes brothers. He soon dropped out of high school before reconnecting with the Reyes to form Cypress Hill. Talking life after Cypress Hill, B-Real teamed up with Chuck-D and others to form Prophets of Rage in 2016.
DJ Muggs (aka Muggs or Black Goat), the beats master of the group, was born Lawrence Muggerud on January 28, 1968, in Queens, New York. While he is of Cuban and Italian descent, DJ Muggs was adopted by a Norwegian family. At a tender age of 14, he left NY for LA where took up a gig as a hip-hop DJ from a group named The 7A3.
When the 7A3 disbanded in 1988, DJ Muggs immediately joined the Reyes brother to form Cypress Hill, which went on to produce 10+ studio albums. In his time with Cypress Hill, DJ Muggs did a few solo projects, including Soul Assassins I (1997; featuring Dr. Dre, Wycliffe Jeans, et al), Soul Assassins II (2000), Legend of the Mask and the Assassin (2007), Smoke N Mirrors (2009), Dust, and Bass For Your Face (2013). In between, he did many solo records before he saw through Cypress Hill to 2004.
Achievements
When it comes to the discography, Cypress Hill was the first Latino rap or hip-hop band to produce both a platinum and multi-platinum album. In its lifetime, the group released more than nine studio recording albums:
Cypress Hill – released in 1991, and reached #31 in US Top Chart
Black Sunday – released under Columbia & Ruffhouse labels in 1993. This perhaps the most successful album ever produced by the group, reaching #1 in US Top Chart
Cypress Hill III: Temples of Boom – released 1995, reached #3 US Hip Hop Chart
Cypress Hill IV – released October 1998, reached #11 US Top Chart
Skull & Bones – released exclusively by Columbia Records in 2000. It chimed its way to #5 in US Top Chart
Stoned Raiders – came out in 2001 and only reached #64 in US Top Chart
Till Death Do Us Part – released in 2004 (#21 US Top Charts)
The eighth album named The Rise was released in 2010 and made it to #19 in the US Top Chart.
The group features in hundreds of appearance albums and collaborative singles, with big names like Dr. Dre, Lowrider, Pitbull, The Alchemist, Rusko, Kottonmouth Kings, Fredwreck, and Travis Barker, just to mention a few.
Awards and Accolades
Cypress Hill work was nominated for Grammy Awards three times (1994, 1995 and 1996), all for Best Rap Performance by a Group or Duo category. In 1994, Cypress Hill album Insane in The Brain was nominated for the Best Rap Video at MTV Video Music Awards.