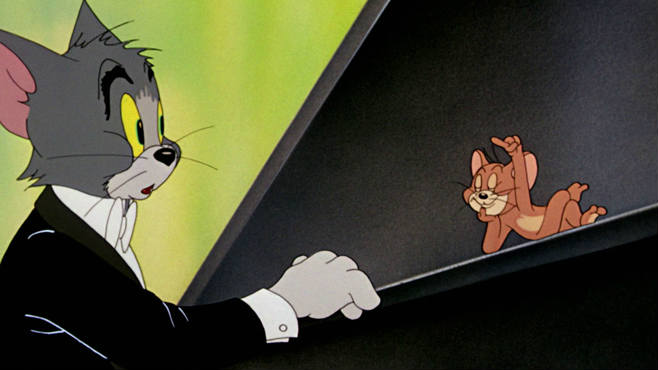 We all have childhood memories related to Tom and Jerry and the slapstick humor surrounding their odd relationship, even though, if you watch them as an adult, you may notice some controversial sequences involving characters in blackface, cannibalism and bizarre acts of violence (axes, anvils, teeth getting hammered or body parts getting sizzled).
However, we can't do anything but appreciate the work of musical director Scott Bradley, who infused the straightforward plot with complex scores combining jazz, classical and pop music. Liszt, Chopin, and Strauss prove to be quite fitting to the characters' actions.
The Cat Concerto

In this 1947 episode, we can hear Franz Liszt's Hungarian Rhapsody no. 2: A frac-clad Tom is solemnly playing the piano that, of course, the insufferable Jerry had turned into his temporary home. The Classical music community can feel for poor Tom: the piece presents a plethora of technical challenges and, by the end of the 19th century, it had become the unofficial gold standard through which each pianist could prove his or her prowess.
Kitty Foiled
https://www.youtube.com/watch?v=g15kKf_ehzs
A cozy at-home episode has Tom violently chase Jerry and devise all kinds of plans to get rid of him, but a caged canary comes to the mouse's aid, helping him plot against Tom. Throughout the episode, we hear several references to the Barber of Seville's score, perhaps because all three characters fancy themselves as smart and enterprising as Figaro.
Tom and Jerry at the Hollywood Bowl
https://www.youtube.com/watch?v=hmr5wvHxUh4
This time around, Tom is no longer a Virtuoso pianist, but, instead, he wields a baton, conducting the Fledermaus overture. Of course, Jerry chimes in climbs onto the podium and tries first to conduct alongside Tom, then to steal the scene. The two, however, experience some sort of (apparent) bonding when the waltz section approaches. That truce, however, is shortlived, and first Jerry manages to attach wheels to the podium, which causes Tom to be run over by a bus, and then makes all players disappear. As a consequence, Tom has to play each instrument to save performance.
The Flying Cat
https://www.youtube.com/watch?v=EjvabkITxXA
A little diversion for Tom, who, this time, sets out to capture a sleeping canary. Needless to say, Jerry happens to spot the action while walking outside his lair and preparing for a new day. The bird and the mouse repeatedly save each other from Tom's bloodthirsty rage, eventually plotting against him. At some point, however, the cat accidentally devises a pair of wings out of a torn corset, which enables him to fly. Chopin's Grande Valse Brillante serenades Tom's discovery with a "Vivo" tempo.
Carmen Get it
Tom is chasing Jerry in the crowded streets of New York City. In this chase, they arrive at the Metropolitan Opera, where Bizet's Carmen is about to be performed. While Jerry manages to enter the opera house without much ado, Tom has to disguise himself as a member of the orchestra and, eventually, manages to reach the orchestra booth by carrying what at first glance, was a contrabass. In the end, however, the case reveals to contain nothing but a violin that is actually a record player. So, by pretending to be a virtuoso, Tom can resume his hunt. Jerry, however, is swifter than his feline frenemy and later in the episode, we see him in full Escamillo attire. Instead of singing her famous arias, however, Carmen screams in disgust.
Snowbody Loves Me
While out on the Swiss Alps, Jerry is caught up in a snowball and rolls his way to a cheese shop where, of course, Tom is placidly resting until the rodent decides to interrupt his quiet and starts diving in and out of wedges of Emmenthaler cheese. Tom almost succeeds in getting rid of the mouse for good by dropping him outside in the snow, but then is overcome with guilt and revives an almost frozen jerry with Schnapps. The episode ends with Jerry in a Swiss doll attire dancing to Tom's piano melody. Snowbody Loves Me has a selection of Chopin's repertoire, namely the Revolutionary Etude, the Grande Valse Brillante end the Fantaisie Impromptu.