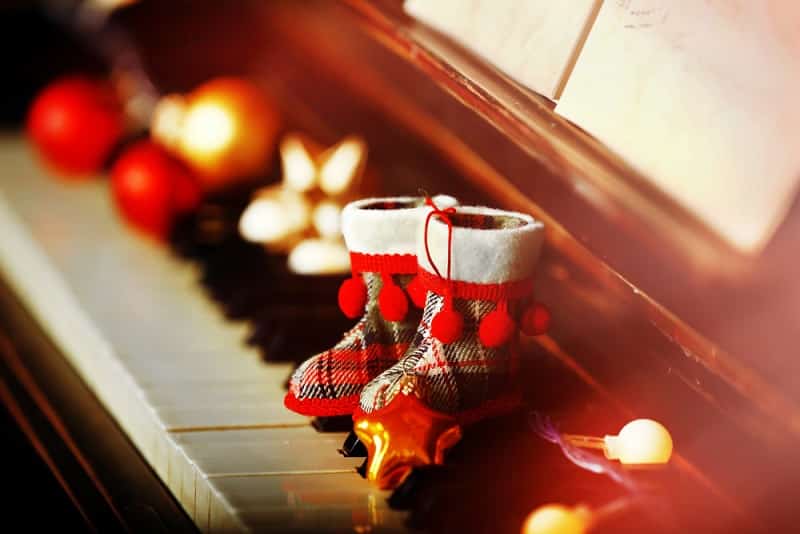 It is now December and the shops here in the UK are filling with stacks of chocolate, fake snow and discounted Christmas gift options. This article is dedicated to that festive time of year for the jazz piano and some of the most popular tunes from that time of the year.
Christmas Jazz Piano
1. 'White Christmas' by Irving Berlin
This is perhaps one of the most played songs from Christmas time. In fact, according to some sources 'White Christmas' has sold over 100 million copies in all its many versions. The Bing Crosby version contributes a huge 50 million to that impressive number. The song was composed in 1942 and evokes the images and feelings of a sentimental rather old-fashioned Christmas.
The format of the song is simple enough with chord progressions and a melody that lends itself nicely to interpretation and re-arranging. In the version above, pianist Jim Hendricks takes the styles of two famous jazz pianists, Erroll Garner and Art Tatum and combines them into one rendition of this Christmas classic song.
2. 'Oh, Tannenbaum' Traditional
https://www.youtube.com/watch?v=5LuUfnR7IYI
This is a traditional German folk song that translates to 'Oh, Christmas Tree'. It is a wonderfully simple little tune that is only twelve bars in length and a gently rocking three beats in the bar. The contemporary and familiar words were written by Ernest Anschütz in 1824 that present no direct mention of Christmas at all. Instead what they give is a kind of praise and respect for the steadfast fir tree. In the earlier 16th Century text on which Anschütz based his words the tree is compared to the unfaithful lover, who unlike the tree is not constant.
The version linked to above is by the well-known jazz pianist, Oscar Peterson. In true Peterson style, he takes the essence of the Christmas tune and makes it his own. His characteristic flurries and runs alongside his colourful re-harmonisation of the song make this interpretation one of my favourites.
As a testament to the musicality of Peterson, the original song is never overshadowed by showy technical displays. Instead, he beautifully and sensitively enhances the piece, bringing it into a whole new realm that captures the magic of the music and the time of year.
If the song sounds familiar in another context, you may be interested to know that it is also known as 'The Red Flag' and I believe is still the anthem for the British Labour Party.
3. 'Have Yourself A Merry Little Christmas' by Martin and Blane
After Judy Garland introduced this song to the waiting world in the musical film called 'Meet Me in St. Louis' in 1944, the song became an almost instant hit. It is one of the most recorded Christmas songs ever written made equally famous by great names like Frank Sinatra, Ella Fitzgerald and more recently by the crooner Michael Bublé and the more unlikely Sam Smith.
The song itself appears in the film shortly after Esther, played by Garland, accepts a proposal of marriage from her sweetheart John (Tom Drake). The problem is for Esther that even though she is now engaged to John it means a move to New York to be with him and she is apprehensive. Her mood is echoed by her sister Tootie who is also upset as Esther's discovers on her return home. It is then that the song is sung to Tootie but her mood sadly remains despairing.
It is the jazz impresario George Shearing and his Quintet who play this jazz version of the famous song that is in the vein of a light Christmas tune. The characteristic Shearing sound with vibraphone and piano doubling the melodic line illuminate the song that alternates between a gentle swing and a double-time tempo. The ending is an interesting twist and shows Shearing's love of the world of Classical music. There is a smooth section of imitative entries of the melody that then leads back to the original material. A delightful and unpretentious Christmas standard.
4. 'Santa Claus is Coming To Town', by Fred Coots and Haven Gillespie
Current information would indicate that this song has been recorded by over 200 different artists ranging from Bruce Springsteen to The Andrew Sisters. It dates back to 1934 when it initially appeared on Eddie Cantor's radio show in November of that year. This song like the ones listed above was almost an overnight success and continues to this day to be remarkably popular. The idea behind the song was to encourage people to be kind and charitable towards one another. As the song was composed during the Great Depression that sentiment was doubtlessly well-meant.
The arrangement I have chosen is one that may not be completely familiar and is by the legendary jazz pianist Bill Evans. In this recording, Evans is playing solo piano without his usual accompanying musicians. It reveals the true heart of this remarkable pianist's inner workings. Evans use of impressionistic harmonies, blues diversions and humorous quips in this performance effortlessly sum up what a cerebral musician he was.
The original tune undergoes a series of linked variations that include a brief but sparkling improvisation. The album on which Evans recorded this track was an extension of one titled 'Conversations With Myself' that featured solo piano arrangements. This album 'Further Conversations with Myself', was recorded in 1967 and has become a collectible for all Evans fans.
5. 'Let It Snow' by Sammy Cahn and Jule Styne
As unlikely as it sounds this Christmas song was composed by Styne and Cahn in the sunny regions of California in 1945 right at the end of the Second World War. With the first recording in 1945 by Vaughn Monroe the song soon rose to the number one slot in the US charts. Since then there have been countless versions including a memorable one by Carly Simon and a highly successful one by Rod Stewart.
The arrangement above is for a solo jazz piano, ably played by Jonny May. His interpretation of the Christmas classic includes all the tricks that you might wish to hear in this spiced-up stride piano performance. It is a most convincing fusion of ragtime and something Fats Waller might have played during the festive season. There is a great sense of fun and plenty to try out for the budding jazz pianist.