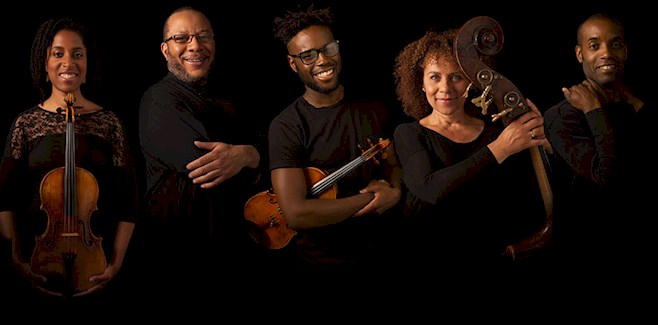 Chineke! is the first orchestra to be established in Europe for musicians of black or minority ethnic origins. Nwanoku believes that it needs to take on the lack of representation of ethnic minorities within the classical genre, as well as reach out to new music fans and encourage them to get involved.
The name comes from the Igbo language spoken in Nigeria and translates roughly as "wonderful" or the "creator of all good things." The ensemble is made up of 60 members and is led by first violinist Tai Murray and conducted by Wayne Marshall.
Nwanoku believes that the orchestra can help musicians like her gain prominence. "I wasn't brought up to be a statistic–I was brought up to be who I am, and being mixed race is not part of my agenda," Nwanoku said. "But it is clear to me that there are many reasons why people like me, people of colour, are not coming through, why they're so very underrepresented in the arts in this country. And I know for a fact its not due to lack of talent."
She also emphasised the need to challenge stereotypes held by some in the classical industry. Describing how a performance by the kinshasa Symphony Orchestra was in part what motivated her to press ahead with Chineke!, she explained, "One thing I noticed at that concert was the incredulity on the faces of the philanthropists and politicians in the audience, looking at a stage filled primarily with black people."
The problems Chineke! seeks to tackle have been widely discussed. According to a 2013 estimate, only 5 percent of professional musicians working in the classical industry in the UK identify as black or minority ethnic, compared to 12 percent of the general population who do so.
Julian Lloyd Webber spoke out in favour of doing more to encourage young people to get involved through education programmes, and stressed the importance of having "role models" for people from all backgrounds to look up to. Candace Allen, the Hollywood screenwriter, went even further by branding classical music in the UK as racist.
Chineke! is much more than an orchestra. The foundation established under the same name has a multi-year plan to establish education programmes for young people, and to run competitions for musicians at youth and senior levels. It intends to set up a youth orchestra for 11 to 18 year olds, and lobby the government to improve music education programmes in schools.
Nwanoku's initiative has been broadly welcomed, but she has come up against some difficulties too. A few musicians chose not to play in the orchestra after being offered a position for fear of a backlash, she told one interviewer, and concerns had been expressed by some others that they were only being hired because of their skin colour.
She has defended Chineke! against such concerns, saying that it is not about dividing people but creating more diversity, and arguing that she is determined to make black musicians walk on to the stage and know they belong.
The concert at Queen Elizabeth Hall on 13 September was well received, with one reviewer giving it five stars and commenting that it was "culturally inspiring" and a "music event of genuine artistic value." You can watch the entire performance for yourself here and decide what you think. Further concerts are planned, and you can keep up to date with the latest news from the orchestra at the Chineke! Foundation's website.