Nigerian-born singer-songwriter Charity Ekeke's first album is an eclectic record drawing on various sources of inspiration, but above all issues facing women. The result is Ekeke's distinctive singing voice tackling a variety of topics, although the musical offering overall is mixed.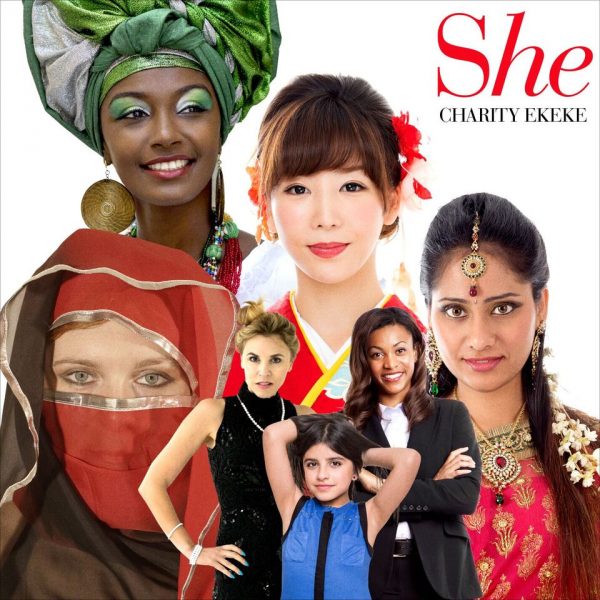 Ekeke shifts from rock to occasional funk influences and flashes of African rhythms in her music. The opening track is "If the Roles were Reversed," a questioning examination of the relationship between the sexes and the roles they play in our society. It is the lead single on the album.
The influence of contemporary events on Ekeke's songwriting is displayed in "Bloodline," a song about the millions of refugees created by the civil war in Syria. It's a worthy topic for a song, but "Bloodline" tends to be a little too repetitious to hold one's attention.
"These Times" takes up another major issue: access to birth control. Musically, it is probably one of the most polished tracks on She, with a rock feel and Ekeke's lyrics delivered with conviction.
Other noteworthy tracks on the record are "Don't Call Them," which offers Ekeke's tribute to teenage mothers and prostitutes, and "She Bears," which concludes the album. The latter track looks at the various forms of abuse faced by women around the world.
Charity Ekeke has shown persistence in getting out her music. Due to family and other commitments, her initial efforts to produce an album fell through. The songs on She have been written over a period of almost 20 years and even if some of the tracks fail to make a lasting impression, they show undeniable passion as Ekeke sings about issues important to her.
Find out more about Charity Ekeke at her website or listen to some of her music on Soundcloud.