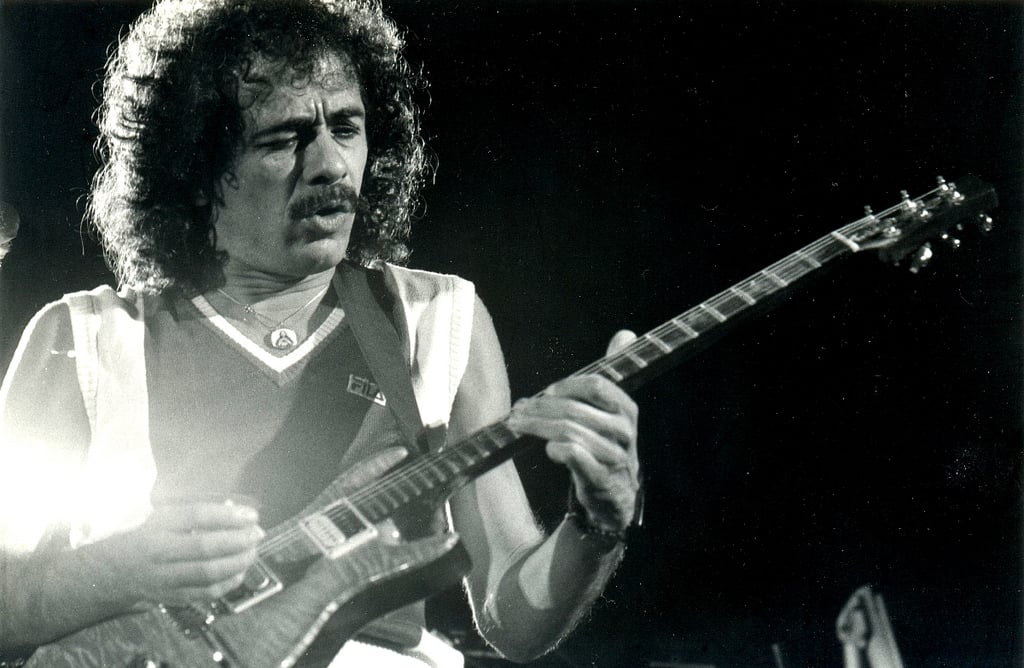 Biography of Carlos Santana
Carlos Santana's sound and musical technique are easily one of the most recognizable in the musical world. Delivered from his legendary guitar, the sonic charge of Carlos Santana's music is conveyed with a level of passion and soul that is equal to the likes of B.B King, Jimi Hendrix, and Eric Clapton, just to name a few. His sound has always been ahead of time and it continues to resonate with today's audience despite years of being in the industry successfully.
DISCLOSURE: This post may contain affiliate links, meaning when you click the links and make a purchase, I receive a commission. As an Amazon Associate I earn from qualifying purchases.
Carlos first became popular way back in 1969 after an exhilarating performance, the first of many, at the Woodstock Festival. It was here that he first introduced audiences to his unique hybrid genre of music that consisted of Afro-Cuban, Latin, rock and blues rhythms. His career has spanned more than 4 decades and he has thus paved the way for thousands of other musicians to explore new concepts in music.
Because his music has managed to cut across genres, as well as cultural and geographical boundaries, Santana's music is heard all over the world. His vision to come up with innovative melodies has earned him a degree of critical acclaim and a highly successful career. Both an innovator that is inspired by spirituality and origination, his distinctive sound is simply unforgettable.
Early life and background
Carlos Santana enjoys a deep Mexican family heritage, as well as a highly musical one. Born in the small village of Autlan, Carlos Santana was born on July 20th, 1947 as the middle child in what would come to be a family of seven. His father Jose was a traditional violinist and his mother Josefina Baragan Santana was a housewife. Santana's entire family consisted of three boys, Antonia, Jorge and himself, and four girls namely Irma, Lelicia, Louise and Maria.
Santana's closest and heaviest musical influence when he was young was his father, who also acted as his first music teacher and bandleader. His grandfather, Antonino, was also a French horn player that played in a local band but struggled to make a living off his music during his lifetime.
When he turned five, his father introduced Carlos and his brother, Jorge Satana to the violin. By the time he had turned eight, however, Carlos had already figured out that he wanted to play the guitar professionally for the rest of his life. As a teenager, he played in his father's mariachi band but he was bored by the music he was playing and desired to create music that was not constrained by strict form.
In 1955, Santana's family life in Autlan was disrupted when the family was forced to move to Tijuana. It was in Tijuana that Carlos' mother Josephina encouraged him to listen to a local band known as the TJs headed by lead guitarist Javier Batiz. Carlos was immediately fascinated by Batiz's playing technique and armed with his father's guitar and amp, Carlos asked Batiz for lessons. Batiz taught Carlos how to play the electric blues guitar, as well as how to play in the style of American rock and electrified blues.
Performance
Albums
Achievements
Inspired by the sounds of Ray Charles and Little Richard, Carlos also started performing in strip and nightclubs in the Tijuana area before moving again with his family to San Francisco to join his father. In San Francisco, Santana got the opportunity to see his favorite acts, including B.B King, perform live and he was also introduced to a broad array of genres such as international folk music and jazz.
After working as a dishwasher in several establishments, Santana decided to pursue music fully and he also became a naturalized American citizen in 1965. In 1966, he created the Santana Blues Band which was made up of band members bassist, David Brown and keyboard player, Gregg Rolie.
Thanks to their unique blend of Latin-infused African, blues, rock and salsa rhythms, the band quickly became a hit and became popularly known as Santana. The band's early success was topped by Santana's first memorable performance in Woodstock, which is what led the band to secure its first contract with Columbia Records which was by then under Clive Davis.
In 1969 the band released its first eponymous album whose single Evil Ways made it to the Billboard Charts where it remained for more than 2 years. Santana sold over 4 million copies and it became one of the bestselling albums of that time. Subsequent album Abraxas, which was released in 1970 contained two hit singles titles "Black Magic Woman'' and "Oye Como Va" while Santana III (1971) and Caravanserai (1972) also experienced massive success.
Over the years, the members of the band would come and go, so Santana the band grew to become synonymous with Carlos Santana himself. Apart from working with his band, Santana also launched his solo album in 1973, which was recorded with fellow guitarist John McLaughlin, who is also the one that introduced him to the spiritual guru Sri Chiminoy. Love Devotion Surrender was a product of his spiritual journey.
Throughout the 70s and 80s, he continued to release a successful string of albums such as Amigos (1976), Moonflower (1977), and Zebop! (1981) while working concurrently on various solo projects. In 1987, he received his first Grammy nomination for Blues for Salvador, which he won in the category of Best Instrumental Performance. During his illustrious career, Santana was nominated and awarded another 9 Grammys.
His career remained relatively quiet in the 90s until 1997 when he joined forces with Arista Records which was then headed by Clive Davis. It was here that Santana revived his career, collaborating with superstars such as Wyclef Jean, Lauryn Hill, and Matchbox Twenty's Rob Thomas to produce the album titled Supernatural, which was released in the summer of 1999. The single "Smooth" co-written by Thomas and Itaal Shur is what catapulted him to legendary status.
Thanks to smooth, Supernatural was a massive success managing to sell over 15 million copies in the US, as well as top international charts in Europe, New Zealand, and the UK. In 2000, smooth also earned Santana 8 out of 9 wins in his nominated categories including Record of the Year and Song of the Year for "Smooth", as well as Album of the Year for Supernatural, tying with Michael Jackson for artist with the most number of Grammy Award wins in a single year.