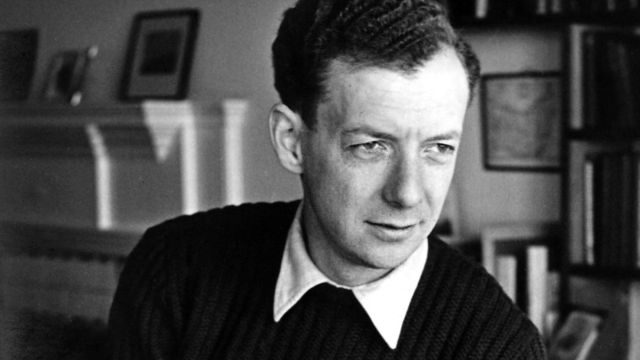 British composer Benjamin Britten wrote his cantata, A Ceremony of Carols, during World War II while he was crossing the Atlantic in 1942 aboard a cargo ship. Since then, the choral work has become a classical music staple during the Christmas season, particularly throughout English-speaking countries.
The cantata is made up of 11 movements: 10 with voice and one for solo harp. It was written originally for a three-part boys' choir, with soloist and harp accompaniment, but is often performed by a women's chorus. Some of the carols are in Latin; some are in Middle English based on poems from the 15th and 16th centuries. These texts were part of a collection edited by Gerald Bullett, The English Galaxy of Shorter Poems, and published in 1942.
Britten was born November 22, 1913, in Lowestoft, a fishing port on England's east coast. He was the youngest of four children and the only one who showed any interest in classical music. His father was a dentist and his mother was an amateur musician who was active in the local choral society and held music gatherings in the home. She was also his first piano teacher.
His formal music education included private lessons in composition, piano, and viola. From 1930 to 1933, he studied at the Royal College of Music in London. While he was a student, his compositions began to get important recognition. One of them was his first Christmas choral work, A Boy was Born, written in 1933 for the BBC Singers.
After he graduated, he accepted a position with the General Post Office Film Unit composing scores for documentary films. He experimented with different combinations of instruments to achieve the widest range of musical expression from small ensembles. During this time, he also composed music for motion pictures as well as incidental music for plays and radio programs. By the late 1930s, Britten had become one of England's most promising composers of his time.
As the threat of World War II loomed, Britten decided to leave England in 1939 with his personal and professional partner, tenor Peter Pears. They spent time in Canada and the United States before returning to England in 1942. While in the U.S., Britten composed several major works. His decision to go back home was prompted after reading a collection of poems by George Crabbe called The Borough. Published in 1810, this collection was set on the Suffolk coast where Britten was from.
Britten and Pears boarded the Swedish cargo ship Axel Johnson in March 1942 to return to England. The voyage was dangerous with Nazi submarines inhabiting the Atlantic but the composer completed two choral works during the crossing: Hymn to St. Cecilia and A Ceremony of Carols, Op. 28. His "carols" work is approximately 22 minutes long.
It begins with the Latin "Hodie Christus natus est," sung in unison and unaccompanied as the processional. That is followed by several poems from the Middle Ages that Britten chose to tell the Christmas story, one of which is "Balulalow," a lullaby with text from the 16th century. Halfway through the cantata, the harp solo "Interlude" not only unifies the entire work by including themes from various movements but also displays the versatility of the harp. After the harp solo, the choir continues with the dissonant "In freezing winter night," the lighthearted "Spring Carol," and the joyful "Deo Gracias." The recessional is the same Latin text that was sung as a processional, "Hodie Christus natus est."
Britten was a noted conductor, pianist, and composer. His own works ranged from song cycles, cantatas, and operas to various orchestral and chamber music. He died in Aldeburgh, England, December 4, 1976. He was and continues to be best known for his vocal and choral compositions including A Ceremony of Carols.