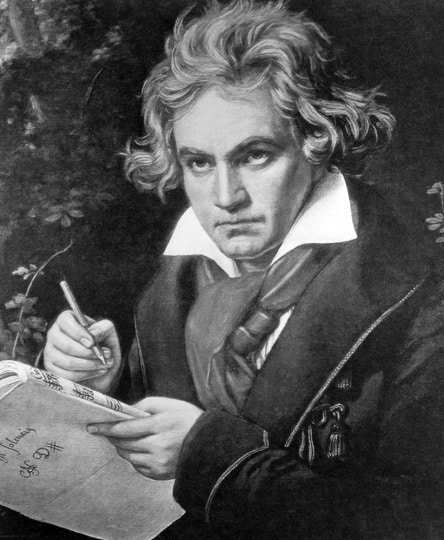 Even if you don't know the first thing about classical music, I can guarantee there are a lot of classical tunes that you know really well.  You might not know who wrote them and you might not know what they're called – but you will most likely know these melodies by Beethoven.  They are so well known that even six-year-olds recognize some of them.
Often used in movies, TV series, commercials, played on the radio regularly and used for things like exhibitions and firework displays, these tunes are within ear-shot on a daily basis.  Many covers have been done as well, so I will include some of them here.  See how many you recognize.
Beethoven's Best Melodies
1. The Fifth Symphony
Beethoven started to write his 5th Symphony in 1804.  He completed it and premiered it in 1808.  At the time of writing this symphony, Beethoven had already lost a substantial amount of his hearing.   The distinctive opening is possibly the most recognizable four notes in history.
I encountered a pet parrot some years back who knew this tune and would whistle it when prompted.  If someone played it on the piano in a different key, the parrot would not change key but stuck to the original key of C minor.  Here is a great performance from the 2012 Proms with the West-Eastern Divan Orchestra conducted by Daniel Barenboim:
And here are 2CELLOS doing their rendition of it:
2. The Sixth Symphony
Beethoven's 6th Symphony happens to be my personal favorite and while perhaps not quite so famous as the beginning of the 5th or the ending of the 9th, it has multiple famous bits in it.  It's a much more gentle piece of music overall, describing the countryside and titled "The Pastoral".   Here is a particularly beautiful performance of it from the 2012 Proms, again by the West-Eastern Divan Orchestra led by Daniel Barenboim:
The 6th symphony is written in 5 movements describing country scenes.  The fourth movement describes a thunderstorm which is brilliantly brought to life in the 1940 Disney movie "Fantasia":
As it continues into the fifth movement, you can hear the clouds flee and the sun comes out, also depicted in the following scene from "Fantasia":
3. The Ninth Symphony
Beethoven's 9th Symphony, 4th movement is world favorite, known as  "Ode to Joy".  Beethoven wrote this between 1822 and 1824 when it premiered in Vienna   It is considered his finest and most successful work in many ways and remains to this day one of the most often played symphonies of all time.
It was the first time a professional composer had used a chorus within an orchestral work, and for that, the new title "Choral Symphony" was introduced.  The premiere was an incredible success.  Beethoven was facing the orchestra and had to be turned around to see the audience standing and cheering, as he was by then completely deaf.  In this video, the main theme begins at the 3-minute mark.
And here is a very young Rowan Atkinson (Mr. Bean) doing his rendition:
4. Fur Elise
Fur Elise is possibly Beethoven's most well-known piece for piano solo.  It's relative simplicity makes it a good choice for intermediate piano players.  Written in 1810 when Beethoven was 40 years old and already very deaf, it's not known who "Elise" was exactly although there are many theories.  Here is Fur Elise as written for solo piano performed as an encore by Valentina Lisitsa:
And here is an arrangement of it for piano and orchestra:
Fur Elise has featured as the tune in many music boxes – here is one such box:
5. The Seventh Symphony
Beethoven's 7th symphony might not be quite as well known as the 5th, 9th, or even the 6th, but the 2nd movement has been having quite a bit of exposure in recent years.  It's used in the film "The King's Speech" as background music while the king is making his speech.  It is a very moving piece and deserves to be well known.  See if you recognize it:
Here is the scene from the King's Speech
6. The Moonlight Sonata
Beethoven's Moonlight Sonata (No. 14) opening movement is surely known by everyone and is considered one of the most beautiful pieces ever written.  It was revolutionary in its day as he threw out all the standard "rules" of composition and wrote something emotional and evocative.  This was one of the pieces that helped shift music from the Classical form into the more expressive Romantic era.  Here it is played beautifully by Valentina Lisitsa:
The Moonlight Sonata was written for solo piano, but of course, there have been many arrangements of it.  It has a very exciting third movement played here with an orchestral arrangement: